ZHAO GANG: COCKERSUCKER BLUES – Bank mabsociety
[Press Release]
Using the historical BANK building as his inspiration Zhao Gang's debut in Shanghai forms a ballad to the possible pasts of this city. Like the infamous, unreleased Rolling Stones' single that this exhibition borrows its title from, Zhao's paintings moan with a destitute sense of an unfulfilled, dirty romance. While the Stones song is about a desperate wanderer arriving in London, Zhao's characters are adrift in Shanghai. In these off tone canvasses the relics of a bygone era are conflated with the artist's personal narrative, cynicism, and hidden desires.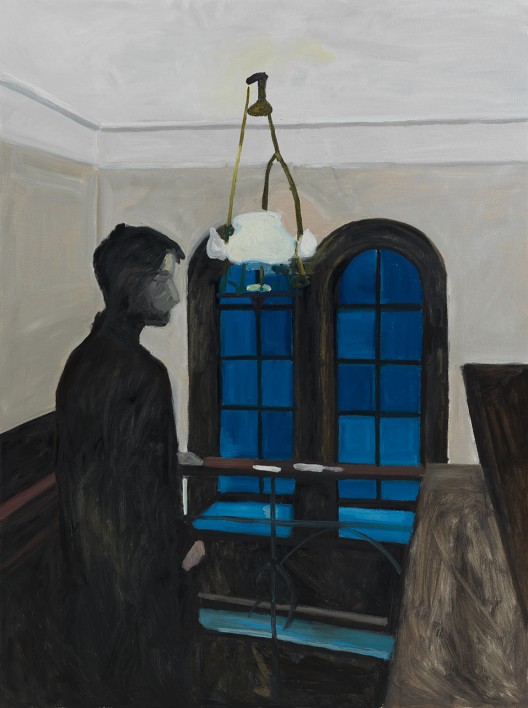 Shanghai is a dream city where a sense of territorial displacement is fed by constantly shifting historical and national boundaries. Today the notion of 'old Shanghai' conjures up an image, style, or attitude rather than a series of historical facts. It's in this romanticized fiction that Zhao carves out his sparse but phantasmal architectural studies. With the BANK building as his muse Zhao becomes the antagonist in a narrative where spies, prostitutes, and the downtrodden mingle with bankers and intellectuals.
As one of the earliest and most consistent proponents of the Chinese avant-garde, Zhao has never stopped re-inventing himself. Having been the youngest member of the Stars Group in the late seventies and early eighties, he subsequently went on to study, live, and work in New York. Sporadically trading his identity as artist for banker, publisher, and filmmak- er, with his brushes never too far behind, Zhao returned to the art world with a hungry vengeance. Zhao's multifaceted work, international experience, and audacious character have helped deem him father of 'bad painting' in China. Zhao has participated in PERFORMA, the Guangzhou Triennial, and the Yokohama Triennial. His has recently held solo exhibitions at UCCA, Suzhou Museum, and has an upcoming exhibition at Christian Nagel Gallery, Berlin.