ZHAO ZHAO
'In The Desert Below a Constellation · In The Sky'
Tang Contemporary Art, Beijing
[Press Release]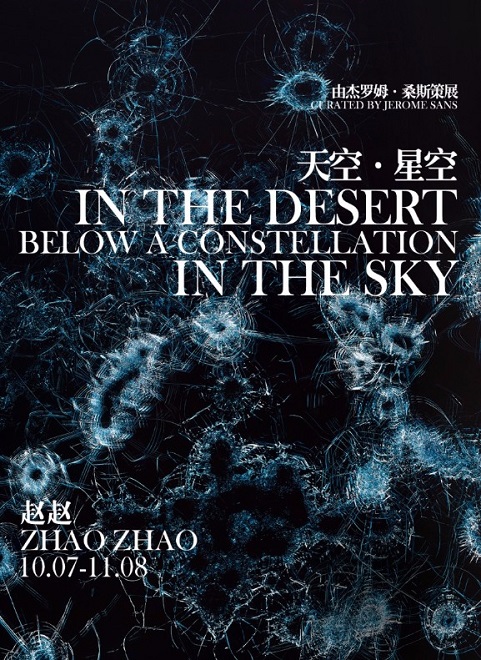 Tang Contemporary Art is proud to present "In The Desert Below a Constellation · In The Sky," a solo exhibition for artist Zhao Zhao, curated by Jérôme Sans, from October 7 to November 8, 2017. "In The Desert Below a Constellation · In The Sky" is a journey through Zhao Zhao's artistic universe and approach to life; it is an existential encounter with humanity's perpetual and extreme fragility.
At a time when society is mutating at unprecedented speed and traditional convictions are constantly challenged, Zhao Zhao has developed a radical position by continually questioning art and its history, but also the systems of thought behind every gesture.
Zhao Zhao's ongoing series of paintings Sky represents a sky that the artist has fabricated. In these paintings, he presents his personal perceptions based on memories of the sky, but not actually observations of it. The blue of the sky is abstracted into a concept in his paintings.
Zhao Zhao's works are never simply visual outcomes; they are perceptions of reality produced by a series of incidents. In his series Constellation, holes are produced in the glass by bullets and cracks spread in all directions from those bullet holes. The energy of the explosion is amplified as it spreads outward. As an extension of it, in his Constellations series, he depicts the moment that the bullet passes through the glass in an oil painting on canvas. These two series of work follow an infinite cycle of destruction and reconstruction.
Constellations series, originally rendered in oil on canvas, is shown here as embroidery for the first time in China. After working with his mother on Suit, Zhao Zhao has taken this opportunity to collaborate with her on this work.