COVIDecameron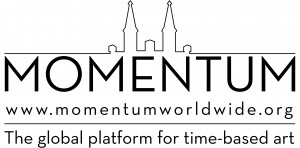 presents:

COVIDecameron
19 Artists from the MOMENTUM Collection
Online Exhibition of Video Art Starting 12 May 2020
On the occasion of MOMENTUM's 10th Anniversary
Featuring:
Shaarbek Amankul / Stefano Cagol / Nezaket Ekici
Thomas Eller / Theo Eshetu / Doug Fishbone / Mariana Hahn
Gülsün Karamustafa / David Krippendorff / Janet Laurence
Map Office / Kate McMillan / Tracey Moffatt & Gary Hillberg
Anxiong Qiu / Nina E. Schönefeld / Varvara Shavrova
Sumugan Sivanesan / Mariana Vassileva / Shingo Yoshida
Curated by Rachel Rits-Volloch & Emilio Rapanà
With the eyes and hearts of the world locked onto the threat and aftermath of COVID-19, MOMENTUM gathers 19 exceptional artists from its Collection, and invites you to come see their stories on our website. In our newly post-viral world, where we have come to see that we have been moving too fast and maybe moving too much, COVIDecameron asks us to slow down and retreat from the constant barrage of the now, from the oversaturation of events, invitations and offers, from the instant gratification of unending empty entertainments. This exhibition of art from elsewhere is a retreat from which to safely contemplate the world, a way of travelling without traveling. Moving images move us. On the occasion of its 10th birthday, MOMENTUM, the Global Platform for Time-based Art, is proud to share 25 exceptional works by artists from its Collection, re-contextualized here through the prism of life at the time of Corona. COVIDecameron is a thank you to the artists who have entrusted their work to us, and a tribute to all the exceptional artists we have worked with over the years, as well as to our audiences around the globe. We wish you all good health in these precarious times.
Addressing the viral times we live in, COVIDecameron takes its title from Boccaccio's literary classic, The Decameron. We follow in this author's the fabled footsteps, whose ten storytellers flee the plague in Florence; escaping the dangers of disease in the city, they retreat to the countryside to regale each other with tales of their times. Escaping from the world at large, they instead bring the outside world to life in seclusion through the artistry of their storytelling.
Six-hundred-and-seventy years later, at the dawn of a new decade, we find ourselves in the midst of a global pandemic. With one country after another having closed their borders, and with social distancing continuing to be measured in meters, countries, and continents, we are instructed to seek safety in seclusion from the world and from one another. So, like its medieval namesake, and with a defiant wink in the face of COVID-19, COVIDecameron gathers together the 'visual stories' of video works by 19 artists from around the globe, for an exhibition online. These artists from Australia, Bulgaria, China, Ethiopia, Germany, Italy, Japan, Kyrgyzstan, Russia, Turkey, the UK, and the US address, each in their own way, a broad array of topics which we have related to the unprecedented anomalies of life in the time of Corona. With social distancing, masks as fashion items, the bizarre phenomenon of global toilet paper shortages, and bad medical advice from politicians having rapidly become our new normal – and with death tolls continuing to rise in many countries, we all hope will never approach normal – MOMENTUM has combed through its Collection to bring together a selection of works reflecting on the poetry of the day-to-day as it relates to the changing world we inhabit: life leading up to and during COVID-19. Through many voices from many places comes a celebration of otherness; an opening up of the world in these viral times of retreat, a place of safety in which to contemplate the vulnerabilities we all share, and the numerous ways of overcoming them together. The video works assembled for this exhibition celebrate new acquisitions to the MOMENTUM Collection, as well as the works with which MOMENTUM has grown during its first 10 years.