Hu Jieming "Tai Chi" at Chronus Art Center (CAC) Shanghai
Tai Chi
 is presented as part of Jeffrey Shaw and Hu Jieming Twofold Exhibition. It will be shown at Chronus Art Center from 26th Sep to 28th Nov. Tai Chi will be both a review and an extension in the artists's journey of historical reflection.
Tai Chi is a mixed media work that combines images with mechanical apparatuses, in an installation with the nature of an organism. This device like a creature is made up of more than 220 human bone-like structures, which are scaled up in size. The creature is free to slowly walk around the exhibition hall under the control of an automatic system. Sensors, which detect specific points in the space, control the trajectory of the installation. 108 projectors projecting images from the past and present are installed inside the bones of the creature. These images have been processed and changed subjectively, just as historical materials that enter our memories. After being 'filtered' in this way, these images are played back from the bones, and form a narrative relationship with the slow movement of the creature. In this way a particular realm of vision is generated within the space.
The inspiration for Tai Chi relates to the extent to which a reality that exists through memories and an actual reality relate to each other. Through memories, we can readily approach reality in the form of political allegories, and in this way enter a particular ideological narrative system. From the perspective of the use and presentation of materials, Tai Chi forms the basis of an experiment in how more effectively to transform a gravitational attraction implied by the work into a boundless imagination. For the audience, the physical presence of the work, the power implied in the slowly moving bones and motors, and the large quantity of virtual image fragments of the videos interact with each other and result in an integrated sense of the piece – this is the most straightforward context that Tai Chi brings. Given this situation, will we become the objects produced by Tai Chi, as we have already been affected by the power of it?
kinetic video installation, 2014 
Artist: Hu Jieming
Materials: projectors, motors, mechanical drives, sensors, fiberglass, aluminium
Size: 8m x 3.7m x4.2m (H)
胡介鸣, 太极, Hu Jieming, Taiji 9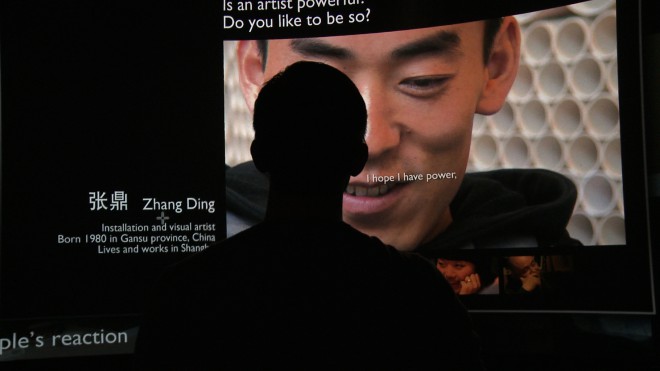 Jeffrey, 40+4艺术还不够还不够
Jeffrey, 无尽的诗句
About Artist:
As one of the foremost pioneers of new media art in China, Hu started to experiment with new technologies in his works in the 1980s. Constantly concerned with subjects such as time, human history, and cultural memory, Hu intended to illuminate the boundaries between the 'passing-by' and the 'going-on' and by doing so he set viewers free from the chronological way of seeing historical events, onto a more accidental reconstruction. His works are widely exhibited at Power Station of Art , Shanghai; Minsheng Art Museum, Shanghai; National Art Museum of China, Beijing; V2 Institute for the Unstable Media, Netherlands; San Francisco Museum of Modern Art; MoMA PS1; Museum of Contemporary Art, Chicago; Seattle Art Museum, Seattle; Santa Barbara Museum of Art; V&A Museum, London; Hamburger Bahnhof Museum of Contemporary Art, Berlin; Haus der Kulturen der Welt, Berlin; Bhau Daji Lad Museum, Mumbai; Centre of Contemporary Art in Torun, amongst many other venues.