Art Brussels 2017
The 35th edition of Art Brussels took place from 21 – 23 April and presented 145 galleries from 28 different countries. This is the second time the fair is located at Tour & Taxis, a vast former customs warehouse in the northern part of Brussels that was built at the turn of the 20th century when Belgium was rich off the back of its colonial exploitation of central Africa. The choice of moving the fair to Tour & Taxis meant having space for 50 galleries less, but the decision has worked in Art Brussels favour, with a better curated selection of galleries and a more impressive location: The old warehouse has high ceilings, concrete floors and natural light coming in through the rooftop.
Art Brussels had three sections: Discovery that focused on work made the past few years by younger emerging artists, Prime that focused on more established artists from modern to contemporary and Rediscovery that focused on work made from 1917 – 1987 by under-recognized or forgotten / deceased artists. Parallel to these sections was SOLO that, as the name indicates, gave one artist the opportunity of showing in an entire booth.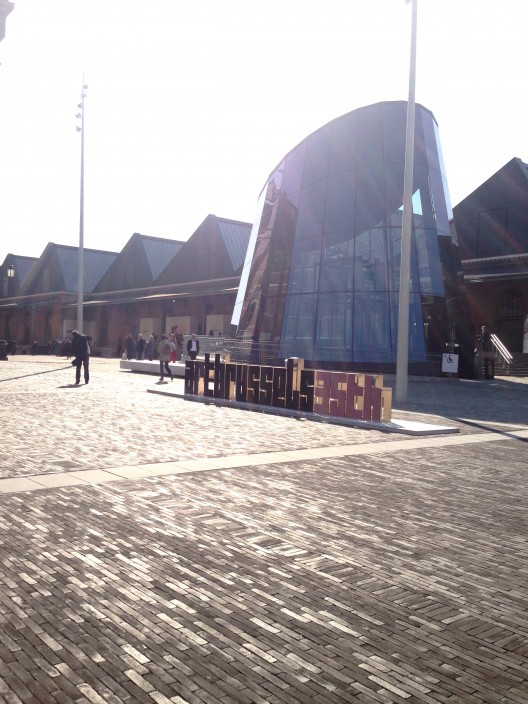 Fair Ground "Tour & Taxis"
Art fairs only work if work is sold. Without an airport terrorist attack this year, both visitor numbers and sales were better than in 2016: Galerie Lelong (Paris, NY) sold paintings by Günther Förg. Galerie Krinzinger made several important sales including a work of Gavin Turk during the preview. Axel Vervoordt (Antwerp, Hong Kong) sold all three editions of an Angel Vergara LED wall, a Michel Mouffe painting for around €50,000, and a cast glass sculpture by Ann Veronica Janssens for around €30,000.
One of the few Asian galleries this year was Pearl Lam Galleries (based in Hong Kong, Shanghai and Singapore). Pearl Lam participated for the first time and reported very satisfying sales from their booth, which included works by Gonkar Gyatso and Chun Kwang Young (see images below). Other galleries from Asia were Gallery 55 from Shanghai and HDM Gallery from Beijing. Despite a still modest amount of galleries from Asia, exhibitors reported that there had been more collectors this year than usually coming from Asia and especially from Hong Kong.
Fair director Anne Vierstraat's said during her opening-speech, "we are known as a discovery fair", which indeed has become Art Brussels trademark. Cramped into the overly packed art-agenda this spring with Art Cologne less then a week after (the world's longest established art fair) and Berlin Gallery Weekend just around the corner, Art Brussels indeed thrives on having a "specialty" of its own, while the competition world-wide is getting harder each year (Art Düsseldorf launches this Autumn, following a 25% acquisition by MCH Swiss Exhibition (Basel) Ltd., owner of Art Basel, with an option to buy a majority stake later).
At Discovery the young artist Micah Hesse (b. 1991, New Mexico) was represented by Berlin gallery Neumeister Bar-Am. The gallery showed a video animation by Hesse called 'Shampaigne' referring to the cover of Charlie Hebdo magazine, shortly after the shooting at their office. They declared: "Ils ont les armes, on les emmerde, on a le champagne!" (They have weapons, fuck them, we have champagne), below a comic of a man riddled with bullet holes with champagne flowing out… In the video animation Hesse linked US gun lobbyists that are notorious for claiming that: "Guns don't kill people, people kill people", with the notion of a gun as an independent entity, a so-called "bad gun" (just like a "bad guy"). The animation brings you into a fetishized, surreal world where objects have their own agency and the psychological aspects of harming someone and being harmed are explored in an intriguing and original way.
In the prime section at Nathalie Obadia, Laure Provoust had a solo booth which was an immersive installation consisting of video, sculptures and wall-pieces. Complex layered narratives, dark surreal humour, word games and exploring the boundaries between reality and fiction, often characterize Prouvost's work. In 2013 she was also the surprise-winner of the prestigious British Turner Prize for the work "Wantee", a video piece about the relationship between her own fictional grandfather and deceased German artist Kurt Schwitters. The work was according to Prouvost called "Wantee" because Kurt Schwitter's wife would always ask him and his visitors "do you want tea?"
As a nod to "Wantee" Laure Prouvost showed dried teabags at the exhibition "Mementos: Artists' Souvenirs, Artifacts and other Curiosities" that was part of Art Brussels landmark 35th edition. "Mementos" that was curated by Jens Hoffmann and Piper Marshall brought together personal objects, relics, souvenirs, and artefacts of 73 different artists that were all represented at the fair.
Each year during Art Brussels there are many other must-see art events to explore elsewhere in the city. An exhibition that really stood out this year was at WIELS, located in a former brewery and is one of the most significant centres for contemporary art in Europe. During the fair WIELS marked its 10th anniversary with the opening of a vast exhibition titled "The Absent Museum". WIELS, which still does not have the status of a museum but is none-the-less commonly referred to as one, asked in the exhibition questions about which absences in museum collections should be addressed? Which and whose histories should be told? And whose identities should be represented, shaped, or confirmed? Featuring works by artists such as Francis Alÿs, Isa Genzken, Wolfgang Tillmans and Thomas Hirschhorn, the exhibition was a compelling tour de force through art history as well as the present asking what content or knowledge a museum should have in the future?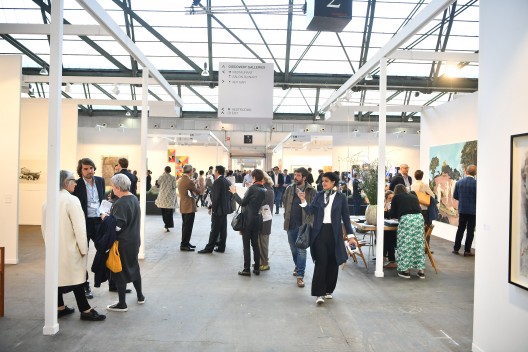 Art Brussels 2017, Tour and Taxis. Photo David Plas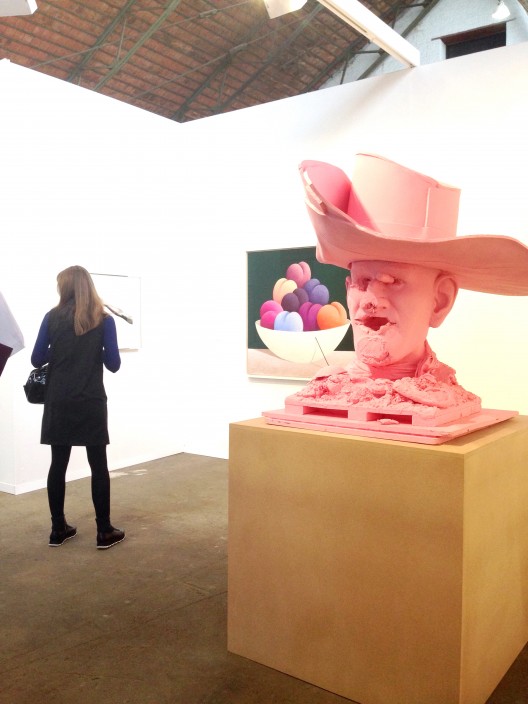 Paul McCarthy, SC Western John Wayne, Pink, 2016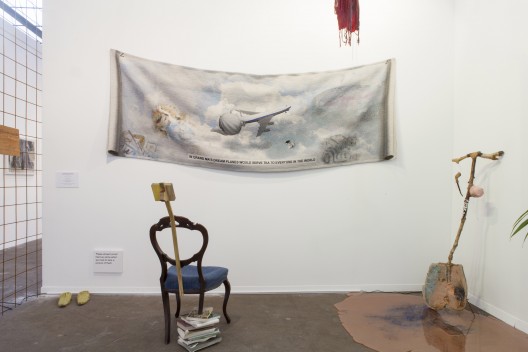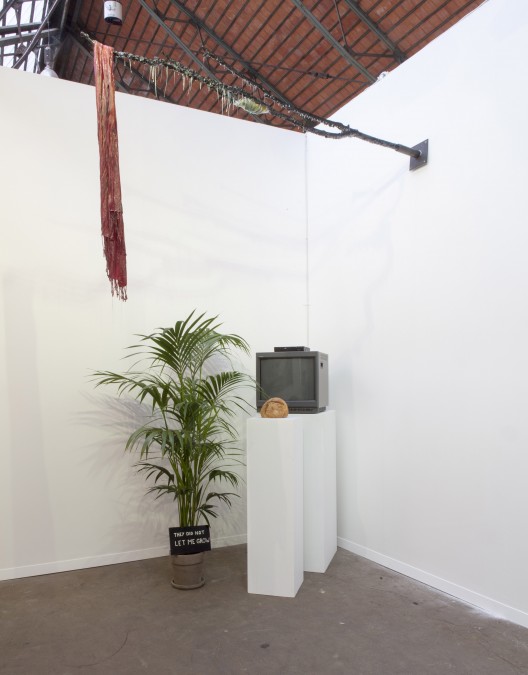 Laure Prouvost. Photo credit : WE DOCUMENT ART.
Courtesy of the artist and Galerie Nathalie Obadia, Paris/Brussels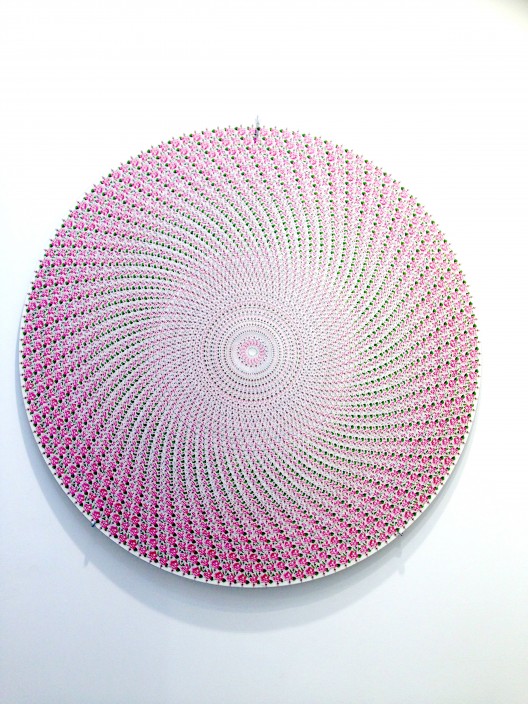 Gonkar Gyatso, 4,314 Prayers, Pearl Lam Galleries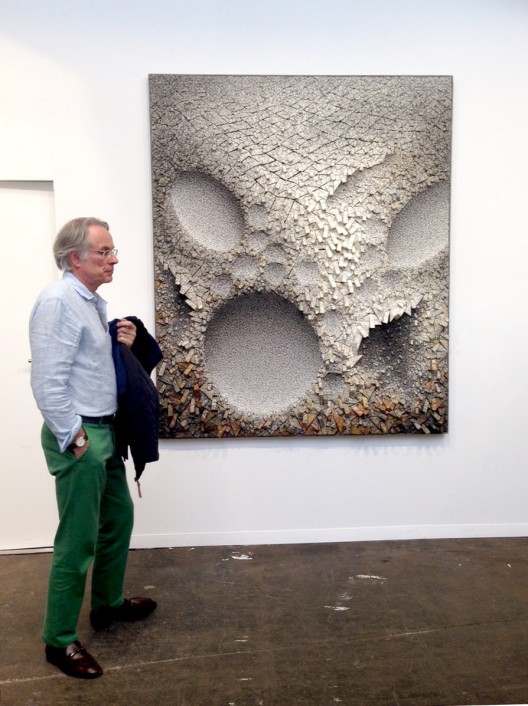 Chun Kwang Young b. 1944, Aggregation 08-F001, Pearl Lam Galleries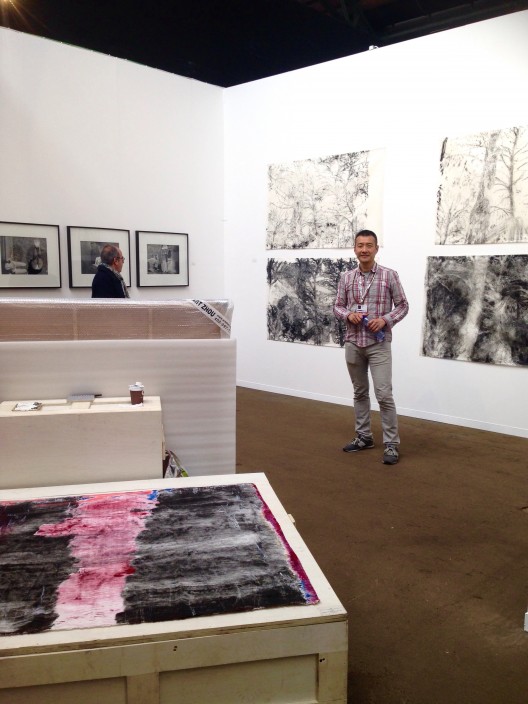 Gallery 55, Drawings by Yu Aijun, trees in the art zone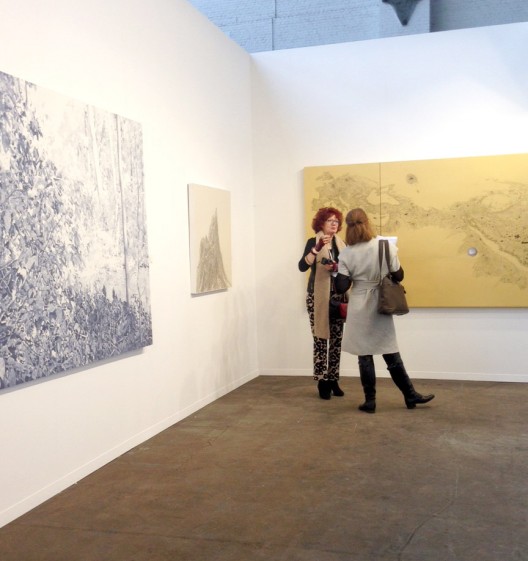 HDM Gallery. Painting on the left by Zhao Xuebing. Painting on the right by Zhu Rixin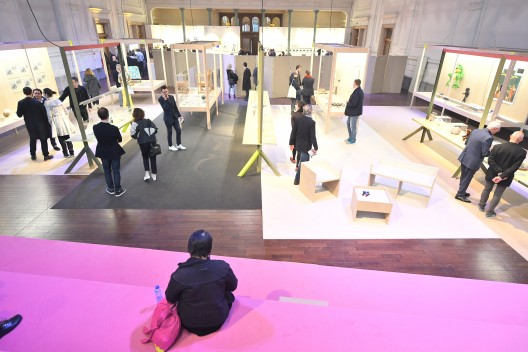 Mementos. Artists Souvenirs, Artefacts and other Curiosities. 2017. Art Brussels. Photo David Plas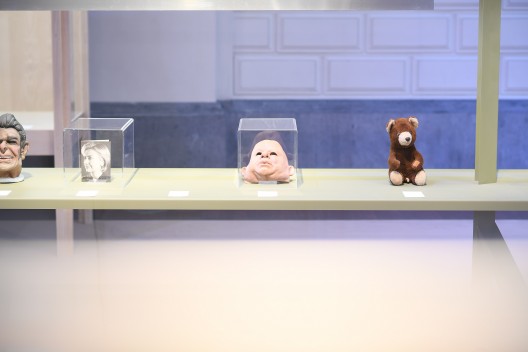 Mementos. Artists Souvenirs, Artefacts and other Curiosities. 2017. Art Brussels. Photo David Plas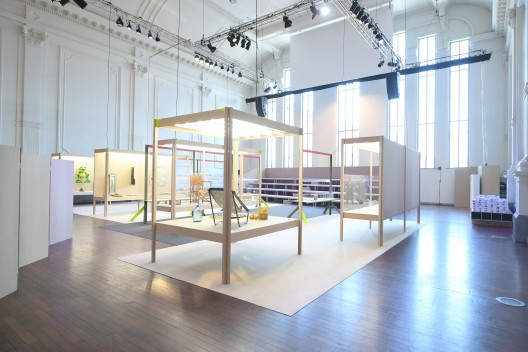 Mementos. Artists Souvenirs, Artefacts and other Curiosities. 2017. Art Brussels. Photo David Plas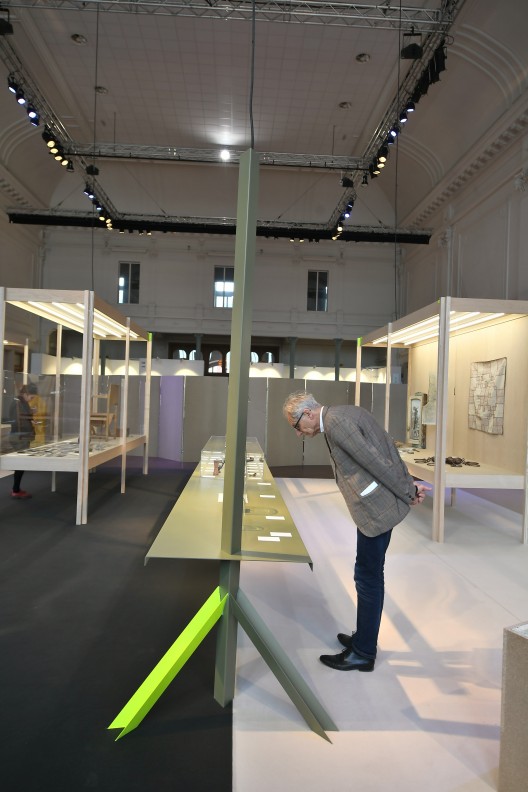 Mementos. Artists Souvenirs, Artefacts and other Curiosities. 2017. Art Brussels. Photo David Plas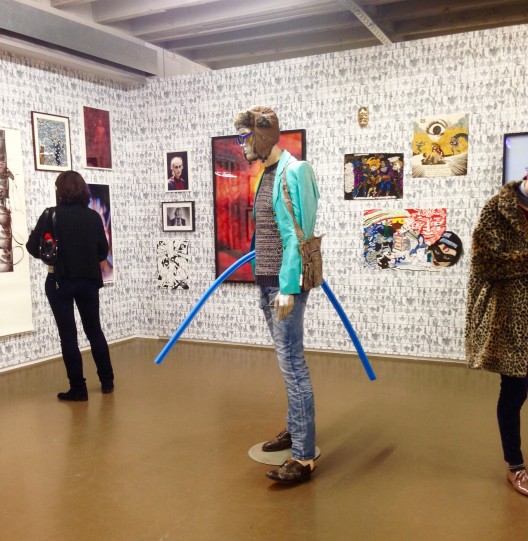 Isa Genzken, Schauspieler ll, David Zwirner, Independent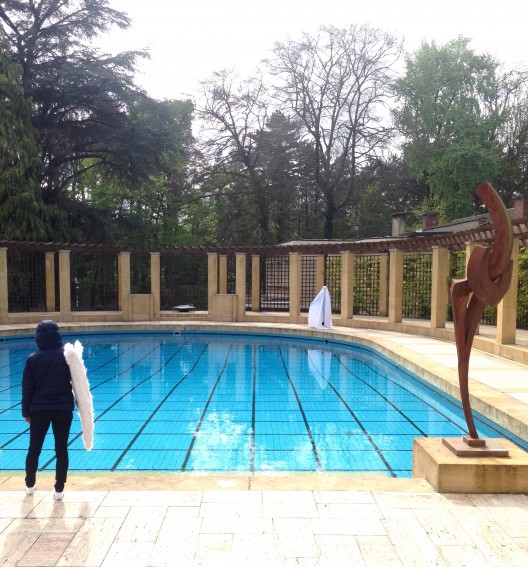 Performance by Eszter Salamon and Boglàrka Börksök, "The Valeska Gert Museum", Boghossian Foundation, Brussels