2015 Photo Shanghai Mounts Strong Second Edition
On Sep 11–13, the second edition of Photo Shanghai displayed over 500 photographic works—brought by 50 galleries hailing from 18 countries—at the Shanghai Exhibition Center. The works included those by earlier masters of photography as well as new works by contemporary artists. The show meanwhile attracted over 26000 visitors. In some ways, the art world witnessed the Chinese market for photography rising quickly in popularity and maturity through this event.
Scott Gray, the organizer behind Photo Shanghai and CEO of the World Photography Organization, noted: "From our inaugural year in 2014 to this the second edition of the fair, the photography market in China has matured." With highlights such as Taryn Simon's Birds of the West Indies series, the fair has put renewed effort into the special projects. Alexander Montague-Sparey, the director of the fair, stated that the direction of the market for photography in Asia-Pacific is now clearer: "We clearly feel that the audiences this year are more active."
While photography has certainly existed in China for quite some time, it has not firmly entered the mainstream. Of course, the Pingyao International Photography Festival and the Dali International Photography Festival have served as major meeting points of contemporary photography between China and other countries. Institutionally, there is the Three Shadows Photography Center in Beijing, established in 2008 by the photographer-couple Rong Rong and Inri, and the recently opened Shanghai Center of Photography (SCOP), led by the photographer Liu Heung Shing. And then there are galleries that focus on photography like M97, Ofoto, and kunst.licht, among others, with contemporary art galleries showing more photographic works as well.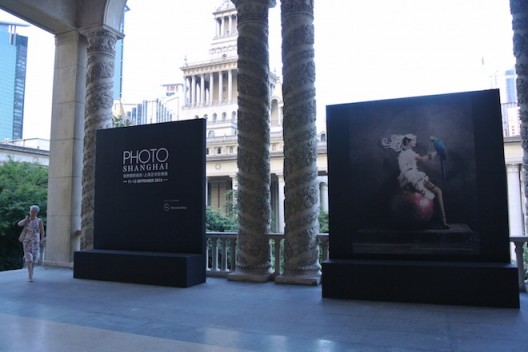 Liu Heung Shing, the renowned former Associated Press photographer and the founder and director of SCOP, looked on Photo Shanghai positively. Visiting the fair with Karen Smith (his partner and a noted critic and pioneering curator of contemporary Chinese art as well as the director of OCAT Xi'an), Liu pointed out the importance of collecting photography: "People in the West started collecting photography at least a few decades ago. Buying and bringing a work home is an absolutely ordinary thing. I believe that very soon we will see this happening a lot more in China."
Steven Harris, the founder of Shanghai's M97 gallery, opted in his booth selection to go against the tide of galleries catering to the audience's taste: "I hope to show the rich and diverse possibilities of photography. I want to surprise people and make them ask, 'Is this photography?' or to get them to think, 'Photography can actually be like this.' As much as possible, I want to show the different practices of various artists in order to highlight the experimental nature of contemporary photography."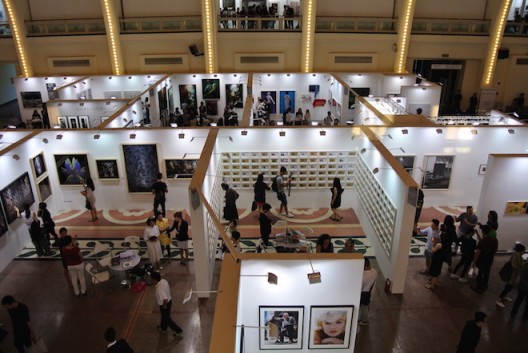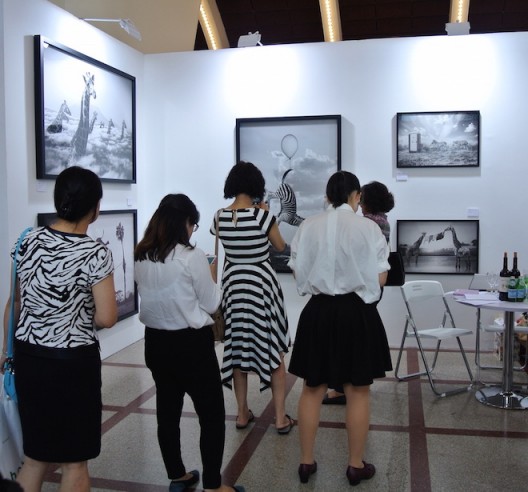 The public's interest and spending power in terms of art collection will rapidly change with the growth of art fairs and galleries. At the same time, the art market has also paid more attention and directed resources towards limited edition photography and videos — this, along with gradually improving rules of transaction. Even though the aesthetic mainstream still focuses on works by famous names and fashion photography, diverse works and collections can be seen. Whether for galleries participating for the first or second time, the 2015 Photo Shanghai fair was certainly worth the effort.
In the fair, there was a special parallel project with Leica, displaying early 19th-century photographs of China by Wulf-Diether, Count of Castell-Rüdenhausen, a pioneer of civil aviation. There were also pieces about contemporary China by the photographer Huang Jing. From Nadav Kander's renowned Three Gorges series to the shots of 1970s Taiwan by Hsieh Chun-te (Art Door Gallery, Taipei), one could share in a serene gaze on reality and time passing amid the flow of the crowds.
Worth mentioning is the contemporary art magazine LEAP's booth, where they cooperated with Jia Magazine on a number of photography books and limited editions by a number of young artists—including a multimedia installation by Aspartime and videos of performances by Chen Tianzhuo (which certainly caught the eye). Photography books are a very important expressive and broadcasting medium for artists involved in photography, but this was not emphasized quite enough in the fair as a whole. In this LEAP booth, viewers could appreciate a dozen or so books in their own distinctive styles.
Photo Shanghai's second-time charm is not merely due to factors related to the art fair or the market, but rather to developments in the creation and display of photography overall. From the touring exhibition (by The Photographers' Gallery) "Work, Rest and Play: British Photography from the 1960s to Today" to "Grain to Pixel: A Story of Photography in China" curated by Karen Smith at SCOP, or from the Taiwanese photographer Cheng Tsun-Shing's solo exhibition "Won't Someone Bring the Light" (Beijing and Shanghai) to Shao Wenhuan and He Pan's exhibitions at m97 Shanghai—as well as Ray Art Center, which dedicates itself to events and activities surrounding photography and video, and Beau Geste Gallery, a long-established photography gallery founded by Jean Loh, not to mention the photo and video exhibitions at numerous museums and art centers—one senses a certain new dynamism in the arts of photography and video in China. This is definitely not limited to Shanghai but extends to Beijing, which will have the second edition of the Beijing International Photography Biennale in October, and to Xiamen, with the "Jimei x Arles" International Photo Festival in November.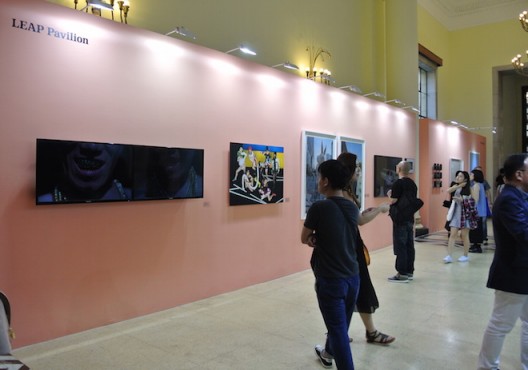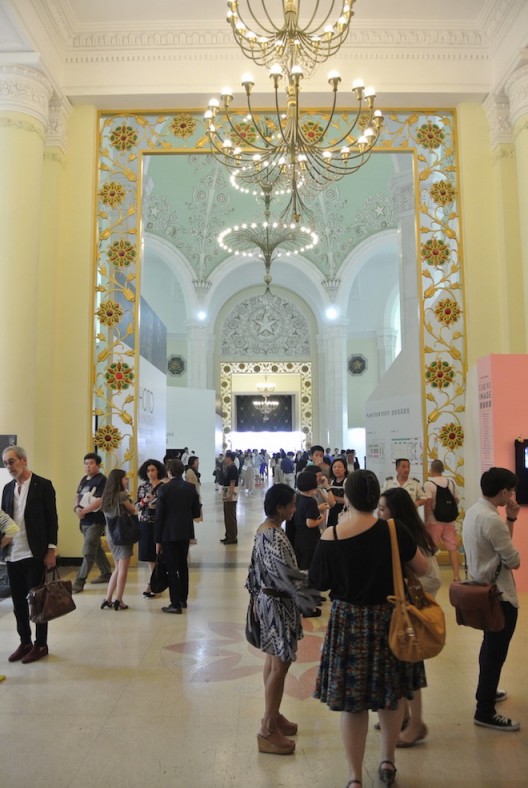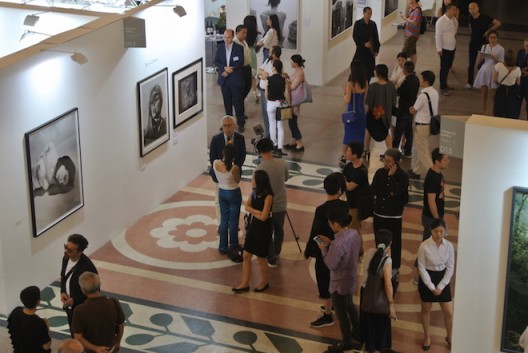 Gallery list in Photo Shanghai:
A Thousand Plateaus Art Space (Chengdu), amanasalto (Tokyo, Shanghai), ART LABOR Gallery (Shanghai), ARTDOOR Gallery (Taipei), ATLAS Gallery (London), BEETLES+HUXLEY (London), Blindspot Gallery (Hong Kong), Bluerider ART (Taipei), C14 Gallery (Shanghai), CAMERA WORK (Berlin), CHRISTIAN LARSEN (Stockholm), Cipa Gallery (Beijing), °CLAIR GALLERY (Saint-Paul-de-Vence, Munich), EMON Photo Gallery (Tokyo), Flowers (London), Gagosian Gallery (New York, London, Paris, Athens, Geneva, Los Angeles, Rome and Hong Kong), Galerie Adnan Sezer (Paris), Galerie DUMONTEIL (Shanghai, Paris, New York), GALERIE PHOTO12 (Paris), Galerie Stephan Witschi (Zurich), Galleria Sabrina Falzone (Milan),Gallery Yang (Beijing), In The Gallery (Copenhagen), INTER ART CENTER / GALLERY (Beijing), M97 Gallery (Shanghai), Magnum Photos, Matthew Liu Fine Arts (Shanghai),MD Gallery (Shanghai, Paris), Mind Set Art Center MSAC (Taipei),Pan-View Gallery (Zhengzhou), OFOTO & ANART (Shanghai), ON/gallery (Beijing), Pékin Fine Arts (Beijing), Willas Contemporary (Oslo), RASTI Chinese Fine Art (Hong Kong), see+ gallery (Beijing), Shanghai Gallery of Art (Shanghai), ShanghART Gallery (Shanghai, Beijing, Singapore), Staley – Wise Gallery (New York), Taka Ishii Gallery (Tokyo, Paris, New York), Three Shadows +3 Gallery (Beijing), Time Space Gallery (Beijing), Timeless Gallery (Beijing), Vanguard Gallery (Shanghai), Visionairs (Singapore), voila! Gallery (Los Angeles), Yeo Workshop (Singapore)