THE TWENTY-EIGHT PERCENT – Art Brussels 2019
THE TWENTY-EIGHT PERCENT
by Sara Kramer
At this year's Art Brussels press conference, it was announced as a positive development that 28 % of the participating artists at this year's fair were women. To be fair, it is in fact an improvement in comparison to last year where it was only 21 %.
Despite the  broader movement in past years to re-evaluate the role of women artists in the contemporary art world, there is still more than enough reason to question these kind of statements. – Or said in another way, for some the glass might be half full but for others it is still, well, 22 % too empty.
The Berlin Gallery Weekend, another significant art-world event, took place simultaneously to Art Brussels and it was interesting to learn that before and during Gallery Weekend an anonymous campaign had been hanging up posters and stickers throughout Berlin, criticizing that 75 % of the participants were male, and that out of the 45 galleries participating in the Gallery Weekend, 38 galleries showed works by men.
I personally don't find the term "Women Artists" very appealing and to some extent even rather "ghettoizing", but despite the complexities of defining a minority-issue without stigmatizing at the same time, I have chosen to focus this report on the so-called "28 %" as a comment on the dubious statistics at this year's Art Brussels.
JULIE FAVREAU
House of Egorn (Berlin)
Julie Favreau's video work 'Will Deliquesce' (video, 4K, 8 minutes 28 seconds, 2018) invited the viewer into an intriguing voyeuristic world, exploring the sense of touch and sensory stimulation. A curious camera moves around calmly in a small Berlin-loft apartment. It's raining outside, which makes you, as a spectator, want to "stay inside". After a little while you see a group of performers, that are all either naked or lightly dressed, performing intimate choreographic gestures and interactions with one another. At first glance, not a lot happens in Favreau's erotic and aesthetic video-work, but in all its simplicity it's a brilliant depiction of existence in its sheer and undiluted materiality.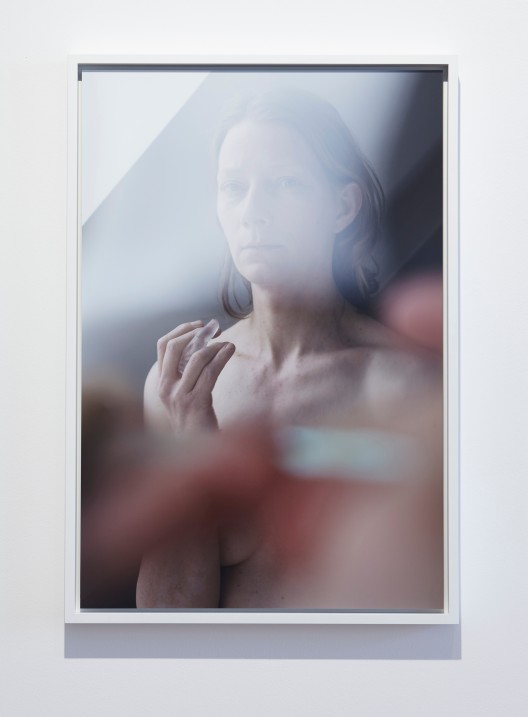 Veeeeerrrrrmmmmmeeeeerrrrr, inkjet print, 46,66 x 70 cm, 2018 (edition of 4)
Still from 'Will Deliquesce', video, 4K, 8 minutes 28 seconds, 2018
Photo credit: Joseph Devitt Tramblay

Installation-view: Gallery booth of House of Egorn with work by Julie Favreau
Photo credit: Renato Ghiazza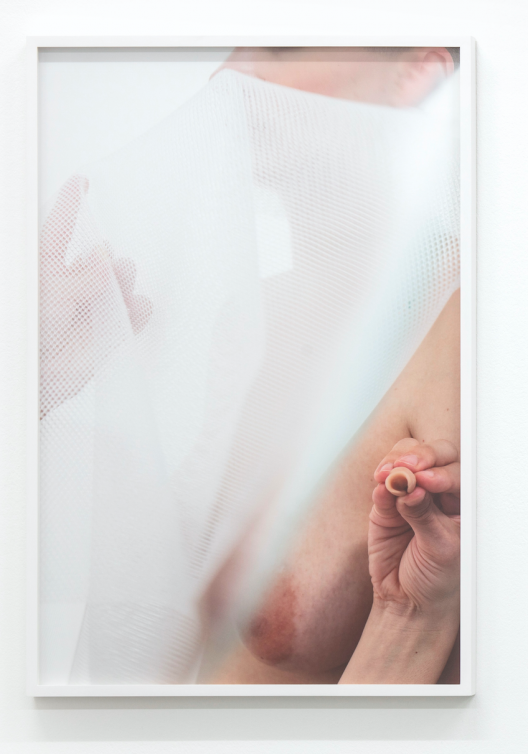 Comfort, inkjet print, 45,7 x 68,55 cm, 2017 (edition of 4 +1AP)
Still from 'Will Deliquesce', video, 4K, 8 minutes 28 seconds, 2018
Photo credit: Joseph Devitt Tramblay
MERVE ISERI
Ballon Rouge Collective (Brussels)
One of the artists showing work at the gallery was the Turkish-born artist Merve Iseri (based in London). A series of Iseri's paintings were on display which depicted figurative motives of lush and sensuous gardens and surreal abstract dreamscapes.
The newly opened nomadic gallery 'Ballon Rouge Collective', which has organized exhibitions in London, Istanbul, Los Angeles, Sao Paolo, Paris and New York has recently settled down in Brussels with a permanent gallery space. The B.R Collective's booth was in the 'Invited' section at Art Brussels, which is a new section at the fair that includes younger galleries that haven't previously been invited to Art Brussels and encourages alternate formats to the traditional gallery model.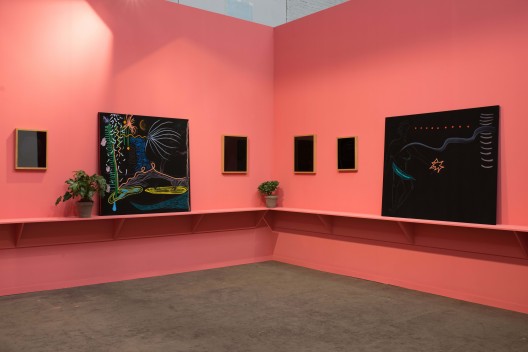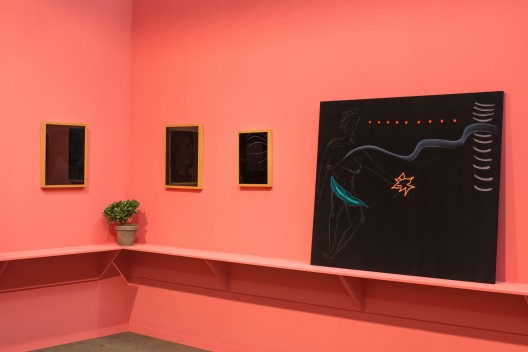 Work by Merve Iseri.
Photo credit: Courtesy of Ballon Rouge Collective and Photographer David Plas
RACHEL MONOSOV
Catinca Tabacaru (New York)
Monosov's interdisciplinary practice involves video, photography, sculpture and performance and evolves around various socio political concepts. During the fair a performer was activating Monosovs piece 'The Space in Between' (2019), which, in a stylized manner, limited the movement of the performers hand. I was told that the imposition of limitations and restraints on the human-body is a recurring aspect of Monosov's work.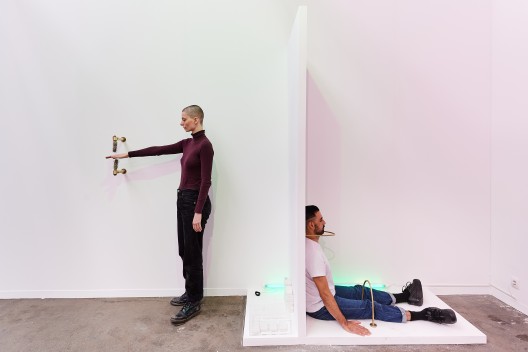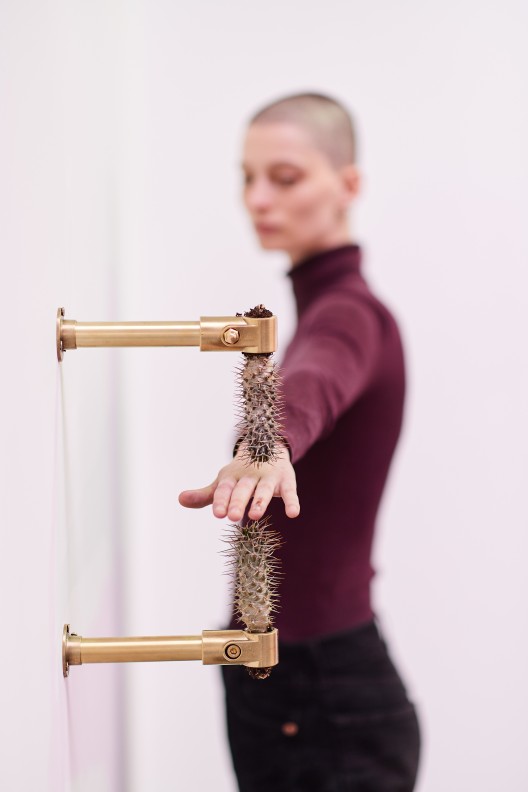 Art Brussels 2019, Rachel Monosov performance 'The Space In-Between', 2018 (cacti, earth, metals, plastics) at Catinca Tabacaru. Photo credit: David Plas
ANNE ROCHAT
Counter Space (Zurich)
At Counter Space the intriguing live performance "Obsidian" by Swiss artist Anne Rochat, attracted a large group of visitors at the opening of Art Brussels. During the performance Rochat's nude body embraced a large block of ice generating a bodily imprint that became deeper in the course of the performance. Her gesture, both fascinating and disturbing, seemed to be a dramatic maneuver hinting at how our physical actions are generating climate-changes and hence causing ice glaciers to melt…

Anne Rochat performaning 'Obsidian' at Counter Space, Art-Brussels 2019
Photo credit: David Plas
ANICKA YI
Gladstone Gallery (Brussels & New York)
Simultaneously with Art Brussels, South Korean Artist Anicka Yi (based in New York) had her first exhibition at Gladstone Gallery, called 'We Have Never Been Individual'. One of the series of work in the show were 'aquascapes' hanging from the wall which resembled paintings (in the broadest definition of the word) and intimate extraterrestrial landscapes. Containing fluid matter, microalgae and cyanobacteria they seemed to hint at a utopian future where humans will learn how to better use the planet's aquatic resources and the relation between humans and microorganisms will become one that is more symbiotic. Anicka Yi is also represented at this year's Venice Bienniale.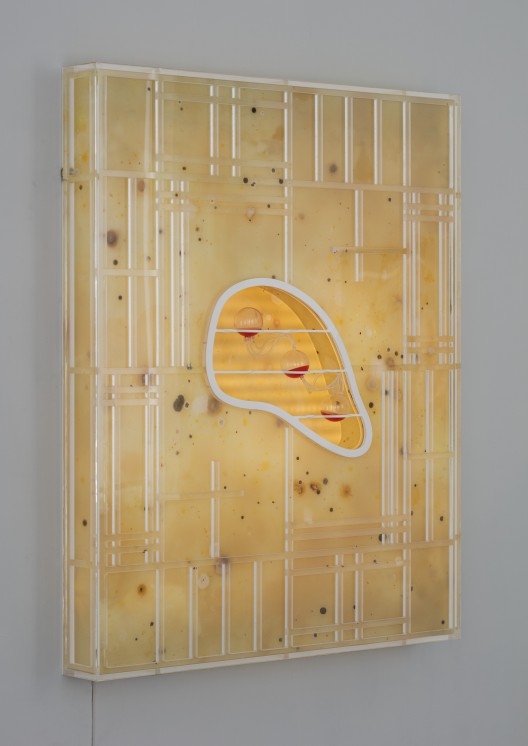 Anicka Yi, '15 Hissing Cockroaches', 2019
Acrylic, UV Prints, LEDS, glass, resin and tubing
50 x 40 x 5 inches (127 x 101.6 x 12.7 cm)
Photo credit: David Regen and Gladstone Gallery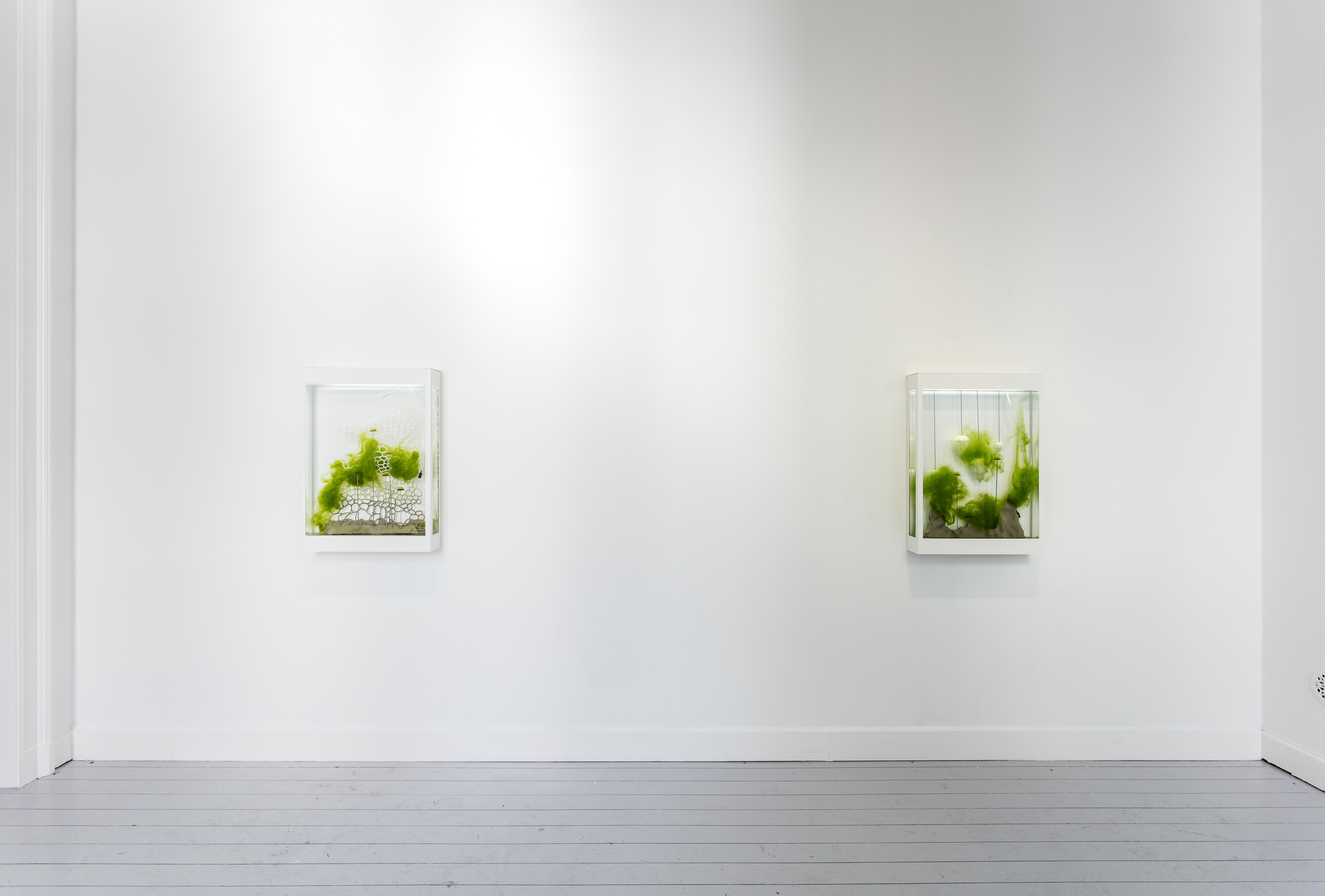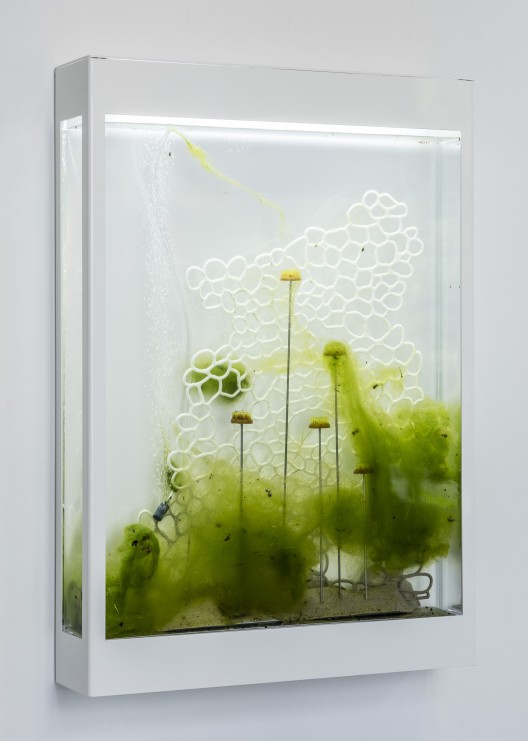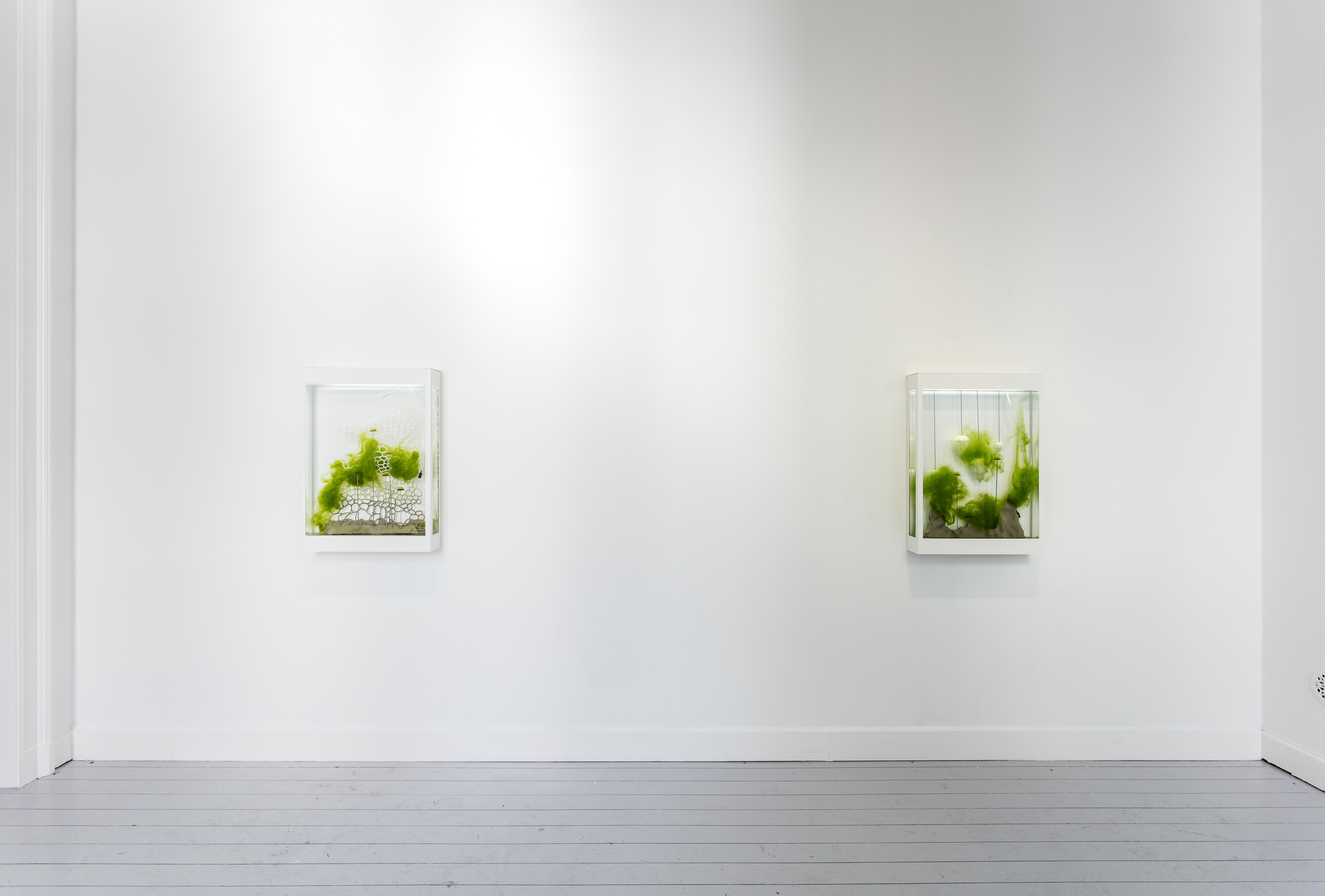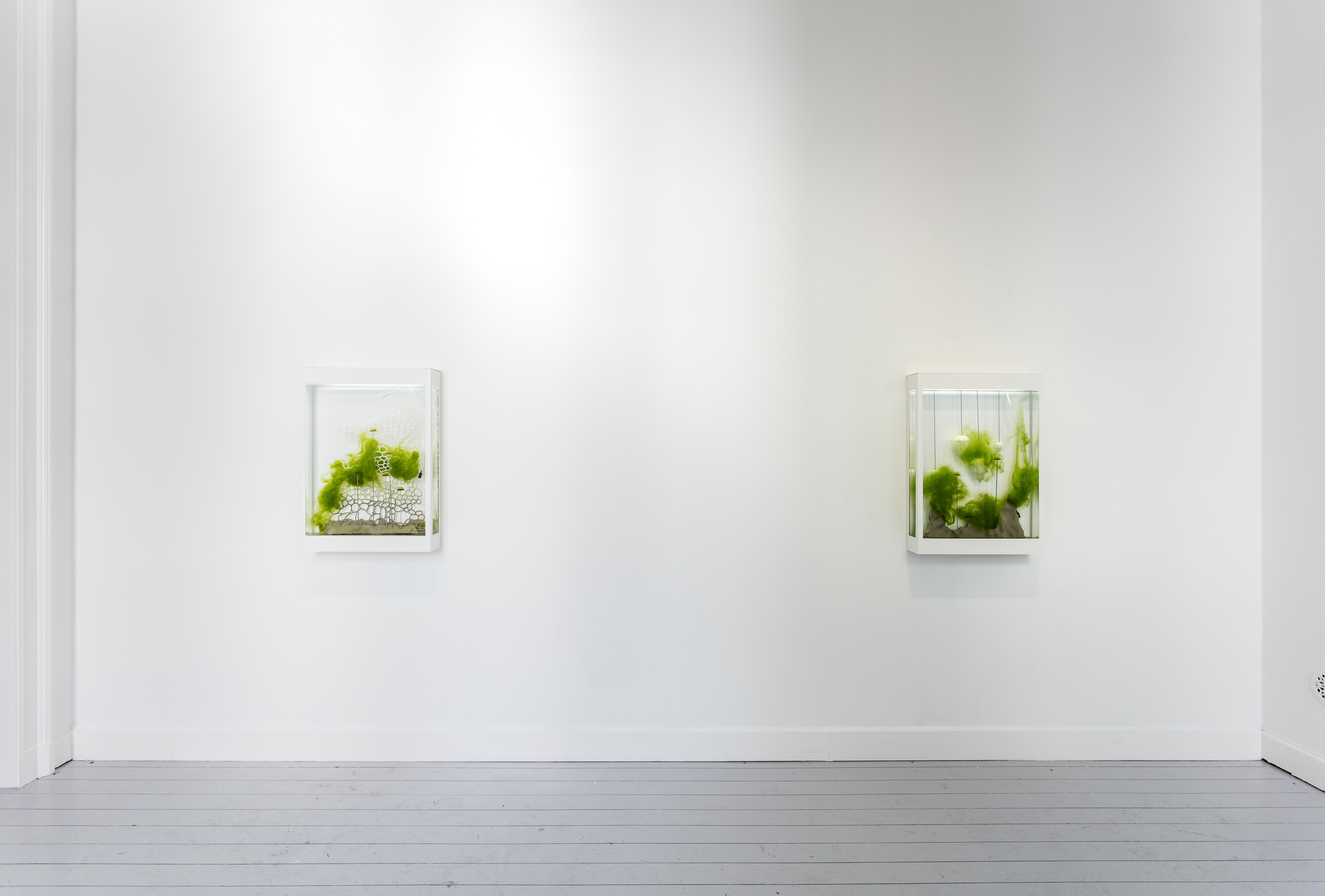 Anicka Yi, 'Living and Dying In The Bacteriacene', 2019
Powder coated steel with inset acrylic vitrine, water, 3-D printed epoxy plastic and filamentous algae
33 x 25 x 5 1/2 inches (83.8 x 63.5 x 14 cm)
Photo credit: David Regen and Gladstone Gallery