Contemporary Istanbul 2019
by Sara Kramer
Located on both the Asian and European continent, Istanbul is without doubt one of the most perplexing metropolises in the world. This vital city, inhabited by more than 14 million people, unites two profoundly contradictory existences; one progressive and that insists on a secular society, and another that is religious and intensely conservative, that has been gaining momentum in recent years. But despite the current unprogressive climate, Turkey seems surprisingly welcoming to the notion of contemporary art at the moment, with many new art- and culture institutions opening across the country.
During the inauguration of the 14th edition of the art fair Contemporary Istanbul, chairman Ali Güreli  was also enthusiastically stressing the importance of art and culture in Turkey with the statement: "The artistic and cultural dimension needs to be reinforced at all times". Contemporary Istanbul has been taking place annually since 2006, and this year featured 74 galleries from 23 countries, 510 artists and more than 1,400 artworks.
While the international art-world caravan temporarily settled down in Istanbul in mid-September to celebrate the inauguration of Contemporary Istanbul and the much anticipated 16th Istanbul Biennial, the local Turkish artists seemed more wary of the current state of political affairs and urged international art goers to bear in mind how many writers and artists are currently imprisoned in Turkey. During the festivities Istanbul's first major contemporary art museum 'Arter' was to be unveiled, but on the day before the high profile opening local artists and cultural workers managed to catch the attention of the international press for a brief moment when organizing a protest in support of the imprisoned civil society activist Osman Kavala in front of the museum.
Turkey is ranked as number 157 on the 'World press Freedom Index' – below Russia, for example, and there is no doubt that self-censoring to avoid enraging the Turkish government and its patrons is a pressing reality. Even slightly controversial works are rarely seen at Contemporary Istanbul, but regardless many believe that the art fair deserves a lot of credit for providing a consistent platform where Turkish artists and gallerists can exhibit and remain in contact with the international art scene.
However, at the gallery booth of Pi Artworks, which is based in London and Istanbul, Turkish artist İz Öztat's work managed to push the boundaries for what is currently being tolerated with its bold political gist. On view was a sculpture with the title Whip of Justice, which was made out of metal barriers used by the police during the notoriously violent Gezi Park demonstrations of 2013. The demonstrations had taken place after the Turkish government introduced a controversial ban on public demonstrations.
At the booth of Zilberman Gallery, which is located in Istanbul and Berlin, a compelling video work was on display by Isaac Chong Wai from Hong Kong. The work was titled Rehearsal of the Futures: Police Training Exercises. Concerned with physical manifestations of power, Chong Wai questions why it often becomes a first line of defense instead of a last resort. During a conversation with Chong Wai I was told that the piece is a continuation of his ongoing research into 'possible imagined futures' that deals with how ideologies from the past can be investigated, re-interpreted and shown in new forms and constellations.
When first noticing that Chong Wai is from Hong Kong, I wondered if the video work might be hinting at the chain of events that have been taking place in Hong Kong since June this year, where anti-government protesters and the police force have clashed on many occasions, but Chong Wai kindly drew my attention to the fact that the work was executed already back in 2018. However, Chong Wai told me that he had in fact participated in the demonstrations in Hong Kong over the Summer. He also mentioned that Silberman Gallery had originally wanted to show his work at Contemporary Istanbul because of its strong resonance with the status quo in Turkey. After my conversation with Chong Wai I was contemplating how many other countries in the world his work could currently be associated with.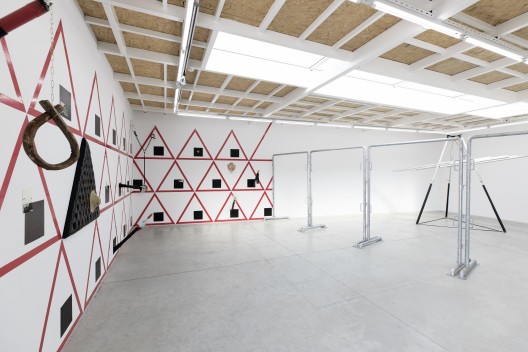 Installation view of Suspended by İz Öztat, at PI Artworks (Istanbul & London) at Contemporary Istanbul, 2019 (Photo credit: Nazli Demirel)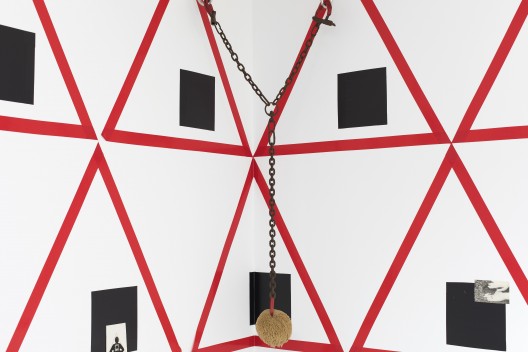 Suspended by İz Öztat, at PI Artworks (Istanbul & London) at Contemporary Istanbul, 2019 (Photo credit: Nazli Demirel)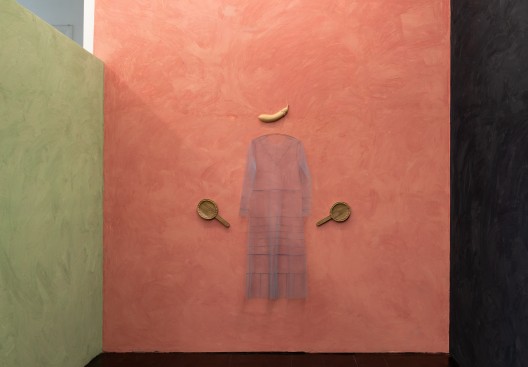 Thea Gvetadze, Becoming the Thea Merlani, 2018 (Cloth and wood 160 x 130 cm) at LC QUEISSER Gallery (Tbilisi) at Contemporary Istanbul, 2019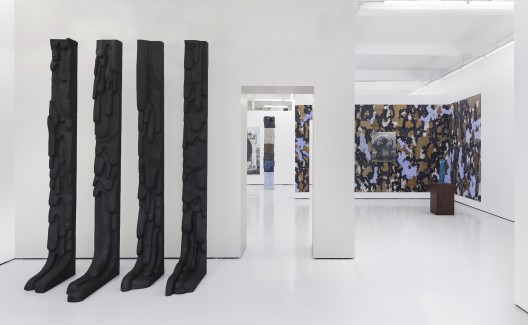 Eva Nielsen & Marion Verboom, Cosmovisions curated by Marianne Derrien at THE PİLL Gallery (Istanbul) at Contemporary Istanbul, 2019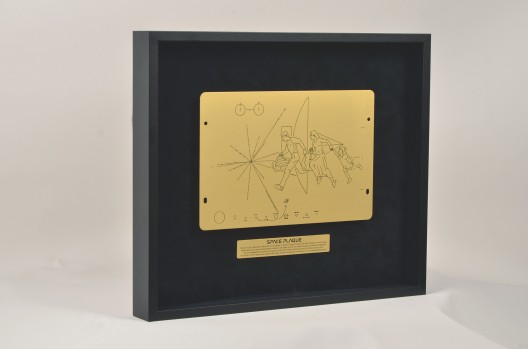 Halil Altındere, Space Plaque Message from Earth (acid etching on brass, framed 38 x 45 cm) at PILOT Gallery (Istanbul) at Contemporary Istanbul, 2019