ARNDT Singapore – Opening Kaloy Sanchez, Saturday, November 22,2014, 3 – 6 pm
[新闻稿]
All The Unspeakable Things
ARNDT Singapore
November 23 – December 31, 2014
Opening
Saturday, November 22, 2014
3 – 6 pm   Afternoon tea reception
The artist will be present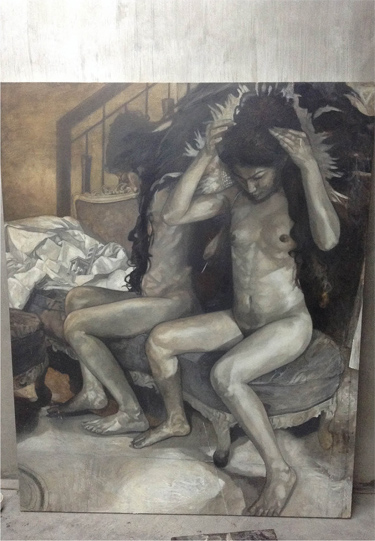 ARNDT SINGAPORE is pleased to announce a solo exhibition of Kaloy Sanchez, a young and promising artist based in Manila, Philippines. The artist has participated in a curated Filipino group show at ARNDT earlier this year (Manila: The Night is Restless, The Day is Scornful, curated by Norman Crisologo and held July – August 2014). All The Unspeakable Things will be his first individual appearance with the gallery for which he created five new works in oil on canvas. The artist will be present at the opening reception.
Kaloy Sanchez belongs to the new generation of figurative painters coming from the Philippines, devotes his work to studies of human psychology and collective social experiences. Sanchez works with great sensitivity: through setting his nude figures in semi-private, semi open rooms he gently welcomes us to his models' sacred spaces and their psychological landscapes. His canvas, mostly kept in monochromatic gray tones, explore the topic of longing, isolation, anxiety, fear and desire.
"(…) The Unspeakable Things" explores rooms: their interiors, their intimations. Behind walls, often shielded from the public, guards are let down, clothes fall to the floor. Masks fall off, or sometimes, masks are put on. Kaloy Sanchez's paintings examine human frailty within the contect of private spaces. (His) work flirts with the stark and the sublime: each portrait has a story to divulge, with each viewing yielding a deeper secret."                                                                                                                                                                  Yvette Tan
Kaloy Sanchez (b. 1982) graduated with a BFA from the University of the Philippines in 2006. His most recent solo exhibitions include Nausea, West Galler, Quenzon City, Philippines (2013); Ring Around Rosie, Manila Contemporary, Makati City, Philippines, 2012; Missives to the Ocean, West Gallery, Quenzon City, Philippines, 2011; Too Loud a Solitude, Valentine Willie Fine Art, Kuala Lumpur, 2011. He has also participated in numerous group shows such as Manila: The Night is Restless, The Day is Scornful, ARNDT Singapore, 2014; Secret Rooms & Hidden Motives by Jason Montinola and Kaloy Sanchez, Valentine Willie Fine Art, Kuala Lumpur, Malaysia, 2012; Imagining Identity: 100 Filipino Self Portraits, Finale Art File, Makati City, Philippines, 2012.