Hong Kong Arts Centre 's 6th Annual Flagship Exhibition (Dec 12, 2014-Jan 15, 2015)
[新闻稿]
Exhibition Information
Unseen Existence: Dialogues with the Environment in Contemporary Art
Guest curator: Rudy Tseng
Date & Time: 12 December 2014 – 15 January 2015, 10am – 8pm
Venue: Pao Galleries and Jockey Club Atrium, 3-5/F, Hong Kong Arts Centre
Featured Artists: Nadim Abbas, Allora & Calzadilla, Ang Song Ming, Araki Nobuyoshi, Masaya Chiba, Jiang Zhi, Maya Kramer, Boris Mikhailov, Yuko Mohri, Sutthirat Supaparinya, Wang Fu-jui and Yao Jui-chung.
Free Admission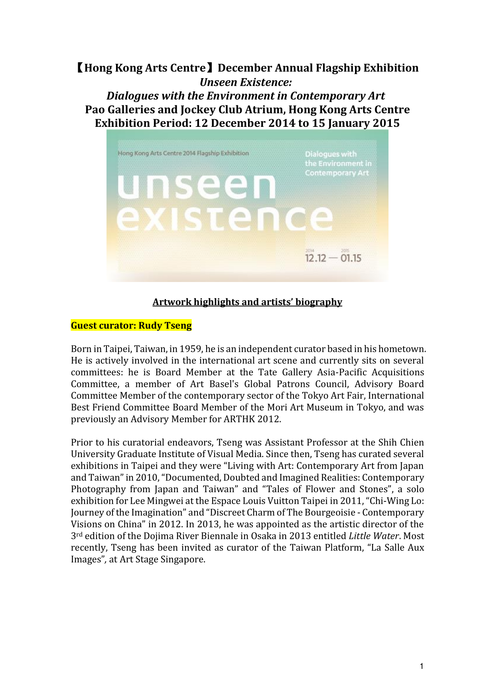 Presenter: Hong Kong Arts Centre
Sponsor: HSBC Private Bank
"Art Available to All" School Tour Sponsor: The FRIENDS of the Hong Kong Arts Centre
Accommodation Sponsor: COMO COMO Serviced Apartments
Individual Artist Sponsor: Asia One Communications Group, Mr. Nelson Leong, Ministry of Culture, Republic of China (Taiwan), National Arts Council of Singapore, U.S. Consulate General for Hong Kong and Macau
Supporter: Spring Workshop
【Hong Kong Arts Centre】presents its 6th annual flagship exhibition Unseen Existence: Dialogues with the Environment in Contemporary Art. The exhibition will be divided into four subsidiary themes on energy, ruin, caring and finding. It aims to address the issue of our connection with nature, and to redirect our attention and care to these phenomena of nature that we so often take for granted.
1.      Following the success of the previous exhibitions, Taiwanese art curator Rudy Tseng will curate the exhibition, showcasing the works of twelve Asian artists/art group including Nadim Abbas (Hong Kong), Allora (US) & Calzadilla (Cuba), Ang Song Ming (Singapore),Araki Nobuyoshi (Japan), Masaya Chiba (Japan), Jiang Zhi (China), Maya Kramer (US), Boris Mikhailov (Ukraine), Yuko Mohri (Japan), Sutthirat Supaparinya (Thailand), Wang Fu-jui (Taiwan) and Yao Jui-chung (Taiwan).Their works have been exhibited in Venice Biennale, the Solomon R. Guggenheim Museum, Yokohama Triennale, Sapporo International Art Festival and the Museum of Contemporary Art Australia. (Please see attachment for artwork highlights and artists' biography)