Edouard Malingue Gallery, ROH Projects, Silverlens "Shared Coordinates"
[Press Release]
Edouard Malingue Gallery, Jakarta-based ROH Projects, and Manila-based Silverlens are participating in Singapore Art Week by bringing together ten artists in Shared Coordinates, a group show that celebrates the region's wealth of artistic expression through contemporary art, from January 10-14, 2017 at the Arts House, 1 Old Parliament Lane, Singapore.
ROH Projects will be representing Indonesian contemporary artists Aditya Novali, Arin Dwihartanto Sunaryo and Syagini Ratna Wulan. Silverlens Gallery will show a collection of work by Martha Atienza, Gregory Halili, and Ryan Villamael, Filipino artists who are simultaneously showing in the Singapore Biennale 2016. Mixed media artist Gabriel Barredo and painter Bernardo Pacquing complete Silverlens' lineup. Edouard Malingue Gallery will exhibit works by the Bandung media art collective Tromarama.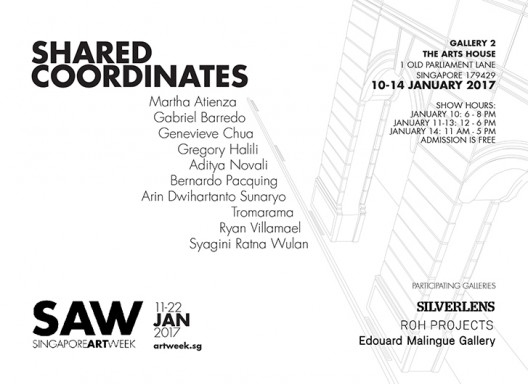 Shared Coordinates opens at the Arts House, Gallery 2, 1 Parliament Lane, Singapore on January 10, 2017 at 6:00 pm. Hours of the show are as follows: January 10: 6-8 pm; January 11-13: 12-6 pm; January 14: 11 am- 5 pm. Admission is free.
About Edouard Malingue Gallery
Edouard Malingue Gallery was founded in Hong Kong in 2010 to build a critical dialogue between Asian and international contemporary artists, both emerging and established, who combine aesthetic concern with conceptual enquiry, and work across different disciplines from video and installation to painting and sound. With spaces in Hong Kong and Shanghai, Edouard Malingue Gallery continues to present engaging solo exhibitions, international projects and art in public spaces.
About ROH Projects
ROH Projects was founded in 2012 with a vision to establish a leading gallery for the development of contemporary art in Indonesia and the greater Asia Pacific Region. It focuses on providing a platform for emerging artists with alternative practices as well as showing more developed artists in a nuanced and intellectually sound manner. ROH also presents its artists in an international scale and has shown with the most prestigious art fairs in Asia.
About Silverlens
Through its artist representation, institutional collaborations, and exhibition programming including art fairs and gallery partnerships, SILVERLENS aims to place its artists within the broader framework of the contemporary art dialogue. Its continuing efforts to transcend borders across art communities in Asia have earned it recognition from both artists and collectors as one of the leading contemporary art galleries in Southeast Asia. SILVERLENS was founded by Isa Lorenzo and Rachel Rillo in 2004.