PANDAMONIUM Micro-Exhibition #2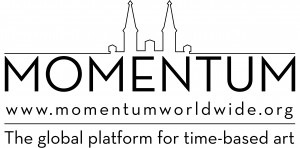 Presents:
PANDAMONIUM:
MEDIA ART FROM SHANGHAI
Micro-Exhibition #2:
Ai Weiwei + Lu Yang
March 28 – April 6
At MOMENTUM Berlin
Kunstquartier Bethanien, Mariannenlatz 2, Berlin Kreuzberg
A Collaboration Between CHRONUS ART CENTER Shanghai and MOMENTUM Berlin

PANDAMONIUM focuses on the work of Shanghai artists who work openly, distant from the country's political centre in Beijing. The group of artists shown here are all engaged in experiments with new media introducing into Chinese art new creative ideas and aesthetic approaches. PANDAMONIUM addresses the first three generations of media artists in China. Starting with pioneers like Hu Jieming, working since the 1980's to break new ground with the technologies of media art, to the successes of the next generation, such as internationally acclaimed artist Yang Fudong, and moving on to their students, who are developing their own visual language in response and in contrast to their pioneering teachers. Berlin-based artists Thomas Eller and Ming Wong have also been invited to contribute to PANDAMONIUM by responding to this theme.
The work selected for the show is largely on single screen projections, minimal and subtle expressions that will allow the Berlin public not only to see some of the strongest work now being made in Shanghai but also to sense the scale of transformation that is now running through the whole of Chinese contemporary art.
A Series of Artist Residencies, Open Studios, Micro-Exhibitions, Kunst Salons, Parties, Provocations, and a Group Exhibition Curated by Li Zhenhua and David Elliott
To coincide with Ai Weiwei's exhibition, "Evidence", opening at Berlin's Martin Gropius Bau on April 2nd, PANDAMONIUM dedicates our next Micro-Exhibition to this renowned bad boy of contemporary art. And alongside the bad boy, we present a bad girl – one of the 2 women artists in PANDAMONIUM, this provocative young artist is being shown in Berlin for the first time.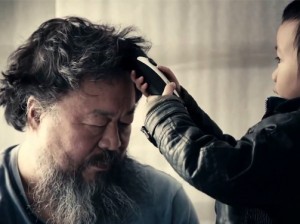 AI WEIWEI
Ai Weiwei is a prolific artist, writer, designer, architecht, curator, and activist for human rights. He is, above all, a public figure, wilfully manipulating the spotlight so as to make his point. Always irreverent throughout his career, Ai Weiwei has mastered playing the art world at its own game – using that same spotlight to illuminate its absurdities and incongruities., just as he strives to highlight political and social abuses in his country. In honor of this, we present Ai Weiwei as the public figure he assuredly is. Using open source material that he himself has released onto the internet, we ask is this artist himself a work of art, constructing his character and public persona much as he manipulates traditional Chinese furnishings into new and unexpected forms. Interviews and documentaries shed light on the man behind the character, and home surveillance footage Ai Weiwei made of himself reveals the profound humor which has enabled him to make the most of his predicament.
Ai Weiwei (b. 1957) in Beijing where he lives and works. He attended Beijing Film Academy and later, on moving to New York (1981–1993), continued his studies at the Parsons School of Design. Major solo exhibitions include Indianapolis Museum of Art (2013), Hirshhorn Museum and Sculpture Garden, Washington D.C. (2012), Taipei Fine Arts Museum, Taiwan (2011), Tate Modern, London (2010) and Haus der Kunst, Munich (2009). Architectural collaborations include the 2012 Serpentine Pavilion and the 2008 Beijing Olympic Stadium, with Herzog and de Meuron. Among numerous awards and honours, he won the lifetime achievement award from the Chinese Contemporary Art Awards in 2008 and the Václav Havel Prize for Creative Dissent from the Human Rights Foundation, New York in 2012; he was made Honorary Academician at the Royal Academy of Arts, London in 2011.
Music Videos: Dumbass (2013), Gangnam Style (2012), Anish Kapoor And Friends Perform Gangnam Style For Ai Weiwei (2012)
Documentary: Ai Weiwei Self-Surveillance 12-04-03, Ai Weiwei Without Fear Or Favor (2010) – BBC Documentary, Ai Weiwei Karaoke Home Movie,, Lao Ma Ti Hua / Disturbing the Peace (2009) Ai Weiwei dir., Who's Afraid of Ai Weiwei (2011), Frontline Episode for PBS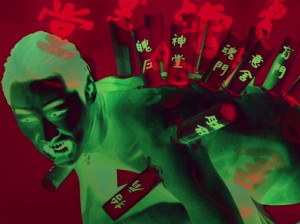 LU YANG
Lu Yang (b. 1984, Shanghai) holds undergraduate and master's degrees from the New Media Department of the China Academy of Art in Hangzhou, having studied under Zhang Peili. Her experimental multi-media artwork uses video, 3D animation, scientific drawings, illustrations and installations, and music to address topics related to science and technology, biology, religion, psychology and popular culture. Lu Yang's practice has generated a brand of BioArt that explores the darker implications of modern science and technology to comment on issues of control in modern society. Her shocking combinations of grotesque imagery and deadpan instruction manuals have made her the most controversial young Chinese multimedia artist of her generation. While 30 years Ai Weiwei's junior, Lu Yang is his match in irreverence. Her work will be shown in Berlin for the first time. Lu Yang has participated in a number of international exhibitions, including Unpainted Media Art Fair – LAB3.0 2014, Munich, ASVOFF – A Shaded View On Fashion Film, 2013, Centre Pompidou, Paris and Rapid Pulse, 2012, DFB Performance gallery, Chicago.
To find out more, click on: PANDAMONIUM
Join the Event on Facebook to receive program updates and invitations to special events. Click on: FACEBOOK EVENT
ABOUT CAC | CHRONUS ART CENTER SHANGHAI:  www.chronusartcenter.org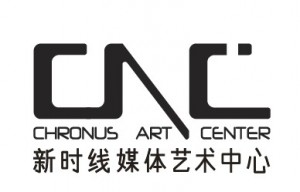 Founded in 2013, CAC | Chronus Art Center is the first major non-profit art organization in China focusing on the experiment, production, research, exhibition and education in new media art.  CAC was founded by the renowned curator Li Zhenhua, artist Hu Jieming, and technology expert Dillion Zhang, Wti Group, China's premiere company for projectors. Having traveled MOMENTUM's exhibition The Best of Times, The Worst of Times Revisited to CAC Shanghai in the first months of 2014, this collaboration is continued in Berlin with a 4-month program of Chinese media art presented by CAC and MOMENTUM.
ABOUT MOMENTUM: www.momentumworldwide.org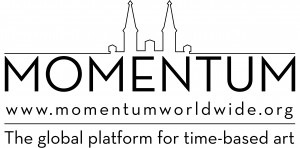 MOMENTUM is a non-profit global platform for time-based art, with headquarters in Berlin.  Through our program of Exhibitions, Kunst Salons, Public Video Art Initiatives, Residencies, and Collection, we are dedicated to providing a platform for exceptional artists working with time-based practices. The term 'time-based' art means very different things today than when it was first coined over 40 years ago. MOMENTUM's mission is to continuously reassess the growing diversity and relevance of time-based practices, always seeking innovative answers to the question,  'What is time-based art?'. MOMENTUM serves as a bridge joining professional art communities, irrespective of institutional and national borders. The key ideas driving MOMENTUM are: Collaboration, Exchange, Education, Exploration, and Inspiration.
* Special thanks for support from CAC | Chronus Art Center, WTI and CP