THE CROCODILE IN THE POND
11 Artists from ShanghART
[press release]
OPENING HOURS
Monday 13–Sunday 19 June, 10 am – 8 pm
Monday 20 – Sunday 26 June, 1 pm – 5 pm and by appointment
Positions of Chinese contemporary art and Western building traditions will cover the baroque spaces of the former Cistercian monastery of St. Urban starting this June 12th. With "The Crocodile in the Pond", curator Alexandra Grimmer introduces a radically new mind-set and proves primarily one thing with the works of 11 artists from ShanghART Gallery: This young generation does not want to fit into a certain image or an aesthetic school anymore.
Similar to the metaphor of the crocodile that is put in the pond and lies inert and motionless but still makes fish swim faster, the art scene in China has changed. Chinese contemporary art does not hide behind role models and masters anymore. A new mind-set has found its way into the studios and thereby into art production. A mentality in which artists no longer define themselves as Bohemian, but rather as innovators and successful think tanks for society. They have something to say and they say it loud and clear. They use technologic innovations of the 21st century, comment on social conventions with a twinkle in their eyes, and they work fearless in vast dimensions.
In this way a new sense of self-confidence has been established, one that is reflected in the contemporary art production and is all but compliant: adaptation would be the complete opposite of this attitude.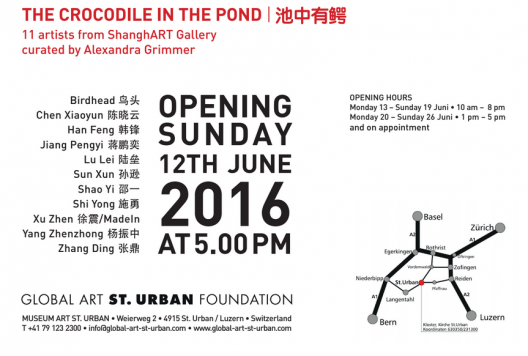 The complete opposite of adaptation: idiosyncratic and venturesome
This radically new art now encounters the calmness of the plain white baroque architecture of the Cistercians. In this exceptional atmosphere the exhibition "The Crocodile in the Pond" expands in a tour from the staircase past the representative baroque stairs into the banquet hall through the rooms of the St. Urban Monastery.
None of the artists of this exhibition fear innovation in their works. Rarely have so many different approaches been seen. And nevertheless, they all carry a common handwriting. This young generation does not want to fit into a certain image or tradition anymore. Absolute individualism is key, paired with reflection and talent.
Artists and critics from the west often have their reference points towards the evolution of global art in their own history. But the view from history that tries to judge current developments here leads to nothing. While works used to often be reproduced over years, with careful considerations of every innovation, experiment or change of direction, China's art scene of today works with a lot of risk.
Sun Xun has been celebrated as a rising star since his time at the academy. He has been showing noteworthy rigor in his work for years now. Hardly any artist has been represented in as many prominent exhibitions and acknowledged as extensively in solo exhibitions as he.
A group of drawings in light boxes from "People's Republic Zoo" will be shown at St. Urban next to the corresponding animated movie. In Sun Xun's work "Jing Bang Country" it is possible to the visitors to acquire a citizenship with a complementary package of basics for a new identity. The guest refectory in which the genealogical tables of bishops appointed to St. Urban are documented, serves as ideal space for this installation.
Xu Zhen stood out early on through his idiosyncratic works broaching ruthless issues like violence and sexuality. At the same time he was soon part of important international collections. Today, he wows with colossal sculptures. Much like in "Eternity" presented at "The Crocodile in the Pond" in front of the baroque staircase, in which he combines western and eastern artistic traditions ruthlessly.
Once known as an "enfant terrible", the most elitist collectors of China have in the last few years cherished Xu Zhen. Shanghai's Long Museum dedicated a retrospective to the 1977 born artist in 2015. His comprehensive solo exhibition was shown by UCCA Beijing the year before that. Currently, his works are to be seen in an exhibition with 6 other artists at the Louis Vuitton Foundation in Paris.
Call for innovation
Zhang Ding attracted attention with barefaced and un-adapted projects throughout the first ten years of his work. His method therefore never repeated itself. Every work challenged the viewer's approval time and time again—the viewer being at the outset of the Chinese audience. In recent years, large scale solo presentations in which he created installations as stages for rock musicians followed.
Zhang orchestrated his performances in 2015 at the K11 Shanghai and at ICA London. For the opening of his solo exhibition at ShanghART Gallery Beijing in 2014, he re-enacted the legendary "Monsters of Rock" Concert of 1993 at the military airport in Moscow and demanded communication instead of rigid systems.
A performance by Zhang Ding will be held within the Party by ShanghART on June 17th in the 200 year old cellar of the monastery.
The aspect of constant innovation of the own work also applies to Yang Zhenzhong. The video artist born in the 60s is regularly invited for collaborations with his younger colleagues. The distinct and focused look of the artist is captivating: It lets the audience dive into his world through his works. For the exhibition at St. Urban Monastery his work "Passage" with object images and a video has been chosen. Also "Disinfect", a 6-channel- video created for the exhibition, will be seen. In the sense of Kierkegaard's lasting Augenblick (instant), the audience is confronted by mute invective In this projection.
Extreme experiments and the tranquility of the pictures
When drifting off into their work, Jiang Pengyi and Han Feng are similarly focused. Jiang Pengyi obtains the results he wishes for in his photographs through extreme experiments, ones in which he uses singularly the camera as a paintbrush. For example the work "Dark Addiction Series" shown at St. Urban, lets only lighting patterns fall on to the photographic paper during the development process this creating stunning results.
Han Feng's fine and quiet pictures are reminiscent of the techniques from Chinese traditional ink wash painting. While working, he retires into his own world by creating congruent objects and pictures evocative of common reference points: his large-size canvasses recall fragile paper works and his "Clothes for…", "Shoes for…" remind of meticulous casings and forms.
Other artists
The artist duo Birdhead attracted attention very early in their career. Some ten years ago their seemingly fugitive but extremely telling inventories of their hometown of Shanghai emerged in the art world. An inner unrest that can also be construed as creative aggression drives their works.
Works involving installations will be seen by respectively Chen Xiaoyun, Lu Lei and Shao Yi at St. Urban. Lu Lei likes to include transistors in his pieces so the observer is constantly being brought to mind a form of movement, where an unstoppable shape takes course of in the placement of things.
Chen Xiaoyun combines different forms of media in his works in which the idea of the artist pulls through like a sharp line. Photography and video are complemented with his objects. His installations are charged with content, their foundation frequently being literature.
"A Bunch of Happy Phantasies" by Shi Yong will be seen above the architecturally unique baroque staircase at St. Urban: An upside down poem in red neon writing that spreads an even more intense atmosphere through its hardly discernible content. Literature also takes an important place in Shi Yong's creations. He turns texts illegible, which in turn, reduces his works contents to a minimum. And through it, reaches the last consequence of beautiful forms. Shi Yong obtains the unique chancel of Abbey St Urban for an installation from his latest series "Let All Potential Be Internally Resolved Using Beautiful Form". This time, the Swiss baroque finds a formal minimalist pendant, yet with charged content through the illegible texts, in the work of the versatile artist.
ARTISTS
Birdhead 鸟头 (est. 2004 in Shanghai, Ji Weiju *1980, Song Tao *1979)
Chen Xiaoyun 陈晓云 (*1971 in Hubei, based in Beijing)
Han Feng 韩锋 (*1972 in Harbin, based in Shanghai)
Jiang Pengyi 蒋鹏奕 (*1977 in Hunan, based in Beijing)
Lu Lei 陆垒 (*1972 in Jiangsu, based in Beijing)
Yang Zhenzhong 杨振中 (*1968 in Hangzhou, based in Shanghai)
Zhang Ding 张鼎 (*1980 in Gansu, based in Shanghai)
Shao Yi 邵一 (*1967 in Hangzhou, based in Hangzhou and Shanghai)
Shi Yong 施勇 (*1967 in Shanghai, based in Shanghai)
Sun Xun 孙逊 (*1980 in Liaoning, based in Beijing)
Xu Zhen 徐震/MadeIn (*1977 in Shanghai, based in Shanghai)