'A Thousand Years' by Xu Bacheng at The Opposite House
[Press Release]
We are delighted to announce the opening of Xu Bacheng solo exhibition A Thousand Years at The Opposite House and launch of his two distinct installation art works Sanlitun in One Thousand Years and Silence and Solitude from 5th August to 31st October 2015.
A Thousand Years begins with Sanlitun in A Thousand Years, in which Xu creatively used cement as a basic element to depict an aerial view of the modern-day Taikoo Li Sanlitun. Cement, an important material used for construction, is widely used in the development of Taikoo Li Sanlitun. It represents growth, evolution and potential. The rapid development of Taikoo Li Sanlitun promises a colourful world of dining, entertainment, shopping and nightlife. It is a haven where visitors can get away from the reality and hustle and bustle of a metropolitan city. With its charm, unique characteristics and ever-changing surroundings, it is difficult to imagine what the area will look like in one thousand years.
Sanlitun is a quite interesting name and where is the first place most bars located in Beijing. Sanlitun named because is only three miles away from the inner city in history years. As the place is very close to Diplomatic Residence Compound, therefore Sanlitun gradually becomes one of the main place of Beijing's nightlife. Anything interesting will possibly happen at Sanlitun, it has been said: Beijing will be proved to be the potential world city in the future due to rapid economic development of Sanlitun, also the place full of romance.
In the era of everybody chasing fashion, more and more people love clubbing. When the night comes, they are all going to find their selves in a mental and psychological space. Nightclubbing has become indispensable tag for young people. They will experience ups and downs at same time and explore any primitive desires.
Late night, some people are already drunk, but some others are just becoming excited! Well, those who leave early and start late do not have much difference, as they all carry too many city's desires or dreams with themselves. The busy city makes people physically and mentally exhausted, therefore they need the night in such place to breath and free their soul and spirit.
The Opposite House is located in the south of the fashion district of Sanlitun Tai Koo Li, and designed by Japanese architect Kengo Kuma. The designer who utilises nature has presented a home of urban oasis for us, with a group of colourful, funky shapes of buildings.
Sanlitun as a busy and colourful district, developed with reinforced concrete post-modern architectures. It is a heaven of shopping and nightlife where lots of lonely people look for soul comfort by chatting with strangers. They always lack sense of presence in reality, therefore in here it doesn't matter who you are no one will remember you anyway. However in Sanlitun, people always have some precious memories and every single molecule is interesting. Sanlitun is so mysterious but charming, filled with luxury and extravagance, so it is hard to imagine what will happen in one thousand years.
By 2014, the total cement world output was 4 billion tons and China's cement output was 2.42 billion tons. Cement is a highly cost-effective growth material for buildings and cement itself is kind of metaphor of urban development. Currently, China accounts for more than half the consumption of cement in the world. There are many cement factories throughout urban and rural areas still producing after the financial crisis.
I use this man-made cement as the basic element for creation. From many mythical stories, water and mud are two basic elements to create human beings. Cement is not only a form, but also a material. It always exists as a mysterious power being hidden behind the glass wall. Cement cannot be expressed, but in essence our city is built by cement, for example our Sanlitun. Therefore, the great power of cement becomes the life necessity of human beings everywhere. Especially in China, cement provides us a minimum sense of reality, which is a kind of lost sense of reality.
Essentially, cement is no form, no body, but I try to exhibit a very concrete and tangible A Thousand Years in Sanlitun from intangible cement. When visitors walk by the cement aerial view of Sanlitun landscape, they will feel the combination of speed and effectiveness, the dream and reality, the grandiosity and romance. In the wave of new economy, Sanlitun as a contemporary landmark building in China, it's A Thousand Years Dream will slowly wake up at the Opposite House.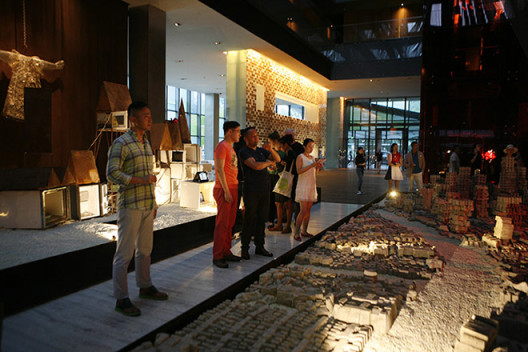 Electrical appliances and houses have been integrated nowadays. A house is incomplete without electrical appliances. The definition of a house probably has been changed in recent years and electrical appliances as daily necessities have become an integral part of the residential structure. While staying at home, you are not only in a concrete building, but also staying with these electrical appliances. We are unconsciously exposed to this Magic Theatre and come to these appliances with many theatrical events while we facing and using them, which indicates that the machines is having effects on each person. The history is not only changed by attitudes and behaviors, but also could be influenced by the objects and machines. As same as the attitudes and densities of human beings, the object also has its own specified density. These electrically-based objects separate quickly from the wills of human beings and evolve independently. In other words they also possess their own wonderful life cycle. When these "retired" appliances greatly appear from houses to the public, they are familiar but strange, ordinary but funky. Moreover, these objects root and bloom in every corner around the world as they are beyond specific ideology. Therefore, I try to record this era and all the possibilities under the Silence and Solitude through recording the experience of using electrical appliances.
July 6, 2015
By Xu Bacheng
Translated by Harry Gao