Compelling Desire Solo Exhibition of Liu Yuanshou-Galerie Du Monde
[Press Release]
Hong Kong, October 15, 2014 – Galerie du Monde has the pleasure in presenting Compelling Desire, a solo exhibition by Chinese artist Liu Yuanshou, which will include 15 previously unseen artworks, in conjunction with the gallery's 40th anniversary this year. Already a respected and prominent artist with a vigorous, individual style and exceptional technical skill, the exhibition confirmed our belief in his talent. Compelling Desire will be presented in Hong Kong from 20 November – 30 December 2014.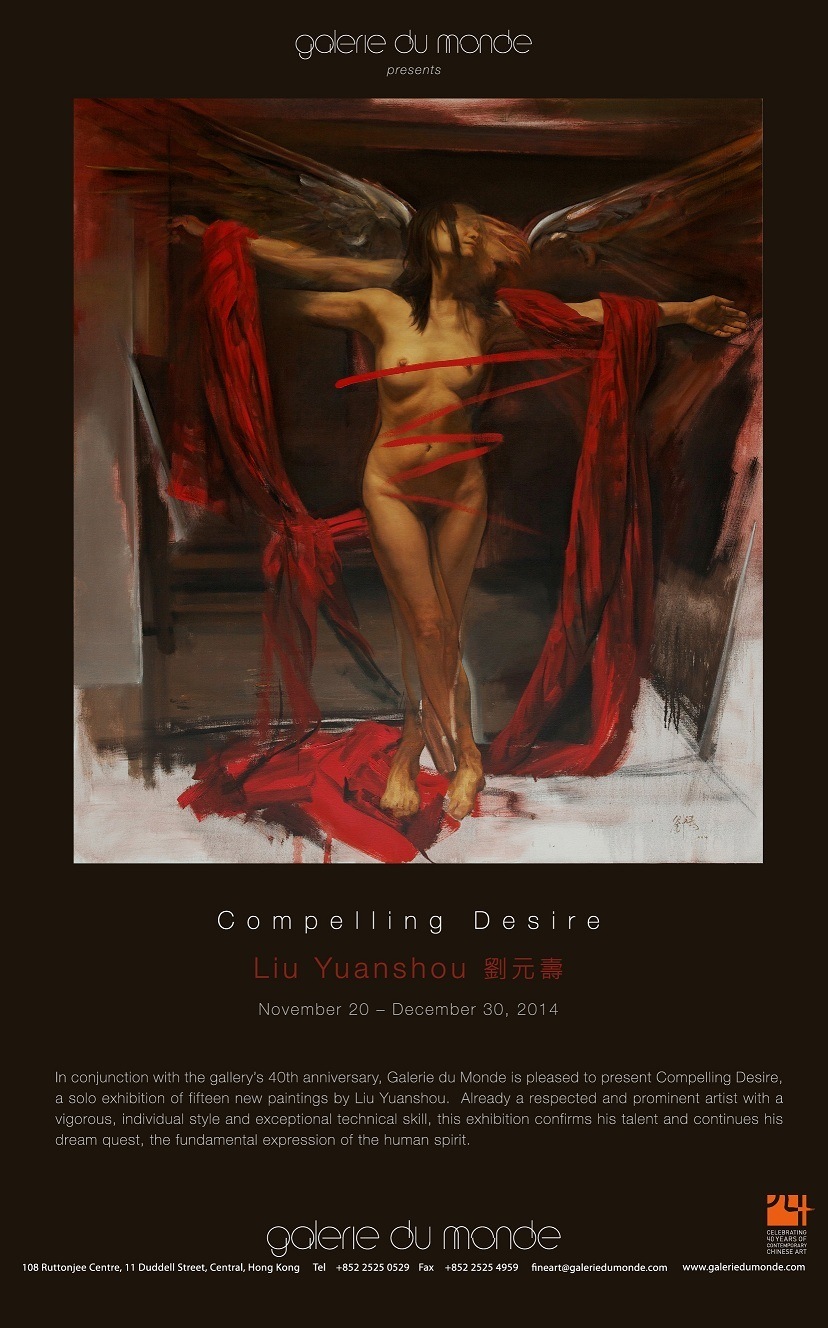 Liu Yuanshou (b.1967) was born in Beijing, China. He graduated from the Beijing College of Education, currently known as The Capital University of Education, specializing in oil painting. In 1991, his painting We Are Not Strangers in That Era participated and was awarded in the exhibition celebrating the 70th anniversary of the formation of the Chinese Communist Party.
In the past ten years, his works have been exhibited extensively in both solo and joint exhibitions throughout China. The artist has participated in international art fairs including Art 13 London, Fine Art Asia 2010 and Fine Art Asia 2011.
Over the past four years, Liu Yuanshou continues with his evocative subject matter. His style alludes to a higher reality that goes beyond the appearance of his subjects, but to their spirit. In his search for purity, he dares to set himself against the current, offering intimate subject matter with utter simplicity, always accentuated by the use of a vibrant red. The paintings then become internal whisperings, secreting a peace that freezes time just long enough for a glance, like some unreachable vision. A vision that leads to silent fulfillment.
In the exhibition Compelling Desire, Liu continues on his dream quest, the fundamental expression of the human spirit. His vision seeks far more than perfect beauty; rather his intent is to create a virtual vision of feeling. Liu's brush is the instrument that links his heart with his mind. More personal than his previous works, these paintings dramatize the ever-present human need for release from inner repression. While painting can be viewed as a metaphor for freedom, nudity represents a release from inhibitions. These paintings provide a powerful coming together of these two expressions of liberation.