Compounds of Aura, Tang Contemporary Art
[Press Release]
Artist: He An, Xu Zhen-Produced by MadeIn Company, Zheng Guogu
Curator: Lu Mingjun
Opening:  Sunday, December 3, 2017, 4PM.
Dates: December 3, 2017 -  January 6, 2018
Venue: Tang Contemporary Art Space II (Beijing)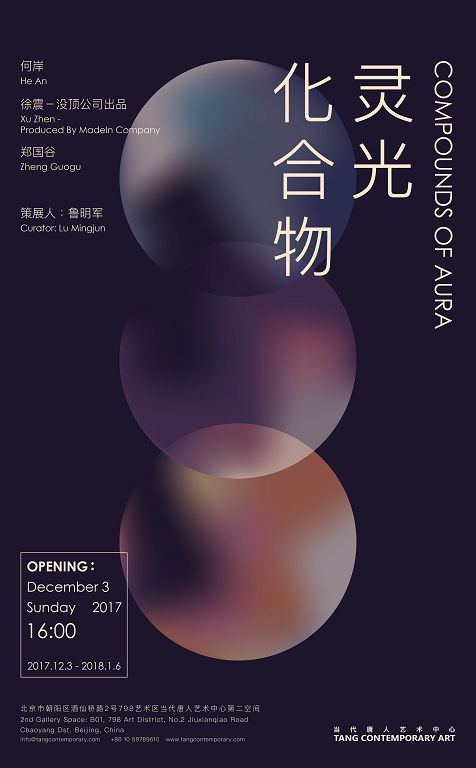 Tang Contemporary Art Beijing is proud to announce the opening of "Compounds of Aura," a exhibition for artists He An, Xu Zhen-Produced by MadeIn Company and Zheng Guogu, and curated by Lu Mingjun on December 3, 2017.
Religious feeling and aimless movement do not resolve He An's daily anxiety and impetuosity; they often collide, creating sparks of inspiration and almost-forgotten textures. Based on cheap materials and ready-mades such as aluminum plate, pencil, steel, cement, and textiles, He An re-explores the multiple temporary relationships between materials, bodies, and vision, as well as underlying pictorial narratives and subtle perceptual dimensions. Xu Zhen (MadeIn Company) unexpectedly transformed the four-thousand-year-old monument of Stonehenge into a stage for Chinese traditional martial arts performance. This grafting of forms can naturally be traced to his previous Eternity series, but apart from the mocking, ridiculous symbolic relationships, I found it especially profound that the body measures earth, time, and space, and I was taken aback by the fantasy and despondency. Zheng Guogu has said that people actually exist in another magnetic field. He believes that every person's body is a locus of energy, and he has extracted the circulatory structures and movements of this energy into a set of symbolic systems and visual principles, choosing classic examples from history (including artists, thinkers, and associated concepts) for analysis and visualization. When the viewer confronts the image, a reactive magnetic field is created, influencing everything including the energy movements of the universe.
Benjamin's concept of the aura has been criticized asconservative and decadent,but these practices have shown us that they haven't lost their authenticity; instead, they have derived a new aura. These works not only play on the authenticity of each practice;whether light and dark, they respond to a time that has lost its center and its gravity. Giorgio Agamben called this an aura space—a mystery that cannot be expressed. However, the"compound" nature of this exhibition also tells us that this is not a personal mysticism, and not purely metaphysical. These works are the aesthetic products of the "chemical" reactions between multiple materials or elements—although the compounds have different auras in different people's eyes. Perhaps, these three different practices share a subtlety and spirituality that achieve the same goal.