Exploring the Links between Audio Description and Visual Art
[Press Release]
Press Release
Unit 12, Cattle Depot Artist Village
63 Ma Tau Kok Rd, To Kwa Wan, Kln
Today an increasing number of art exhibitions provide audio description as a facility to help the visually impaired appreciate the works shown. An audio description—usually a recorded description of what is visually present by a narrator— is not the same as an actual work, but it is a critical medium for the visually impaired to enjoy the art.
While there's a practical need for the facility, questions—like how an audio description is different from a work in its visual form and whether an audio description makes art appreciation more difficult—arise. But at the same time, there are intriguing dimensions—like whether audio tracks allow more imagination and how the differences between hearing and seeing an artwork might transform the aesthetic experience—waiting for both audiences and artists to explore.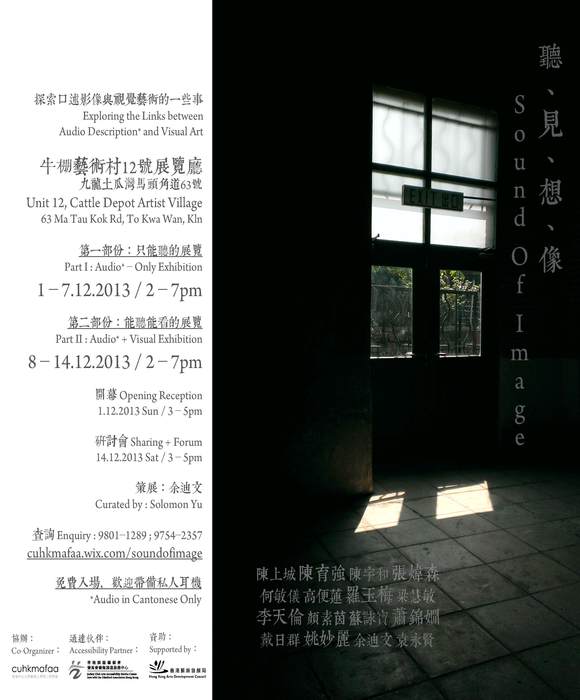 With support from Jockey Club Arts Accessibility Service Centre, 16 artists explore these issues firsthand by learning how to write and produce audio descriptions. Each artist then will create an audio description for his/her own work and present the result in this exhibition, Sound Of Image, in two parts -
Part 1: Audio – Only Exhibition (Dec 1-7) – only audio tracks of artworks will be presented at the corresponding locations of the works.
Part 2: Audio + Visual Exhibition (Dec 8-14) – the actual artworks will be at the venue.
We welcome the public to visit both parts of the exhibition and to explore the differences between hearing about the works and seeing them. Please note that the audio tracks are only available in Cantonese. While handsets are provided on site, visitors are welcomed to bring theirs to listen to the audio tracks.
A public forum will be held on Dec 14 (Sat), 3pm-5pm, to engage the public, visually impaired audiences, artists, and audio description professionals where they can share their experiences and opinions on this project.
Artists:
Dunet Chan, Chan Yu-wo, Kurt Chan, Eddie Cheung, Blanche Ho, Koko Ko, Law Yuk-mui, Teresa Leung, Otto Li, Dorothy Ngan, Siu Kam-han, So Wing-po, Amy Tai, Joe Yiu, Solomon Yu, Thomas Yuen