Fang Lu: True Sense | Ou Jin: New Works
[Press Release]
True Sense
Artist: Fang Lu
We are proud to present Fang Lu's second solo exhibition in Boers-Li Gallery, "True Sense", opening on June 9th, 2016. The exhibition features her latest films produced in Berlin and the southern desert of Israel "The Secret of Supermoon" and "Sea of Silence", along with "No World" filmed in Beijing. 
The exhibition is segregated in terms of spatial relationships, to make the work of three independent yet conveying dialogue travels across space. Viewers will gradually be pulled into Fang Lu's works that stems from reality but ambiguous by state. It differs from her previous work in that these projects initiated in a narrative context. In the eyes of the artist, confession of love and restrain of bodily actions, are the key attitude and portrayal on how one participate in the world. Thus, the title of the exhibition "True Sense" suggests that, these attitudes are based on personalintuition, and direct experience. 
In films "The Secret of Supermoon" and "Sea of Silence," the artist chooses to reflect one of the most complex issues of relationship- love, through meticulous yet paranoiac language to create multiple parallel or interlaced love events. All of the dialogue and plot are written at a personal level, as it originates from the artist's chat with these women when working on the projects. In terms of location of the two works, the narrative background were each set in an enclosed space with Sovietstyle interior and a solitary desert, which is untamed and yet free. Female confides to the camera, is a form by which Fang organizes "event". The meticulous detail depicted by personal language, slowdown and enlarge the actual time and space from the reality.
In the work of "No World", the artist fictionalizes a type of collective living that is based on radical actions and self-training. The video is about six youth living in an empty building. Everyday they repeat violence and yet game-like, unconflicted activities. In our everyday life, the experience of political conflict is so remote from self-experience; Individual experience is slowly deprived by excessive "information". The mode of action and behavior in this film is a reflection on the mediated imagery reality that we all live in.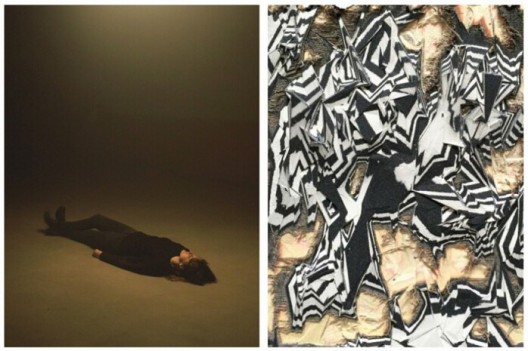 New Works 
Artist: Ou Jin
Boers-Li Gallery is proud to present Ou Jin's first solo exhibition, "new works" on June 9th, 2016. The exhibition will be located on the second floor of the gallery space.
Ou Jin's art invites for a sense of participation, rather than mere appreciation. All spectators are invited to participate in this ritual and experience endlessly emerging layers of meaning and inspiration. Upon entering the seemingly smooth and prosaic works, we discover that that which we have received isn't the artist's conclusion, but rather one hint after another. Obviously what's undertaken here is an experiment geared towards our faculties of judgment and modes of thinking. 
Ou Jin places his works in an open, dynamic linguistic structure to integrally change modes of artistic expression. He applies paint layer after layer, and waits patiently for the countless levels of pigments on the canvas to dry up. This segment of the artist's activity refers to the artisanal spirit of classical Chinese object-creation/craftsmanship: humans' physical bodies, objects and time jointly take effect in a certain setting, which relates to a ritual sense of arts and crafts, as well as to the concept of the "body" in performance art; afterwards, he takes readily designed computer-generated icons and inserts them in a special device to make them into three-dimensional cuttings, with the different layers of pigment taking on a rich, three-dimensional visual effect. This kind of visual effect reminds audiences of "abstraction", but actually the significance of the works extends far beyond that of abstract art. First of all, using computer-generated images, the artist already subverts to traditional visual understanding, with the final imagery presenting both will of the artist as well as the autonomy of the machine. When the final piece is presented, it appears to be so fashionable and intriguing: it looks like a sculpture, an installation, a piece of abstract art, a new media art, a fashion designed item… Almost everything we are familiar in the artistic concept and visual feature are all organically blended in this development, making the whole process as an astounding visual ceremony, and also a meaningful fable thoughts.