Huang Yan
Tattoo Utopia
Leo Gallery HK
[Press Release]
Wearing landscapes on our skin and body reminds us of the importance of Chinese artistic heritage in each and every Chinese people's life. Two decades after Huang Yan has published the series "Chinese Shan-shui Tattoo", which was about harmonious interaction between human beings and nature, Leo Gallery HongKong is delighted to present to "Tattoo Utopia" to the Hong Kong audience. This collection is also known as the most representative and unique works of artist Huang Yan.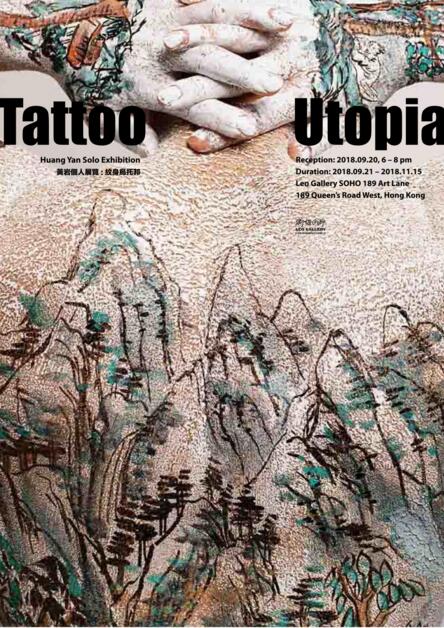 Starting from 21 September to 15 November, the public can appreciate 13 "Chinese Shan-shui Tattoo" unique photography artworks by Huang Yan. All these exquisite photographs have been exhibited in world-renowned museums such as NationalArt Museum of China in Beijing, Musee du Louvre in Paris and Metropolitan Museum of Art in New York, just to name a few.
In the early 90s, Huang Yanrealized that traditional art and contemporary art are deeply connected and can never be isolated from each other. From that moment, he has started to paint Sung and Yuan Dynasty landscapes ("Shan-shui") on human face (1994), on body (1995), and finally on canvas (1998). He was very awed by the unlimited room for imagination in the process of transferring image from paper to "human canvas". Afterwards, landscape painting on human body caused a revolutionary rebirth of traditional art form in the modern context. During this process, Huang Yan found the art of turning back the clock, and the way to draw the audiences' attention towards the relationship between ancient culture and daily life.
At the same time, Leo Gallery Shanghai is holding another solo exhibition "The Shan-shui Worldview" of Huang Yan. Together we wish to celebrate together the great contribution of his works to the contemporary art history.