Cai Zhisong "In Clouds"
Leo Gallery Shanghai
[Press Release]
From Dec 19th 2015 till Feb 27th 2016, Leo Gallery Shanghai will take audiences through a journey of Sculptor Cai Zhisong's comprehensive dreamlike solo exhibition "In Clouds"
"In Clouds" summarizes the artist Cai Zhisong's recent achievements, it will not only presents his series of "Motherland" "Rose" and "Clouds", but also "Cloud Boat" and "Cloud Screen". We can see the subtle changes of the artist's creative mind and his observations of life, in 2014 exhibition "Beyond the clouds" and 2015 exhibition "Rose Cloud Screen" and exhibition "In Clouds". This series of exhibitions are a progressive journey of appreciation and enjoyment.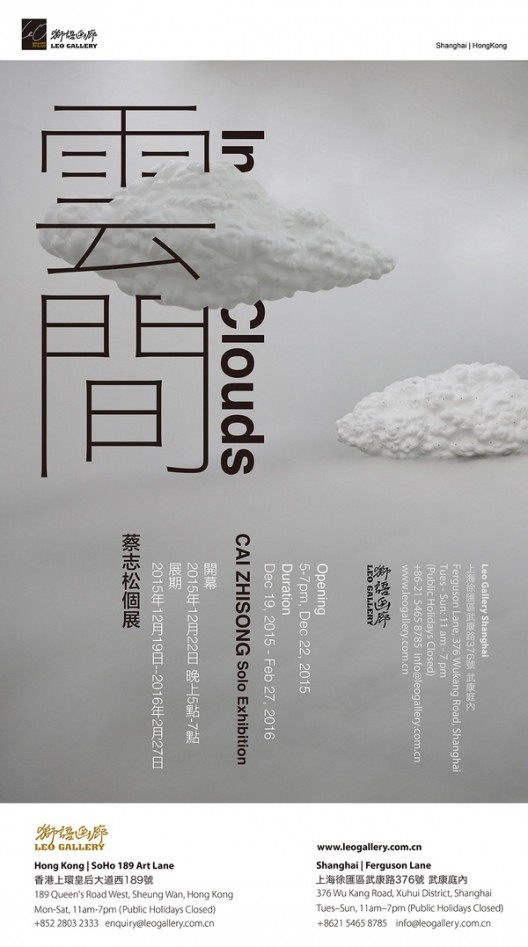 Cai Zhisong started to create the "Motherland" series at the end of 1999, and the series has lasted for 16 years. It has three parts: the Custom, the Refinement, and the Ode. The artist uses sculpting techniques from different regions, different eras and modern materials to create the figure of calm and modest warriors of the Qin Dynasty, to deliver a kind of tranquil artistic perception and to demonstrate the traditional humanistic spirit, and thoughts about humanity, history and the suffering of life.
The "Rose" series was created in 2008 using lead as material. Rose symbolizes love. Lead is soft and heavy, malleable and flimsy, calm and gorgeous, as well as stable and toxic. Though lead is a kind of metal, it is very fragile. The idea of combining the material property of lead with the natural shape of rose is to describe love as beautiful, dangerous and fragile. This series has lasted for seven years; it uses material and installation to demonstrate the artist's view about love.
The "Clouds" series was created in 2011. The first pieces were created for the 54th Venice Biennale. The series demonstrates the artist's thoughts about life: life is a kind of group collective, which can be taken apart at any time, and the rule of this collective is ever changing. The series uses installation and concept to demonstrate the artist's view of life.
The "Cloud Boat" was created in the last two years. It is an alloy skull symbolizing human wisdom. The inner side of Cloud Boat covered with gold leaf represents human wisdom; Clouds casted with resin signify vastness. Objective consciousness limits wisdom (an element of Subjective Consciousness) but wisdom can make use of the objective consciousness. Although subjective consciousness cannot reach the edge of objective world, it is able to touch on it like a ship moored onto shore.
The exhibition "In Clouds" uses the artist Cai Zhisong's three series of work to demonstrate his philosophy and his world of art, to look back at history, to examine love, to understand the ever changing nature of life, and to use wisdom to arrive at the shore of happiness and be calm. Which one is more important, the process or the result? Let us try to find the answer in this exhibition…