MadeIn Gallery – present Pagan – Liu Chengrui
[Press Release]
MadeIn Gallery is pleased to present Pagan, the first solo exhibition of Liu Chengrui at MadeIn Gallery.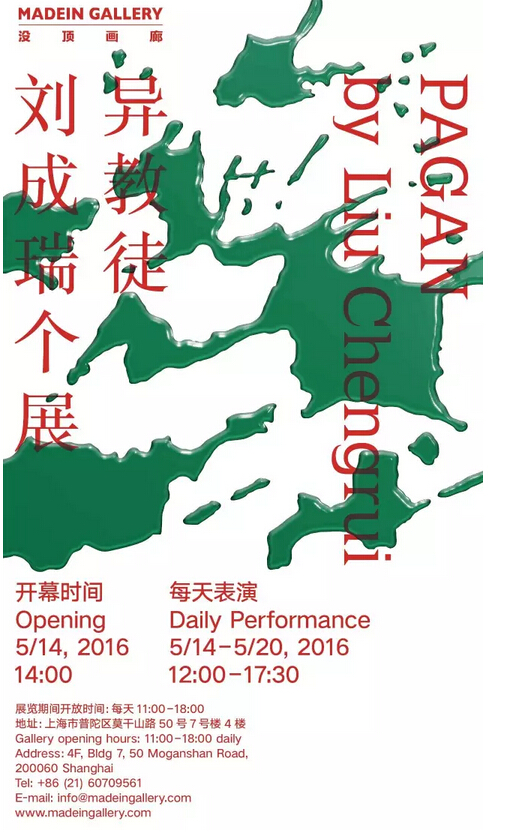 Primarily a performance artist, Liu Chengrui is often recognized for his mastery of scenic visual language, combined with a meticulous and ritualistic use of body. His works stimulate viewers' spiritual and instinctive senses of belief. The exhibition features a seven-day performance, telling the story of a "pagan" pilgrimage, in which men recognize and make peace with the limitation imposed by life.
The setting of Pagan is deliberately simple. An oval green pool in the centre of the gallery constitutes the main stage. Minimalistic, clean background and exotic green both contribute to a surrealistic scene. Immersed in this magical atmosphere, viewers instantly plunge into a serene reflection.
During the exhibition, Liu Chengrui will perform from 12:00 to 17:30 everyday. For species on Earth, this precisely is the time from when the sun reaches its highest point, to the moment it goes below the horizon. For seven days, the artist will execute various performances in the pool with red, orange, yellow, green, black, blue and violet balls. The artist will take each second and each movement in the performance as a decisive action, until reaching the hardest spiritual core of the "pagan".
In the West, "pagan" may refer to a person who isn't Christian, Jewish or Muslim, among others. In China, however, the corresponding term "异教徒" (yijiaotu) addresses a wider range of meanings. For instance, yijiaotu does not seek reassurance in the existence of Heaven, but rather chooses to appreciate life as it is. As a limited individual, man cannot understand the infinity of life. However, through body performance, one can explore and measure, thus increasing sensory perception as well as comprehension of this concept. Through his art, Liu Chengrui enhances individual experience and expands its dimensions. In the performance Pagan, Liu Chengrui isn't himself, he is each and every individual. This is an absolutely new method of connection that art establishes for us all.