Magic Hour – Group Exhibition of Nogah Engler, Tom Gidley, Lu Song & Troika
[Press Release]
Galerie Huit is delighted to present the summer group exhibition, Magic Hour, featuring new and recent paintings and a mixed media work by Tom Gidley, Nogah Engler, Troika and Lu Song.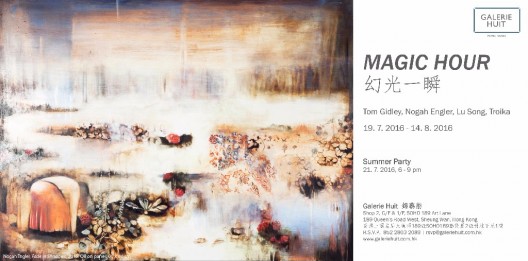 Magic Hour is a commonly used term that photographers refer to as the warmest light of the day, just after sunrise or just before sunset. Alluding to the long days of summer and its clement nights, the exhibition draws on paintings depicting natural worlds and portraits that evoke contemplation. The specific light that appears twice a day substantiates a shift and alters the images of our surroundings.
Engler engages a process of sifting through layers to achieve the perfect equilibrium in her enigmatic landscapes. The painting 'Fade in Shadows' reveals intricate details of flora and fauna that seem to ebb and flow on the surface. The overall effect pertains to dissipating mist and horizon between two worlds. Bathed in warm reddish tones, a female figure bends over the land. The artist refers to her paintings as 'archeological landscapes' and the signatory protagonist often surfaces in Engler's tableaux as a time-traveller might.
Gidley's portraits are not literal representations of the sitters yet capture the essence of a living being. 'Editor' portrays a poised and distinctive character in restful gaze and 'Empaths (I)' comprises bold painterly fragments that together configure a woman sitting. The paintings oscillate between abstraction and figuration, pivoting between two pictorial domains. The majestic 'Becoming' evokes a vintage photograph where the image has partially faded. Subtle gestures pop out from the sepia toned background. Both Gidley's paintings and that of Engler's are connected through their discreet compositions and individually, suggest a delicate narrative.
Lu Song's imposing landscapes, 'Milk Beach 5' and 'The Woodland' are depicted as though from a position within the vista. Song's determined broad brush strokes commend Nature's architecture. In contrast to the paintings, Troika's nine-part piece appropriately titled 'Fahrenheit 451 (red series)' presents a series of drawings made through controlled scorches and burns on paper. Such wild yet controlled mark making occurs when the artists create the perfect conditions for lightning usually generated by a storm. Such an electrifying piece takes the exhibition to its core, Nature and its power to inspire, often beginning and ending with the 'Magic Hour'.