315 international and Chinese artists announced for the Nanjing International Art Festival exploring the theme "HISTORICODE: Scarcity and Supply" for its third edition, opening in November
[Press Release]
[22 September, 2016] Nanjing, China: Nanjing International Art Festival (NJIAF), the annual art festival that takes place in the capital of the Jiangsu province in China, announces 315 artists who have been selected to explore the theme "HISTORICODE: Scarcity and Supply" for its third edition. Over 400 works will be displayed in the new Baijia Lake Museum. A former commercial building, across four floors, the 20,000 square metre space will be inaugurated by artists from 42 countries and regions, who will showcase works in mediums from video, painting, sculpture, installation and photography.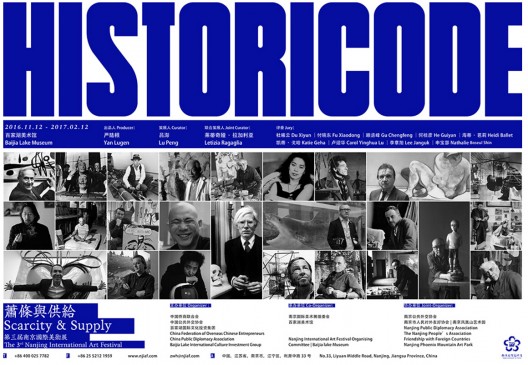 Highlights include works from internationally acclaimed Chinese artists such as Wang Qingsong (China, 1966), Zeng Fanzhi (China, 1964), Wang Jianwei (China, 1968), Yue Minjun (China, 1962), Li Shan (China, 1942), Qiu Anxiong (China, 1972), the Gao Brothers (China, 1962 and 1965), Yang Maoyuan (China, 1966), Qiu Jiongjiong (China, 1977), Xie Xiaoze (China, 1966) and Wang Renzheng (a.k.a. Nut Brother, China, 1981).
Artists from other parts of Asia include Pratchaya Phinthong (Thailand, 1974), Chim Pom (Japan, collective formed 2005), Lee Changwon (South Korea, 1972), Lee Yongbaek (South Korea, 1966), Jung Yeondoo (South Korea, 1969), Lim Minouk (South Korea, 1968) and Lee Wan (South Korea, 1979).
Artists from the rest of the world include Adrian Paci (Albania, 1969), Anna Maria Maiolino (Italy, 1942), Santiago Sierra (Spain, 1966), Jennifer Allora & Guillermo Calzadilla (Philippines, 1974 & Cuba, 1971), Walid Raad / The Atlas Group (Lebanon, 1967), Joseph Beuys (Germany, 1921 – 1986), Claire Fontaine (French, Founded 2004), Francesco Vezzoli (Italy, 1971), Teresa Margolles (Mexico, 1963) and Adel Abdessemed (Algeria, 1971).
The selection has been submitted by the international curatorial committee under the guidance of chief-curator Lu Peng, and co-curated by Letizia Ragaglia, Director of MUSEION, the Museum of Modern and Contemporary Art of Bolzano in South Tyrol, Italy. The committee is made up of: Heidi Ballet (Belgium), Du Xiyun (China), Fu Xiaodong (China), Katie Geha (USA), Gu Chengfeng (China), He Guiyan (China), Lee Janguk (South Korea), Carol Yinghua Lu (China) and Nathalie Boseul Shin (South Korea).
Yan Lugen, Chairman of the Nanjing International Art Festival and Founder of the Baijia Lake International Culture Investment Group commented: "Our curators have identified and confirmed a brilliant list of artists and works that explore our theme. It is an honour to provide a platform for these to be exhibited in Nanjing. Our goal is to create bridges between Western and Eastern artists and to showcase how contemporary their work is. Established artists, as well as emerging ones, both female and male, across multiple generations and practices or media, and coming from many different origins and cities will be represented. Bringing such a diversity of exemplary works to Nanjing, we aim to share a slice of recent art history with the local audience as well as to bring Nanjing to the attention of the art world at large."
On explaining the theme of the festival, Lu Peng, chief-curator said: "The theme reflects on a shift of perception and production in the art world in recent years – namely after the 1990's. Artworks and artists have been affected by the role and place the art market has taken. What are the codes for art assessment and what makes art history in this time frame is the question I wanted to address through "HISTORICODE". Focusing on such economic key terms, 'scarcity and supply', the festival embraces a perspective that has actually shaped the ecology of art, from the impact it had on artists themselves, on their works and on the environment that gives them an outlet. The context of the festival, being unrelated to the market, is most appropriate. Indeed, the comprehensive selection of artists and works is striving to exhibit meaningful works and give a voice beyond the commercial to artists of varied backgrounds."

Letizia Ragaglia, co-curator, added: "An important criterion in the selection of the Chinese, Korean and Western artists for the show was their potential ability to merge with one another. Their artistic perspectives offer new readings of recent history and emphasise how being contemporary is characterised by a stratification of different and specific cultural and social traditions. As a museum of contemporary art, we experience daily that the world is diversified and polycentric, and not a global unit. This is becoming ever clearer to once-Eurocentric, Western artists and is accentuated in the show in Nanjing."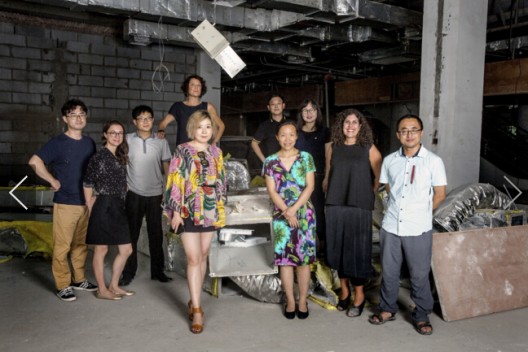 The new museum is not a new building, but a re-appropriated former residential and commercial space, repurposed into exhibition spaces, a research centre and storage, with a distinctive 'skin' around the façade of the structure. Commenting on the museum, architect Zhang Can noted: "China saw a huge increase in development in the late 90's, and it is perhaps inevitable that this generated an 'overflow' of buildings which are now 'not needed'. To re-appropriate a building and give it a new lease of life as a museum for the community is a very special opportunity."
The opening of the festival is timed to follow the remarkable series of art openings in Shanghai. Visitor figures are expected to exceed 200,000.
Further details of the artworks and the symposium will be announced later in the lead up to opening.