"Position Fixing 定位" – Three Group-Exhibitions at Guangzhou Opera House
[Press Release]
The main idea of those group-exhibitions was too show the new generations of Asian Artists with a special selection group show from China, Greater China ( Taiwan, Hong Kong,) South-East Asia (Singapore) and Korea, and to confront them to the new generation of western artists who also have expressed messages and a new vision of art through different channels, new media or social media, narrating a new kind of 'story of the world', witness of their generation and mutable identities.
Opera House Guangzhou
Guangzhou Opera House is a Chinese opera house in Guangzhou, Guangdong province, People's Republic of China.Designed by Zaha Hadid, it opened in 2010.
The theatre has become the biggest performing centre in southern China and is one of the three biggest theaters in the nation alongsideBeijing's National Centre for the Performing Arts and Shanghai's Shanghai Grand Theatre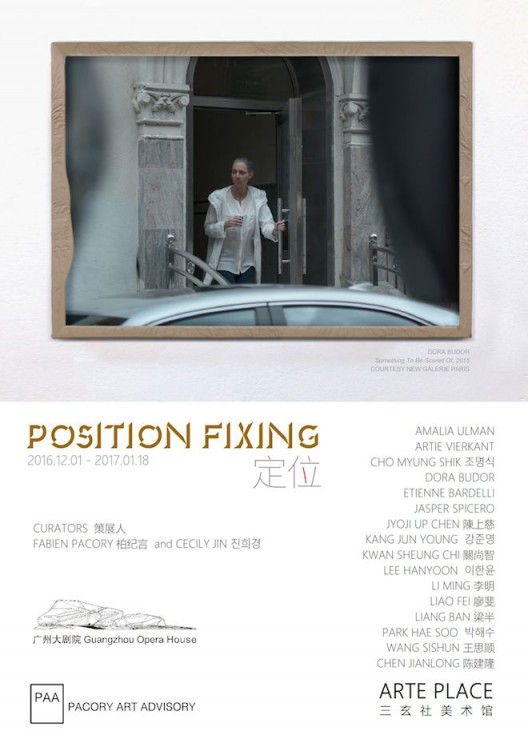 Artists of the Group Show – Exhibition:
Western Artists
DORA BUDOR
AMALIA ULMAN
ARTIE VIERKANT
JASPER SPICERO
ETIENNE BARDELLI
ASIA ( China, Greater China, Korea)
LIAO FEI 廖斐
LI MING 李明
WANG SISHUN 王思顺
LIANG BAN 梁半
KWAN SHEUNG CHI 關尚智
JYOJI UP CHEN 陳上慈
LEE HANYOON  이한윤
KANG JUN YOUNG  강준영
PARK HAESOO  박해수
CHO MYUNG SHIK 조명식
CHEN JIANLONG 陈建隆
The Title of the exhibition is Position Fixing as a "cursor-witness" of the new contemporary art generation, including videos, movies, short movies,web pages, music, and installations.In practice observations are subject to errors resulting from various physical and atmospheric factors that influence the measurement of distances and angles.
A position fix is calculated by taking into account measurements (referred to as observations) of distances or angles to reference points whose positions are known. In 2D surveys observations of three reference points are enough to compute a position in a two dimensional plane. The artists we selected, all interpret through videos an art sequence related to position, motions, or mapping, so we also decided to focus our exhibition on the different approach related to the Cognitive Response Model in their work, states that receivers can be conscious reactive members in the persuasion process. The main theme of the CRM, is that persuasion isn't directly caused by messages; but by thoughts which agree with the message – to align attitude of recipient, is to provide messages which build up their intuitional belief system; the receiver requires both motivation and competency to process the information centrally. There are two elementary renditions of CRM: Chaiken, and Heuristic and Systemic Processing Theory. "If the listener is distracted or has trouble understanding the message, he or she will lack the ability to do the central processing". Something is coming now out of this new-art generation and tools, social media, and video, which is going to transform the cognitive response, resulting in a new position fixing. Here Position is more related to something close to the idea of positioning as the P of GPS in Global Positioning System.
The exhibition is located in SanXuanShi Museum which is inside the Opera House of Guangzhou.
Some of the installations and videos will be also displayed inside the projections room of the Opera House and also outdoor.
The Exhibition is curated by Cecily Jin and Fabien Pacory.
This year Cecily organized a cultural festival with Korean CJ Group and CJ Culture Foundation.
Cecily Jin, organized and curated last year the Van Gogh Impressionism Exhibition and Van Gogh Edition Museum Tour in Guangzhou, Shenzhen and Fuzhou with the Van Gogh Museum.
Fabien Pacory, supported this year Dora Budor at Whitney Museum NYC for Dreamlands immersive cinema and art exhibition, the last two years he did the art advisory for the exhibitions of young Chinese artists in Europe, Zhao Zhao in Stockholm Sweden at Carl Kostyal gallery, Wang Yuyang in London and also He Xiangyu in Bregenz Kunsthaus,
Fabien Pacory is in China since 2004 and is also an art adviser specialized on the young Chinese generation, participated in many Chinese-art projects as short movies, books and documentaries.
He is also representing New Galerie (Paris) in China and Hong Kong.