Transformations – Solo exhibition of work by G. Roland Biermann – A GDM Project
[Press Release]
Galerie du Monde is pleased to present a solo exhibition of work by London-based, German photographer G. Roland Biermann. Comprising monochrome photographs from his Apparition and snow + concrete series (2009 and 2012 respectively), the gallery will also show the artist's video work White Cube / White Wall (2004). Taking place between 7 October and 10 November, this will be Biermann's first solo exhibition at Galerie du Monde, and is the second of the gallery's GDM Projects, an initiative launched to celebrate the 40 th anniversary of its opening in Hong Kong.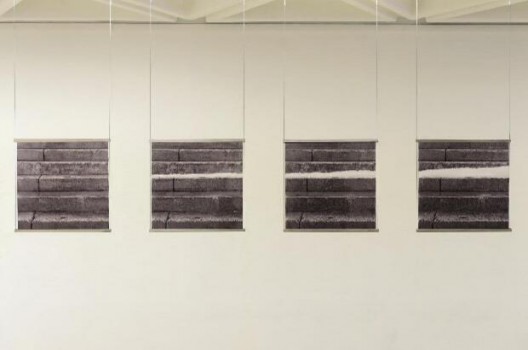 Working exclusively in monochrome, Biermann stages photographs using a panoramic camera designed to take landscape images to create a stretched vertical portrait format. As with the two series of photographs featured in this exhibition, Biermann's photography suggests, rather than demonstrates, a narrative. The artist repeatedly engages the idea of contrast into his work, as he creates work that is decidedly contemporary while aiming to engage with the metaphysical.
The earliest works on display will be taken from the Apparition series, created in 2009. As the title implies, this series of work features the juxtaposition of industrial surfaces and backgrounds contrasted with the vulnerability and softness of the human figure. Biermann appears to take inspiration from the iconography of Christian art, with Lazarus-like characters appearing wrapped in fabric or cling film, their pale forms in complete contrast with the dark, austere backgrounds in each image.
Biermann's engagement with distinct opposites, light and dark, soft and hard, reality and spirituality, continues in his next series of work which will be shown at the gallery, snow + concrete, a series created in 2014. As a starting point, the title of the series itself implies a literal juxtaposition of snow and concrete. In Biermann's constructed scenes, snow is shown at different stages of the melting process in an underground concrete car park, a pure contrast between the permanent concrete structure and the transient, ephemeral nature of the snow that covers it.
The artist once again suggests a narrative with the order of the photographs in the series, but one connected with cyclicality rather than the chemical melting process, commenting that, 'if you read them left to right, it seems like the snow is gradually melting and then rebuilding into its initial shape. So it's obviously something that scientifically wouldn't work, but one could also see it as a metaphor for the life cycle. On a larger scale it works.'
Biermann's snow + concrete series represents the first project where the photographer has worked on glass. Some of the work on display will be shown in a combination of fused glass and digital printing techniques, giving the images an almost three-dimensional appearance.
As the final part of the exhibition, Galerie de Monde will also present Biermann's video work White Cube / White Wall (2014), in which the artist examines how both political and artistic hegemonies are constructed, dismantled and reconfigured. In the video, a team of workers, dressed in monochrome, stack and un-stack Styrofoam blocks repeatedly. Biermann created this work to coincide with the 25 th anniversary of the fall of the Berlin Wall. His choice of Styrofoam appears to convey the 'lightness' of memory, while the construction of a wall in Styrofoam seems almost comic and pitiful.
This exhibition is part of the GDM Project Series, a programme designed to identify, collaborate with and represent artists beyond China who are active in their region, alongside the gallery's long term support of Chinese contemporary art. The series was begun to commemorate the 40 th anniversary of Galerie du Monde, and launched last autumn with an inaugural group exhibition featuring four U.S.-based artists working in a variety of mediums.
"I take great pleasure in presenting this exceptional solo exhibition of work by G. Roland Biermann. Ithink it is Biermann's obsession to find a visual counterpart to the experiences of movement and mobility,in time and in space, and eventually in society that provides the viewer with such an intriguingjourney. A visual counterpart sophisticated enough to evoke the richness, and simultaneously thevagueness of fact versus fiction.'
-Fred Scholle, Founder & Chairman, Galerie du Monde
About G. Roland Biermann
G. Roland Biermann was born in Bonn in 1962. He lives and works in London. With his photographicwork Biermann explores uncertainty, ambivalence and transformation, situations where reality andfiction merge, often in the form of polyptychs and larger sequences of images.
In the past, Biermann has received grants e.g. from the German Foreign Office (Think German, 2010),Arts Council England (2005) and Goethe-Institut London (2004). He is the only artist in over 30 years towin the Weissblechkalender project by ThyssenKrupp, a worldwide-unique, exclusive arts calendarprinted on tinplate, twice (2007 and 2010).
His works are included in national and international collections, e.g. ThyssenKrupp, Dusseldorf andSigny+Olaf Willums Art Foundation, Provence. Recent solo exhibitions include Goethe-Institut Paris(2011), German Embassy London (2010/11) and Dommuseum Frankfurt (2010).
About Galerie du Monde
Founded in Hong Kong in 1974, Galerie du Monde has been specializing in modern and contemporaryworks by internationally established Chinese artists for over 40 years. The gallery also nurtures andpromotes emerging talent, presenting a varied programme of solo and group exhibitions with a strongfocus on works of art on canvas, paper, sculpture, photography and new media. To celebrate its 40thanniversary in 2014, Galerie du Monde introduced the GDM Projects series to strengthen the gallery'ssupport to a wider group of artists from different nationalities, providing them the opportunity to exhibitoutside of their own countries.