'Trip of the Tongue'
Simon Lee Hong Kong
[Press Release]
Simon Lee Gallery Hong Kong is pleased to present Trip of the Tongue, a group exhibition curated by Piper Marshall that examines how communication is filtered, trained, and disciplined. The title comes from a mistranslation of a common English phrase- "slip of the tongue"- meaning a specific kind of verbal blunder that is an excess of intended speech. Such slips can be telling, when they reveal our inner thoughts unintentionally, or they can also be random, absurd, or humorous. As social errors, they detour the conversation and push against the control we typically try to exert over our language.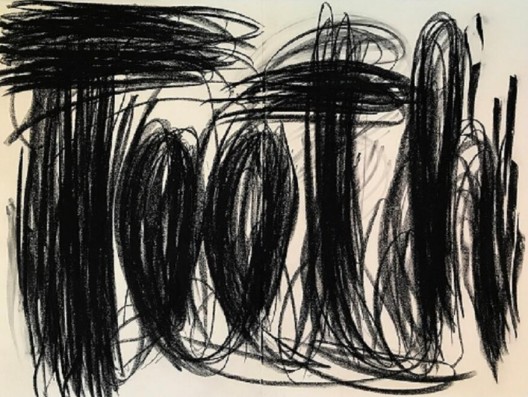 Several of the artists in the exhibition likewise address, play with, and refigure language, while others point to idiosyncrasies of its deployment. Instead of privileging a fixed meaning, the artworks encourage us to take a more indeterminate route. If one can imagine a kind of typical "itinerary" from hearing to comprehending (with perhaps tasting or seeing along the way), the featured artworks encourage creative detours along the way.
The exhibition begins with Judith Bernstein's charcoal text works, which are inspired by graffiti one might find in public restrooms. The artist scrawls "teeth" and "brain" with broad, energized lines, creating a visual vibration that turns the letters into evocative phallic and labial forms. Through mark making, Bernstein reveals the hinge between sex and language.
Ida Ekblad's gestural paintings engage with inscription to make text indecipherable. While they lure readers into an engagement, the frenetic shapes and puffs ultimately fail to cohere. Ekblad abandons literal meaning for the pleasure of debasing legibility.
A tension between figuration and abstraction undergirds the paintings of Torey Thornton. Over stripes that extend the width of the canvas, he lays out four forms. As one takes in the chromatic anomalies, the mind attempts to piece together the respective parts, ultimately giving way to an optical oscillation. Such focus of attention occurs on a continuum. Once engendered within a body, it can be instructed, trained.
Elaine Cameron Weir's sculpture, formed in part by a dental mask, highlights the artist's interest in evolutionary design as applied to the body. The steel frame disciplines the body—and emits an herbaceous scent to provoke the palate.
The photographs of Torbjørn Rødland implicate another kind of taste. Here, dental prostheses and incisions demonstrate how the body's perceived defects are made to adapt to aesthetic conventions. The unsettlingly lit sculptural scenarios are excessive in finish; their tactility zeros in to both facilitate and make perverse the gloss.