a.f.art theatre Fangling
'Weightless'
Don Gallery
[Press Release]
a.f.art theatre, Fangling's second show at Don Gallery, "Weightless," revolves around the conjunctures of alienation and theatricality, the boundaries of dramatic experience, and the contingencies of the actual world. In a series of videos and photographs, Fangling extends her use of performance as a conceptual fulcrum—deploying it as intervention to foreground the role of the Confessionalist poet, Sylvia Plath (1932–1963), who took her own life by placing her head in the oven with the gas turned on. As a symptomatic reader, the artist signifies the most pregnant moment of madness, weakness, and panic, whereby she transcends her own subjectivity and conflates Plath with a mimetic constitution of self-interaction.
"Weightless" is laid out in five acts—Je n'aime que le mouvement, Critical Point, No Content, Wrestle, and Zero-G, the whole of which rests on the Brechtian model of epic form. Fangling expands archival imagination into dramatic construction, thus utilizing the montage sequence of fragmentation, contrast and contradiction through a succession of theatrical scenes. She raises the tension between the psychological, social, and aesthetic aspects of alienation, facilitating a perspective that is free from any particular narrative framework yet determines the complete dimensions of "weightlessness"—a knowledge that defines man's dispute with insanity, a condition that estranges man from humanity, and a technique that recreates man's connection to reality by distanciation.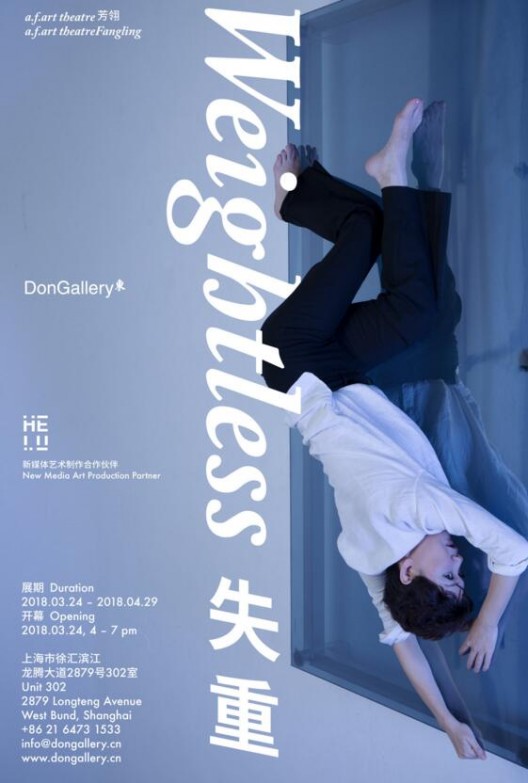 To further release the audience from the continuities of dramatic time, Fangling enables the interpretation of "Weightless" as a text by practicing the analytical still. The gestures, postures, composition, and configuration abstracted from the mise en scène contribute to her rhetoric of the backstage. The very details located in the studio show instances of the relationship between the figure and her pathos. The artist is fully aware that there is a need to represent a tableau for herself as the fetishized object.
HUANG Fangling is the founder of a.f.art theatreFangling. She graduated from the Department of Drama at People's Liberation Army Academy of Art, the Department of Directing at Shanghai Theatre Academy and the Institute of Arts Administration and Education at China Central Academy of Fine Arts. HUANG has been trying to introduce drama concept to contemporary art and applying her well trained performance art skills as a medium to explore how theatre is developed and accumulated in different spaces. In the name of a.f.art theatreFangling, her recent projects include "Let's Deal" (ArtReview Asia Xiàn Chǎng, West Bund Art & Design, Shanghai, 2017), "…In Between" (ZKR – Centre for Art and Public Space Schloss Biesdorf and Löwenpalais, Berlin, 2017), "Selected Gaze" ("Theory Opera" at the 11th Shanghai Biennale "Why Not Ask Again," Power Station of Art, Shanghai, 2017), "Wander in Anger" (Shanghai Minsheng Art Museum, Shanghai, 2016), "Sensory Tour" (Rockbund Art Museum, Shanghai, 2016), "Time Rite" (Ming Contemporary Art Museum, Shanghai, 2016), "A Struggle Between…" (chi K11 Art Museum, Shanghai, 2016), "Body Encounter" (Rote Fabrik, Zürich-Wollishofen, 2015), "The Maids in the Enclave" (MoCA Pavilion, Shanghai, 2015), etc., as well as "Knight Nightmare" (Don Gallery, Shanghai, 2015) and "I Can't be Part of Your Revolution" (BANK, Shanghai, 2015) in collaboration with JIN Feng.