Yao Hai
"zero + one + twelve"
Gallery 55
[Press Release]
Gallery 55 is proud to present artist Yao Hai's first solo exhibition in Shanghai "zero+one+twelve" from the 9th of Sept. through the 8th of Oct. 2017. The exhibition comprises installation works of film negatives.
"zero+one+twelve" originates from the creation of symbols by artist Yao Hai, which gradually leads to the study of the relationship among materials, the self and cosmic energy. Yao Hai takes each symbol and each square block as an independent individual, each acrylic film as the carrier holding anything with any information coming with it. Each carrier refers to the Chinese zodiac, the Western constellation or some existing energy simultaneously. Multiple carriers interact within the same space, creating impromptu combinations. The information unloaded by any two or more carriers instantly reveal visual fields of the superimposition, giving rise to new meaning and direction. Although the direction is unclear, it is more in accordance with the definition of certain energy, which could simulate and induce new cognition and thinking, introducing thoughts into situations of the unknown and the unsolved.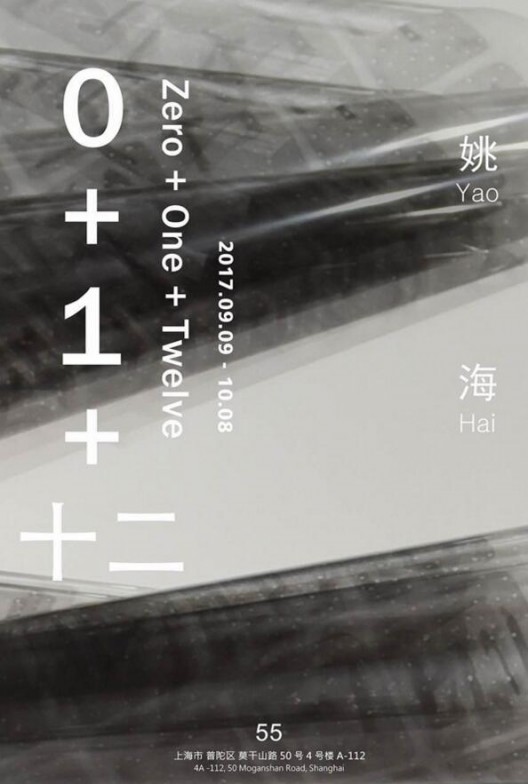 Yao Hai was born in China in 1980. He emigrated to HK in 2009 and travelled around the world right after that. Currently he lives and works in Shanghai, China. Yao Hai's creative disciplines range from installation, photography, sculpture, painting, video, performance to sound, etc.
Yao Hai's recent major exhibitions include: "Free Play of Deconstruction" (solo, United Art Museum, Wuhan, China, 2017); "Beyond Boundaries" (solo, K11 Art Village, Wuhan, China, 2016); "Ideal Country" (Donghan Art Museum, Wuhan, China, 2016); "Artist & Location" (CICA Art Museum, Seoul, Korea, 2016); "Art Yellow Book" (CICA Art Museum, Seoul, Korea, 2015); "Links between Art & Queen's" (Queen's Art Museum, NYC, U.S.A.); "Over the Edge" (Williamsburg Art & History Centre, NYC, U.S.A.); etc.