"ZAO": Li Wenguang Solo Exhibition – 1933Contemporary
[Press Release]
A few years ago I saw Li Wenguang's works at the James Cohen Gallery and was attracted to his unconventional practices: he presents his works with pen and pencil, drawing cubical forms on paper and canvas, some were of mysterious patterns just like math equations.
- Zhang Enli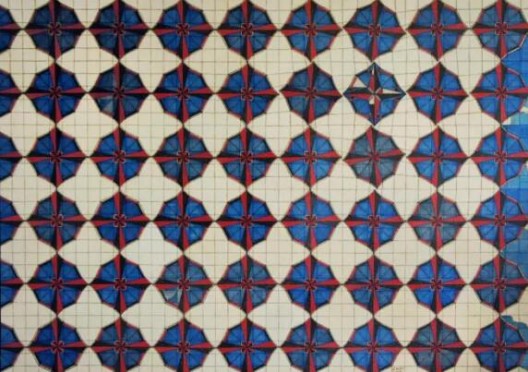 In the many years I have worked in the international art world, there are those rare occasions when I meet a young artist whose work I immediately sense is singular or transformative, totally fresh—and even more infrequently that which brings us a sense wonder or surprise, or some power to astonish.
When Li Wenguang came to visit with his works, I saw tightly drawn, geometric forms that would become diagrams for blossoming plants or what looked like architectural plans for pyramids or futuristic structures. Sometimes these drawings contained fictitious scientific equations, almost always indecipherable. I saw a young man with a wide ranging imagination, who had intense drive and determination to be original; a confidence and singularity about his overall practice, and who continues to embrace the sometimes mysterious symmetry and patterns in the world around him and those that would come from his own hand and mind.
-  Arthur Solway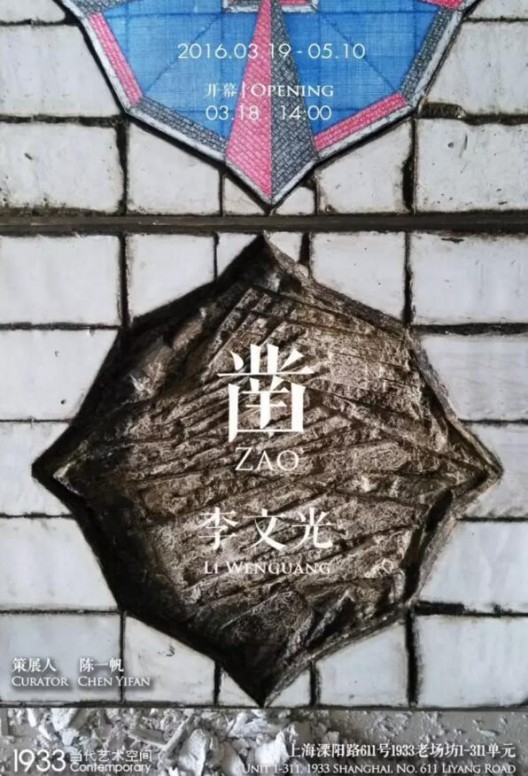 ZAO: Back to Our Trivial Life
By Chen Yifan, Curator
The year of 2011 marks Li Wenguang's first encounter with paper and lines. His studio is located in Song Jiang, the suburban of Shanghai. He lives in the seclusion of his own home, spending eight to over ten hours a day devotedly to his work. In his creative process, Li produces art through substantial body movements, creating a physicality that is first internalized into his works and then backs away again, displaying a visual presentation of mosaic blocks. This is not the representation of his surroundings, but rather the recurrence of his daily life experience on canvas. It is not only his unique creative practice, but also his train of thought, which has nothing to do with conceptualism – it can even be considered anti-conceptual. The tradition he carries is rooted deeply in the daily experiences of the city, a tradition that engraves our experiences along with our actions onto the canvas that almost actually existed. In the city of Shanghai, the different perceptions of life and cultural background exist in various ways. As an artist living in the modern city, Li Wenguang finds new possibilities for contemporary art to grow and prosper.
When we return to our daily life, it is easy to find that the simplest forms sometimes contain multiple layers of humanity. Just as how Li Wenguang creates the forms of mosaic blocks in his artwork, the simplest lines can bring out much energy on the canvas. This form is another way for him to express his emotions. Although the inner world of his work should have the strongest tensions, the emotions delivered are in fact harmonious and non-confrontational, much like our peaceful daily life. This experience is open to all audience and doesn't require explanation to be shared.
His living environment affects the mode of his artistic production, and furthermore ferments the unique quality of his work. In his creation, the medium of artwork is not in dominant position, but rather acts as an auxiliary method for transferring his personal experience. He makes art as a free soul, weaving his perception of life into the grain of paper, then using resins to seal the collage pieces on the canvas. The traces of time permeate in the cracks of sequential blocks.There is no distance between his works and viewers. We always look for a message from the artist, but in Li's works, the message is explicitly present. When we are trying to understand his work, we also return to the relatable daily experience the artist brings us.
This exhibition unfolds following three trails. Firstly, the works exhibited present the main skeleton of Li Wenguang's works, and how he implements physical actions in them. Zao is the most representative of the physicality and experientialism behind his works. Secondly, a display of his paper-based works will show how the daily experience is embedded into the forms and lines of his artwork. Lastly, we will present a series of his experimental artwork that combines physical action with the values of the commercial society, offering a different answer for viewers in this open city.
ABOUT THE ARTIST
Li Wenguang was born in Shanghai in 1985. Previous exhibitions include solo exhibition "Li Wenguang – New Works" in James Cohan Gallery in 2013; "Li Wenguang: Fallacy" in 2012; and was featured in group projects including the 2015 West Bund Art & Design.
Photo and Design: Laimanhaar