New York: Brooklyn Protest in Solidarity with Ai Weiwei
The PEN American Centre (a non-profit membership organization consisting of writers of all kinds), on Thursday evening organized what it called an "Evening of Literary Protest in solidarity with Ai Weiwei and other Chinese artists and writers." Protestors were invited to convene on Thursday 10th April at 7pm outside the Brooklyn Public Library in New York.
The protest has been triggered by the fact that Ai Weiwei is unable to attend the opening of his solo exhibition "Ai Weiwei: According to What," which will be shown at the Brooklyn Museum from 18th April–10th August, 2014. The Chinese authorities continue to hold Ai's passport, preventing him from traveling outside China. Ai spent nearly 12 years living in New York between 1981 and 1993.
The Protest:
Several hundred supporters gathered on the steps of the Brooklyn Public Library. In peaceful protest, they displayed a portrait of Ai Weiwei by American artist Shepard Fairey (the edition is available on the artist's website), as well as other posters of Ai and certain contemporary Chinese writers. Opening remarks came from PEN staff, and excerpts from work by Chinese writers were read aloud. Further votes of support in the weeks leading up to the protest came from such noted names as Robert De Niro, Julian Lennon, Pussy Riot, Susan Sarandon, Jasper Johns, Marina Abramovic, Chuck Close, Julian Schnabel, Shirin Neshat, Anish Kapoor, Maurizio Cattelan and Aggie Gund.
The protest progressed towards the Brooklyn Museum of Art; upon arrival, supporters of Ai Weiwei gave out plastic handcuffs, mimicking the art work "Jade Handcuffs" made by the artist in 2012, following his arrest and detention in China. On the steps of the museum, supporters raised placards spelling the words "FREE EXPRESSION" in English and Chinese.
A special video message from Ai Weiwei was scheduled for projection onto the museum facade at 8pm. Ai began by thanking those who had gathered in support of free expression, and continued:
"As an artist, I think freedom of expression is an essential foundation for any kind of activity," said Ai, his larger-than-life image hovering on the Brooklyn Museum wall. "Freedom of expression is to encourage every individual to question authority, and to become creative, so these are essential values for artists to protect and to fight for."
He concluded:
"We have to encourage individuals to become a part of the society through free expression … to bear responsibility and to contribute our ideas, our thinking about what kind of society we live in, and what kind of future we will have."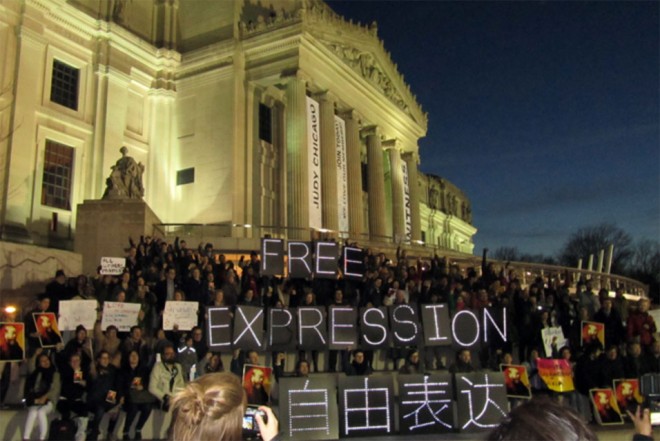 Sources:
Email message from Ai Weiwei's representing gallery Chambers Fine Art