Active Withdrawals-Life and Death of Institutional Critique
Active Withdrawals-Life and Death of Institutional Critique
Book Launch and Conversation (English/Chinese event with simultaneous interpretation)
Time:3:00-5:00PM, November 23, 2014
Venue:2F Y.W.C.A Building (133 Yuanmingyuan Road, Shanghai)
This publication is based on the seminar organized by Biljana Ciric and Nikita Yingqian Cai, between July 27 and 28 in 2013 at the Guangdong Times Museum, titled: Active Withdrawal¾Weak Institutionalism and the Institutionalization of Art Practice. The seminar and the publication belong to the para-curatorial series initiated by the Guangdong Times Museum. The notion of withdrawal or laziness rooted in Eastern philosophy and way of life is manifested in multiple ways in the field of contemporary art: as a position distanced from the mainstream and situated at the margins in order to protect autonomy and artistic integrity, as an active observer with fluid connections that one can easily be reactivated, as a much needed break from the hustle of the art world, or even as a form of self-cultivation. While the confrontational and critical approach of institutional critique, adopted primarily by artists in English and American contexts, has been recognized as part of the canonical narrative of art history, it is necessary to readdress the importance of active withdrawal within the current global art system, where different protocols have been developed in response to diverse cultural-political contexts. Whereas historical movements in the vein of institutional critique have failed to effectively change the art system, becoming completely institutionalized itself instead, the current state of crises has forced many of us to revisit its legacy as well as to reflect on the art system by reinvestigating it as an institution operating at various levels. The complexities of the art system, which operates simultaneously on a local and international level, opened up a number of questions that the previous waves of institutional critique hadn't dealt with, including what kind of system we are operating within and how to fight against the danger of being consumed by the overwhelming system itself? Together with some unfulfilled visions of the now historical concept as well as critical thinkings and practices from a broader geographical area, we believe this publication will expand the existing interpretation of institutional critique and produce new knowledge within and beyond the art system.
Maria Lind, a curator and critic based in Stockholm, is invited as special guest for this event. Her presentation will be based on the essay she contributed to Active Withdrawals- Life and Death of Institutional Critiqueand revolve around the institutional practice she has developed as director in Tensta Konsthall, Stockholm. The co-editors of the publication, Ms. Cai and Ciric will give a brief introduction about the background and the issues they have brought up in this anthology. After
the presentations, discussions between the three contributors will lead to a Q & A section engaging the audience.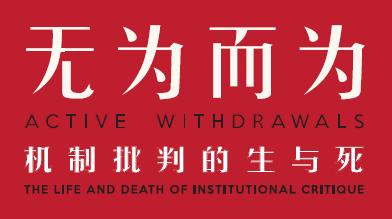 The Para-curatorial Series of Guangdong Times Museum 
It is part of the para-curatorial series initiated by Guangdong Times Museum, which features an annual seminar and related publication. As a discursive platform where on-site responses are encouraged as an active form of reflection and self-education, it aims at situating the investigation and discussion of contemporary art within a broader social, economic, and cultural context; the curatorial is regarded as multiple forms of thinking, researching, spatial practicing, and knowledge exchanging not restricted to the making of an exhibition. The registration and sharing of multidisciplinary knowledge and practice activates the museum into becoming a temporary coalition comprising a community center, laboratory, and academy.
Biographies
Maria Lind is a curator and critic based in Stockholm, where she was born in 1966. She is the director of Tensta Konsthall, Stockholm. 2008-2010 director of the graduate program, Center for Curatorial Studies, Bard College. 2005-2007 director of Iaspis in Stockholm. 2002-2004 she was the director of Kunstverein München where she together with a curatorial team ran a programme which involved artists such as Deimantas Narkevicius, Oda Projesi, Annika Eriksson, Bojan Sarcevic, Philippe Parreno and Marion von Osten. From 1997-2001 she was curator at Moderna Museet in Stockholm and, in 1998, co-curator of Manifesta 2, Europe's biennale of contemporary art. Responsible for Moderna Museet Projekt, Lind worked with artists on a series of 29 commissions that took place in a temporary project-space, or within or beyond the Museum in Stockholm. Among the artists were Koo Jeong-a, Simon Starling, Jason Dodge, Esra Ersen. There she also curated What if: Art on the Verge of Architecture and Design, filtered by Liam Gillick. She has contributed widely to newspapers and magazines and to numerous catalogues and other publications. She is the co-editor of the books Curating with Light Luggage and Collected Newsletter (Revolver Archiv für aktuelle Kunst), Taking the Matter into Common Hands: Collaborative Practices in Contemporary Art (Blackdog Publishing), as well as the report European Cultural Policies 2015 (Iaspis and eipcp) and The Greenroom: Reconsidering the Documentary and Contemporary Art (Sternberg Press). Among her recent co-edited publications are Contemporary Art and Its Commercial Markets: A Report on Current Conditions and Future Scenarios and Performing the Curatorial: With and Beyond Art, both Sternberg Press. She is the 2009 recipient of the Walter Hopps Award for Curatorial Achievement. In the fall of 2010 Selected Maria Lind Writing was published by Sternberg Press.
Biljana Ciric is an independent curator based in Shanghai. She is interlocutor for 2015 Asia Pacific Triennale. Her recent exhibitions include Just as Money is the Paper, the Gallery is the Room (2014) presented by Osage Art Foundation , One Step Forward, Two Steps Back—Us and Institution, Us and Institution (2013 ) presented by Guangzhou Times Museum, Tino Sehgal solo exhibition in UCCA, Beijing  (2013), Taking the Stage OVER (2011–12), Institution for the Future -Asia Triennale, Manchester (2011), Alternatives to Ritual (2012–13) Goethe Open Space Shanghai and OCAT, Shenzhen among others. In 2013, she initiated the ongoing seminar platform From a History of Exhibitions towards a Future of Exhibition Making. She initiated Gift Exchange Residency (2014-ongoing) as part of the work Project Give More Than You Take by Pratchaya Phinthong in collaboration with Maja Ciric, as an attempt to connect the regions and places that lack connection in global art system but possible share similar positions as proposal of self-reflection and activation of possible new connections and researches to come. Her recent publications include Alternatives to Ritual- Exhibition as a medium in China (2014), published by CFCCA and Goethe Institut, History of Exhibitions- Shanghai 1979-2006 ,(2014)published by CFCCA (distributed by Cornerhouse), and Active Withdrawal-Life and Death of Institutional Critique (co-edited with Nikita Yingqian Cai) and published by Black Dog Publishing (2014-2015).Ciric was on jury on number awards including Hugo  Boss Asia Art Award (2013) and she is on nominating council for Vera List Prize for Art and Politics (2014/2015). She is a regular contributor to Broadsheet and Yishu Journal, and has been nominated for an ICI Independent Vision Curatorial Award (2012).
Nikita Yingqian Cai lives and works in Guangzhou, where she is currently a curator at the Times Museum. There, she has curated such exhibitions as A Museum That is Not (2011), Jiang Zhi: If This is a Man (2012), and You Can only Think about Something if You Think of Something Else (2014). She is also editing a series of publications that are based on the annual seminar at the Times Museum on institutional and curatorial practice, including No Ground Underneath: Curating on the Nexus of Changes (co-edited with Carol Yinghua Lu, 2014), and Active Withdrawal: Life and Death of Institutional Critique (co-edited with Biljana Ciric, 2014). During the de Appel Curatorial Programme in 2009–10, she co-curated I'm Not Here. An Exhibition without Francis Alÿs with the other participants. Her writings have appeared in a number of publications and magazines, and she is a contributing writer to LEAP, Artforum.com.cn, Arttime, and Yishu Journal of Contemporary Chinese Art.
The other two books of the series Curating Subjects(Chinese Edition) and No Ground Underneath; Curating on the Nexus of Changes will also be available for sale on the book launch.