Computational Sculptures: Between Futurism and History
Speaker: Nick Ervinck
Date: 23.02.2017
Time: 19:30 – 21:00
Venue: Extra Time (No. 888 Changde Road, Jing'an District, Shanghai)
*Free admission. To reserve a seat, please send your name and contact information via e-mail to: info@chronusartcenter.org
With a background in sculpture, media artist Nick Ervinck has always been fascinated by the way in which art has developed through the use of new materials and techniques. Somewhat disappointed by the lack of renewal in contemporary sculpture, he turned toward architecture, to find a whole new formal language generated by computer software, composed of forms and designs that were unthinkable in all those years before. This kind of computer-aided designs (often referred to as 'blob architecture') resulting in organic, amoeba-shaped, bulging forms, was explored by an architect named Greg Lynn in 1995. This constant tension between 'box' and 'blob' forms is crucial in Ervinck's artistic practice. Applying copy-paste techniques in a 3D software environment, he uses images, shapes and textures from different sources: basilicas, corals, dinosaurs, cottages, Rorschach inkblots, Chinese rocks and trees, manga, twelfth-century floral wallpaper, anatomical parts… At the same time, numerous references to the tradition of sculpture can be found, such as the work of Hans Arp, Henry Moore or Barbara Hepworth.
Ervinck often refers to a quote by Rem Koolhaas: "Where there is nothing, everything is possible. Where there is architecture, nothing (else) is possible." The artist tries to let architecture and sculpture meet, exploring the realm of the impossible by constantly pushing the limits of what we call 'realistic'.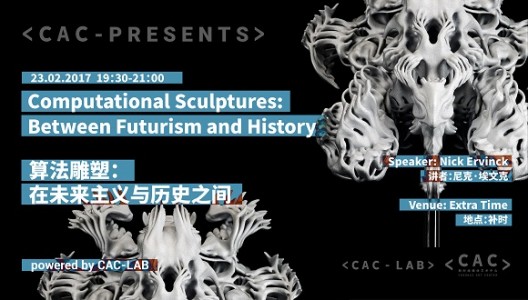 About the Speaker
Nick Ervinck (1981, Belgium) explores the boundaries between various media by fostering a cross-pollination between the digital and the physical. He applies tools and techniques from new media, in order to explore the aesthetic potential of sculpture, 3D prints installation, architecture and design. Through his divergent practice, a strong fascination with the construction of space is noticeable. Not only does Ervinck focus on the autonomous sculptural object, he also questions its spatial positioning and points to the phenomenological experience and embodiment of space. Ervinck's work oscillates between the static and the dynamic, prospecting new virtual or utopian territories.
Nick Ervinck creates huge installations, sculptures, prints, work drawings and animated films. His work has been exhibited at MOCA Shanghai, SMAK Ghent, Chamber New York, KunstVerein Ahlen,  M Leuven, Bozar Brussels, MAMA Rotterdam, Hermitage Amsterdam, Ars Electronica Linz, Ron Mandos Amsterdam, Creative World Biennale Oklahoma, Highlight San Francisco,Telic Arts Exchange Los Angeles/Berlin and Art Basel Miami.
*This lecture is part of the Powered by CAC_LAB Series by which CAC_LAB enables dialogues between artists, academics and technologists with unique visions on the field of new media art and currently active in the world of Research and Creation.
*Venue support by Extra Time (No. 888 Changde Road, Jing'an District, Shanghai).
ABOUT <CAC_LAB>
<CAC_LAB> is a space dedicated to the inquiry of current issues concerning art, design, science, technology and their impact on global contemporary culture. Through artistically and technologically inspired research, the lab enables creative processes that result in works of art of high quality. <CAC_LAB> is a space of flux which encourages artistic practice as a generator of new knowledge, a territory where art and science converge into a contemporary and experimental field of scholarly research; free from main stream cultural prejudices, technological overburden and economical diversions.