Fine Art Asia 2015
Hong Kong, 13 October 2015 – Fine Art Asia 2015, Asia's leading international art fair, was staged successfully from 4 to 7 October in the Hong Kong Convention and Exhibition Centre, with a Private Preview and Vernissage on 3 October.
The fair hosted some 100 world-renowned galleries, and attracted a sophisticated audience of international dealers, collectors and art lovers. This year the fair organiser, Art & Antique International Fair Ltd, celebrated its 10th anniversary at the peak of October art season in Hong Kong, coinciding with Sotheby's auctions in the same venue.
For the third consecutive year, Fine Art Asia was delighted to welcome Chief Secretary for Administration of the Hong Kong SAR Government, Mrs Carrie Lam, as the Guest of Honour at the Opening Ceremony on 3 October. Mrs Lam praised Fine Art Asia as a high-quality platform for the international art world, contributing to the recognition of Hong Kong as a major world art centre.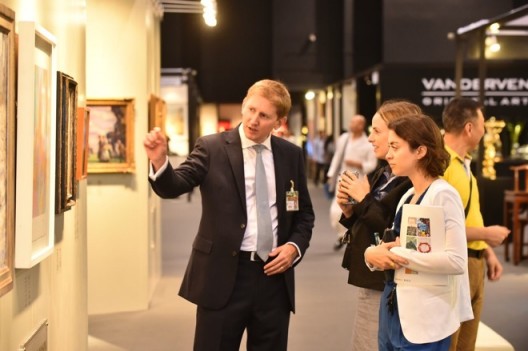 Fine Art Asia 2015 presented a superb array of museum-quality antiques and fine art from both East and West. The 8,000-square-metre exhibition space provided a showcase for more than 6,500 stunning works of art, worth a total of over HK$2.8 billion. The fair was attended by 25,800 visitors from all over the world.
Artworks spanning 5,000 years included Oriental and Western antiques; jewellery, silver and timepieces; Old Masters, Impressionist and modern art from Rembrandt, Stubbs, Pissarro, Monet and Sisley through to Picasso and Hockney; international contemporary art in a variety of media; and modern and contemporary masterpieces of Chinese ink painting.
A highlight this year was "The World of Design", a new project dedicated to vintage and contemporary design furniture and installations from the 20th to 21st century. The exhibition introduced an inspiring cross-section of works by renowned artists and designers including Studio Putman, Arik Levy, Kam Tin Studio, Robert Goossens, Philippe Nacson and BOKJA Design.
Some significant sales results were recorded across the fair. Galerie Dumonteil, Paris, New York and Shanghai sold a large bronze "Banc Tortue" (Tortoise Bench) by renowned French sculptor Jean-Marie Fiori (b. 1952) in the first hour of the private preview. One of the gallery's most important highlights this year, the sculpture went to a Hong Kong buyer. The gallery also sold a number of other sculptures on their signature animal theme.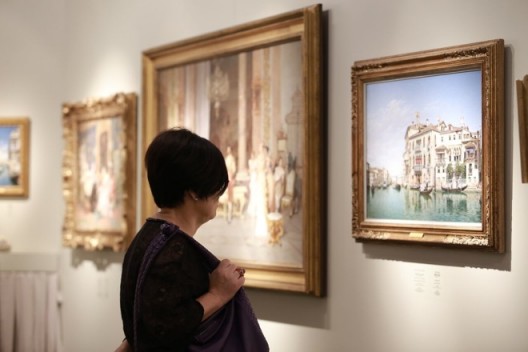 In the antiques section, Rossi and Rossi, London and Hong Kong, which has exhibited rare Himalayan classical art at the fair since its inception, sold a magnificent Tibeto-Chinese painting, 'Arhat Cudapanthaka", dating from the Ming Dynasty, 15th-16th century, for HK$7,800,000. Among the galleries exhibiting Chinese works of art, Galerie Lamy, Belgium was happy to sell a rare Ming Dynasty blue and white garden seat, 15th-16th century to a client from Southeast Asia. Santos, London, which specialises in Chinese porcelain and works of art, also reported a very important sale on the final day of the fair. Asian antiques such as bronzes, Chinese furniture, jades and scholar's objects attracted the usual high buying level.Exhibiting for the first time at Fine Art Asia, Peter Finer, London, world-renowned specialists in antique arms and armour, enjoyed a good debut, reporting several sales in the first few hours of the fair, and an encouraging level of interest throughout.
Regular exhibitor of fine Impressionist and modern paintings, Gladwell & Patterson, London, were happy to find returning clients and meet new ones.
In the Jewellery, Silver and Timepieces category, Susan Ollemans, London, enjoyed pleasing sales of Chinese and Asian antique jewellery and works of art. Koopman Rare Art, London, exhibiting at Fine Art Asia for the 5th year in a row, sold an exceptional Chinese silver bowl, c. 1890, by Wang Hing for HK$500,000 to a Southeast Asian client; a magnificent silver-gilt pagoda centrepiece made in London in 1985 by Aspreys to a Hong Kong Chinese client for HK$280,000; and a silver wine cooler to a Mainland Chinese buyer for HK$200,000.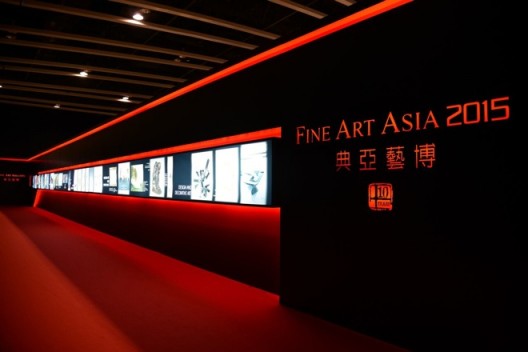 Among contemporary art galleries, The Spectacle Group, Hong Kong sold an oil painting by French artist Isabelle Duret-Dujarric (b.1947) for over HK$1,000,000. 3812 Gallery, Hong Kong was happy to sell ink works "Open Space 21 and 28" by Liu Guofu and "Mount Olympia" by Chloe Ho, as well as works by Wei Qingji and Lin Guocheng.
In "The World of Design" exhibition, 88 Gallery, Paris and Hong Kong sold an outstanding 80% of the artworks in their booth. The highlights were a "meuble bijoux" pyrite cabinet by Kam Tin Studio and a gilt bronze mirror made for Chanel by Robert Goossens (b. 1927), both sold to an important Hong Kong collector for in excess of HK$1,000,000. 3812 Gallery, Hong Kong sold an iconic "Ant chair" by French designer Philippe Nacson to a Hong Kong collector; as well as works by Olivia Putman, Paris, Global Ambassador of Design for Fine Art Asia 2015, and BOKJA Design, Beirut.
Andy Hei, Co-Chairman and Director of Fine Art Asia, said,
"At Fine Art Asia we have developed a number of different collecting categories, each well curated and reinforced over the years. This year the quality of the exhibits was stronger than ever. The number of visitors and sales are also better than expected. The audience came from many fields and different levels of society; while the geographic distribution of visitors is becoming more balanced. The atmosphere in the fair was positive; the feeling was that collectors appreciated the outstanding artworks on display and were in the mood to buy."
Calvin Hui, Co-Chairman and Director of Fine Art Asia, said,
"Fine Art Asia brings the finest pieces to Asian collectors, and consistently pioneers new areas, expanding the fine art market in Asia. This year we introduced 'The World of Design' which was received enthusiastically. The fair now showcases an amazing range of works of art at the highest level. We are very proud to celebrate our 10th anniversary as the organizer of our home-grown Hong Kong fair and we look forward to continuing to provide an exciting international platform for the international art world in Asia."