Founders of ART HK launch Art Central – Hong Kong's new contemporary art fair
Founders of ART HK launch Art Central – Hong Kong's new contemporary art fair
Founders of ART HK launch Art Central – Hong Kong's new contemporary art fair
Art Central
14 – 16 March 2015
VIP Preview 13 March
Central Harbourfront
Hong Kong
Art Central, Hong Kong's new contemporary art fair, is set to coincide with Art Basel's Hong Kong edition in 2015 during the most dynamic week in the city's contemporary art calendar.
Launched by the founders of ART HK, and co-directed by Eve Share Banghart (Art Basel, ART HK and Gagosian Gallery) and Maree Di Pasquale (Melbourne Art Fair, Sydney Contemporary and Abu Dhabi Art), this cutting-edge fair debuts 14-16 March 2015 (VIP Preview 13 March 2015).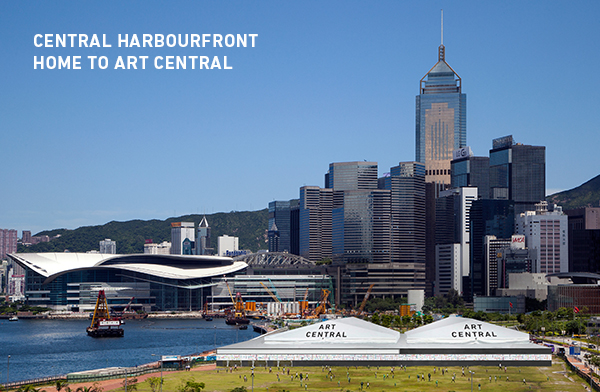 A fair for the art lover, Art Central will present over 90 leading international galleries, showing work from the next generation of talent alongside some of the most established contemporary artists from across the globe.
Staged in a specially commissioned, purpose-built tent on the new Central Harbourfront, Art Central offers a unique experience for galleries and visitors alike, in the largest temporary structure ever to be built in Hong Kong.
Art Central presents three distinct exhibition sectors; Central, Rise and Ink.
Central showcases established and emerging galleries from Asia and beyond exhibiting a diverse range of artists and strong curatorial themes through solo and group presentations.
Rise presents young galleries and art spaces launched in the past 5 years who will exhibit a curated solo or dual presentation by emerging artists at the forefront of their field.
Ink brings a new perspective to the Hong Kong art fair experience by providing galleries with an international platform for their artists specialising in contemporary ink painting.
Information for Galleries
Applications for Art Central are now open.
Click here for information on how to apply.
Information for Visitors
Keep up to date with all the latest news by subscribing to the Art Central newsletter.
Click here to subscribe.
For any questions regarding exhibiting at Art Central, please contact Co-Directors Maree Di Pasquale maree@artcentralhongkong.com or Eve Share Banghart eve@artcentralhongkong.com.