McaM invites you to attend the opening of exhibition Post-sense Sensibility: Trepidation and Will
Time: 15:00-18:30, March 19 (Sunday), 2017
Venue: No.436 East Yonghe Road, Jing'an District, Shanghai
Opening Activities
Lecture
15:00-16:00 | From Post-sense Sensibility to Total Art By Qiu Zhijie
Performance
16:30-17:00 | Human Zoo, Zhang Yunfeng & Li Haiguang
17:30-18:30 | Blue Remix, Yann Marussich
Supported by Pro Helvetia Shanghai, Swiss Arts Council
Post-sense Sensibility: Trepidation and Will
Artists: Chen Wenbo, Chen Xiaoyun, Jiang Zhi, Li Zhenhua, Liu Wei, Lu Lei, Qin Ga, Qiu Zhijie, Shi Qing, Sun Yuan+Peng Yu, Wang Wei, Wang Yuyang, Wu Ershan, Yang Fudong, Yu Ji, Zhang Hui, Zheng Guogu, Zhu Yu
Young Artists: Feng Lin, Li Ming, Lu Yang, Ma Qiusha, Payne Zhu, Zhang Yue, Zhang Yunfeng+Li Haiguang, Zhao Zhao
Organizer: Mingyuan Group, Ming Contemporary Art Museum, China Minsheng Bank, Beijing Minsheng Art Museum
Producer: Li Songjian, Ling Feifei
Curator: Qiu Zhijie, Guo Xiaoyan
Duration: March 19, 2017 – May 21, 2017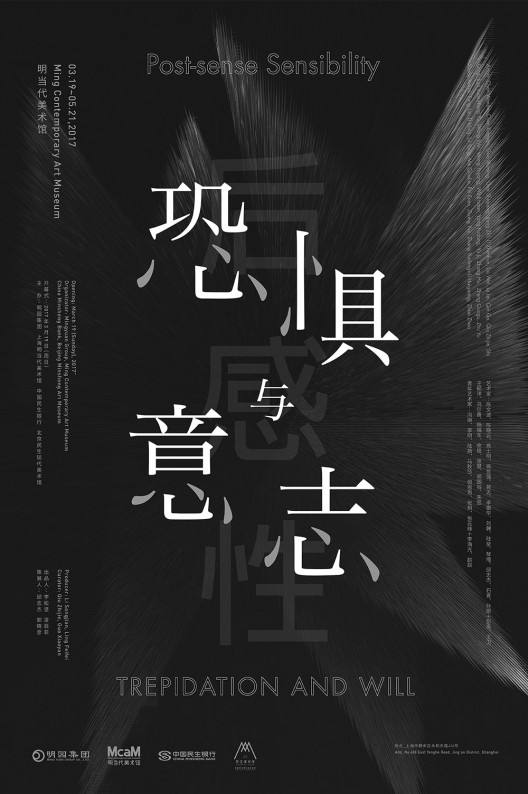 Introduction of Exhibition:
Exhibition Post-sense Sensibility: Trepidation and Will, jointly launched by Beijing Minsheng Art Museum and Ming Contemporary Art Museum opened on November 5, 2016 in Beijing, will be on view at Ming Contemporary Art Museum in Shanghai from March 19, 2017.
Surveying Post-sense Sensibility, one of the most important artistic movements in the history of Chinese contemporary art involving a handful of artists active at the time of happening with a significant impact extending beyond the year 2000, the exhibition also zeroes in on the questions and issues it has thus raised. Post-sense Sensibility is a 10-year-long local experiment on art practice initiated with Alien Bodies and Delusion, an exhibition curated by Qiu Zhijie and Wu Meichun in 1999. Divided into two parts, the exhibition is composed of artworks and archive, exhibiting works of artists involved in the movement, providing a rare chance to peak into their contemplation, discussion and actions which were fueled by passion. The exhibition has also invited active young artists whose approaches resemble that of Post-sense Sensibility artistic thinking, in order to present an open and evolving definition of Post-sense Sensibility.
Co-curated by founder and witness of the movement Qiu Zhijie, and Beijing Minsheng Art Museum vice director Guo Xiaoyan, the exhibition features 34 pieces of artworks by 29 artists, 20 of which have participated in the previous Post-sense Sensibility exhibitions, and 9 of which are young artists. Quoting the curator Qiu Zhijie, " (Post-sense Sensibility is) a constant withdraw from identity and categorizations, a constant curation and initiation of de-familiarization of self and experience. Post-sense Sensibility is the mirror stage that gets completed, a period of adolescence that gets extended to a lifetime". We look forward to the follow-up discussion about Post-sense Sensibility" the exhibition can initiate.
Different from the exhibition at Minsheng Art Museum in Beijing, Ming Contemporary Art Museum will launch a series of performances, lectures and other activities revolving around this post.