The Asia Contemporary Art Show Returns for its10th Edition Next Spring
THE ASIA CONTEMPORARY ART SHOW RETURNS FOR ITS 10TH EDITION NEXT SPRING Unveiling Important New Features at the First Event in Hong Kong Art Week
Hong Kong, Tuesday, November 29th, 2016: Welcoming more than 80 galleries from Asia and the world, including up-and-coming and mid-career artists, the 10th edition of the Asia Contemporary Art Show will take place from March 17 to 20, 2017, at the conveniently located Conrad Hong Kong. The Spring edition will be the first art fair to open its doors to collectors during Hong Kong Art Week, beginning with an invitation-only VIP Collectors Preview on Friday evening March 17 and continuing with general admission over the weekend and on Monday.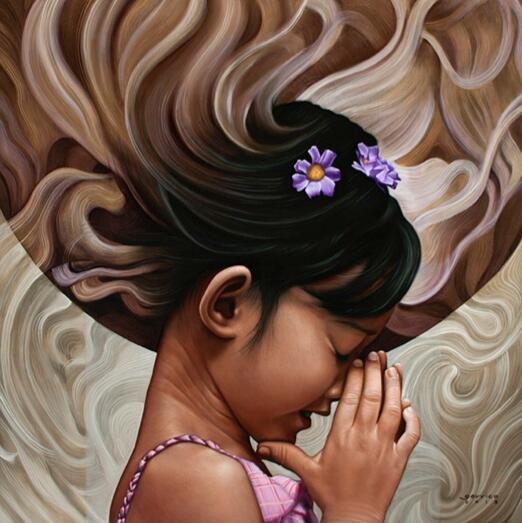 The 10th edition will host galleries from 17 countries, and introduces two new features, China Perspectives and Artist Projects. Spread across the Show, China Perspectives will present a collection of contemporary art from new and emerging Chinese artists, while Artist Projects will dedicate 30 art spaces across two floors to solo or joint artist presentations.
China Perspectives and Artist Projects will offer a more thematically focused and hands-on viewing experience for visitors. With easily identifiable galleries showcasing works in the Chinese contemporary art genre, budding collectors will be able to add works from many emerging artists to their collections. Similarly, new and repeat visitors will have the opportunity to engage with artists and learn about their creative journeys, an experience unique to the Asia Contemporary Art Show.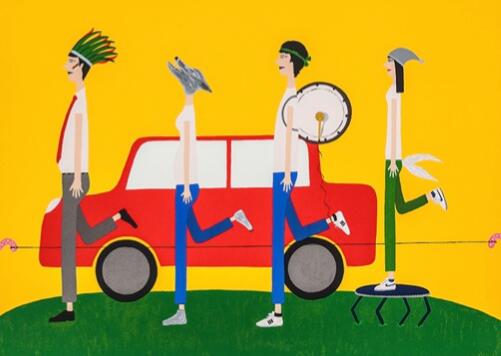 Show Director Mark Saunderson remarked that after 10 editions, the Show is firmly anchored in Hong Kong's art scene. "As you'd expect, there's a lot of anticipation being the first art fair to kick-off Hong Kong Art Week in the city's 'art triangle' that includes Art Basel and Art Central. Art fairs have certainly become the art experience of choice, providing a welcoming environment to gather and talk about art, as well as a place to discover and buy unique works," he added.
"According to the independent visitor survey conducted after our most recent Show in September, some 20% wish to develop their own art collection. Our show aims to nurture this next generation of collectors who will increasingly impact the art market. There's also a growing swath of interested art enthusiasts who, although they buy less often, are drawn to works from established artists, and are therefore willing to spend more. An example that comes to mind is from our Fall show where a collector bought several pieces from one artist including one for over HK$200,000. With the strongest primary and secondary art market in the region, Hong Kong remains the principal market maker for art sellers and seasoned and younger collectors."
CHINA PERSPECTIVES
China Perspectives presents a series of works by selected galleries, artists and artist collectives that follow in the tradition of the Chinese contemporary art movement. Artists in China aimed to redefine, reinterpret and challenge artistic norms that were prevalent at end of the Cold War, questioning the rapid social and economic transformations that were occurring in the country and aiming a critical eye towards the country's dominant cultural and political environment. Within the collection will be examples of works done in the Political Pop and Cynical Realist styles, as well as works that demonstrate the new wave in traditional ink, and others that blend the Western abstract style with Chinese materials and aesthetic.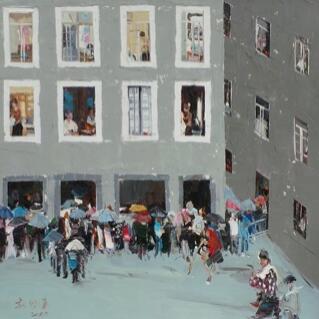 DU HAIJUN, CHINA – Nancy's Gallery, Room 4220
Du Haijun (b.1978) represents the new generation of Chinese contemporary art, with works that are statements on the social and economic issues that form part of today's new China. Having been witness to China's rapid economic development, his paintings reflect the crowded urban life structures that now exemplify the modern Chinese cityscape. The artist narrates a story of congestion and multiple layers of co-existence, of innumerable windows sheltering thousands of individual secrets and stories in a picture book of crumbled, chipped paint that peers into the modern reality of megalopolitan life. Du Haijun graduated from the China Central Academy of Fine Arts.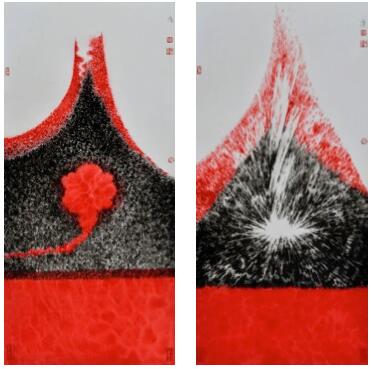 LI BAIMING, CHINA – Beijing Central Art Gallery, Room 4307
Trained in traditional Chinese ink and watercolour, Li Baiming (b.1981) has evolved a style that is uniquely his own. Redefining and reinterpreting traditional norms into a contemporary perspective, Li's series "Creation . Recreation . Metamorphosis" exemplifies the "new wave" of ink painting. The artist is learned in Chinese history, classical literature and poetry, drawing on this knowledge to inspire a visual language exceptional in colour, composition and innovation. His mastery of technique allows him to express the subtleties of imagery, ranging from majestic mountaintops to seas of delicate clouds with masterful brushstrokes effortlessly applied with ink and watercolour across xuan paper.
ARTIST PROJECTS
Offering viewers the unique opportunity to meet artists in person, Artist Projects brings artists from around the world to exhibit in a solo or joint presentation. Spread across two floors, this new feature will bring narrative and context to life with the artist as storyteller, chronicling the accounts of what motivates and inspires their work and artistic practice. By bringing artists and collectors together in a familiar, relaxed environment, Artist Projects will provide an ease of interaction and accessibility, a fostering of engagement with art and those who create it. For both artist and collector, it will be a chance for dialogue and exchange.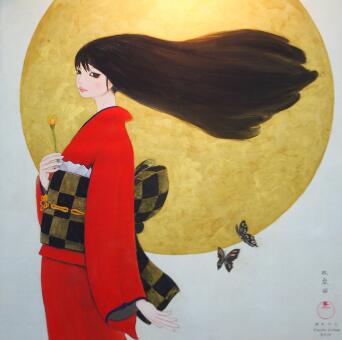 SOUSKE ONOIKE, JAPAN – Souske Art Projects, Room 4123
Souske Onoike's (b.1969) work focuses on a beauty almost whispered, reflected in the angelic faces, elegant poses and shy glances of his subjects in the traditional, yet exquisite, kimono. With the aim of offering the viewer a bit of glamour and the essence of his native Japan, the artist uses traditional techniques and material to present us with "Bijin-ga" – a term for pictures of beautiful women in Japanese art, especially in woodblock printing of the ukiyo-e genre. Onoike likes to add a twist to the works, making them accessible to foreign audiences. The artist has exhibited his work in Japan, South Korea, Australia and Italy. He is the recipient of several awards and has published many illustrated books.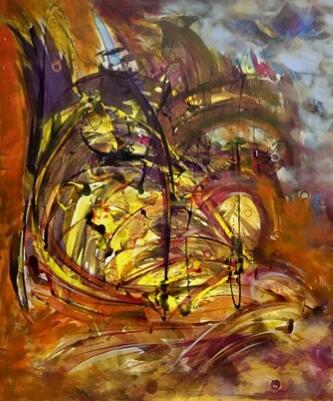 LYDIA MOAWAD, LEBANON, Room 4110
A distinguished designer, illustrator and art professor, Lydia Moawad (b.1965) is considered one of the most renowned Lebanese contemporary painters. Her works are the fruit of long years of research, a journey that has brought her to find her own aesthetic language. The process of creation is part meditation, part revelation, bringing together body and spirit, dream and reality. As a curious and experimental artist, Moawad uses a variety of materials in her work, such as silk paper and oxidised sheets of copper, combining these with abstract symbols and words which give free expression to her creative spirit. Her works depict a universe of her own creation, rich in memories and unexplored feelings.
UPCOMING EVENTS
The 2nd edition of Singapore Contemporary and the inaugural presentation of Photo17 Singapore, at the heart of Singapore Art Week, takes place January 19 – 22, 2017, at the Suntec Singapore Convention & Exhibition Centre.
EDITOR'S NOTE:
Asia Contemporary Art Show 10th Edition Conrad Hong Kong, 40 – 43 floors March 17 – 20, 2017
Opening Hours: Invitation-Only VIP Collectors Preview Friday March 17, 4pm – 9pm
General Admission Saturday, March 18, 12nn – 9pm Sunday, March 19, 12nn – 8pm Monday, March 20, 12nn – 6pm
Tickets: Admission tickets will go on sale two months prior to the event HK$220 (admits two if purchased online; admits one if purchased at the door)
Free admission for children under 16yrs accompanied by an adult. Buy tickets at http://www.asiacontemporaryart.com/tickets/
High-res images and information are downloadable from: https://www.dropbox.com/sh/jxeoyr77uvjfk97/AADtCKzjaS5dU9hmSdawlkXsa?dl=0