PAUL McCARTHY
'Virtual Reality Art'
Faurschou Foundation, Beijing
[Press Release]
After the second exhibition period with Erik Parker, Faurschou Foundation is pleased to present the next Virtual Reality artwork, C.S.S.C. Coach Stage Stage Coach VR experiment Mary and Eve by Paul McCarthy from 29.10.17 – 24.11.17, previously shown in connection to this year's Venice Biennale.
The overall exhibition, Virtual Reality Art, will be exhibited in Beijing from 27.08.17 – 03.02.18 and will consist of 5 consecutive "sub-exhibitions" for each participating artist: Christian Lemmerz, Erik Parker, Paul McCarthy, Tony Oursler and Yu Hong. Each artwork will be exhibited for a one-month period with complementary sketches, books and artworks for each of the artists and their respective Virtual Reality pieces.
Faurschou Foundation is glad to continue collaborating with Khora Contemporary. Khora Contemporary was established in 2016 in Copenhagen, and conducts extensive research on this progressive medium, and specializes in translating the vision of established and emerging artists into the language of Virtual Reality.
Christian Lemmerz: 27.08.17 – 29.09.17 (Opening 26.08.17)
Erik Parker: 01.10.17 – 27.10.17 (Opening 30.09.17)
Paul McCarthy: 29.10.17 – 24.11.17 (Opening 28.10.17)
Tony Oursler: 26.11.17 – 05.01.18 (Opening 25.11.17)
Yu Hong: 07.01.18 – 03.02.18 (Opening 06.01.18)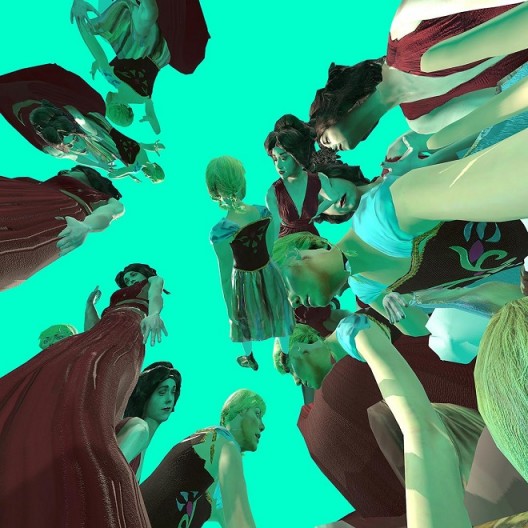 PAUL MCCARTHY
C.S.S.C. Coach Stage Stage Coach VR experiment Mary and Eve, 2017, Virtual Reality artwork © Paul McCarthy and Khora Contemporary
 Courtesy the artist, Hauser & Wirth, Xavier Hufkens and Khora Contemporary
29.10.17 – 24.11.17
Paul McCarthy's Virtual Reality experiment is based on the artist's long-term project, "Coach Stage Stage Coach", ("CSSC"). Encompassing a wide range of different media, the project includes a new film, inspired by John Ford's Western of the same title from 1939, starring John Wayne. Taking the form of a spin-off, a phenomenon associated with the entertainment industry, the Virtual Reality work builds on a scene from the film by the artist, involving the two characters, Mary (played by Rachel Alig) and Eve (played by Jennifer Daley).
Caught in the claustrophobia of constant surveillance by the two women and their doubles, the viewer becomes part of a vicious mind game. All social conventions break down as the plot unfolds and escalates into a psychosexual trip of rape and humiliation.
Paul McCarthy was born in 1945, in Salt Lake City, USA. Today, he lives and works in California. He received his BFA in painting from San Francisco Art Institute, and received his MFA at the University of Southern California, where he studied film, video, and art. From 1982 to 2002, he taught performance, video, installation, and performance art history at the University of California, Los Angeles. McCarthy's works include performance, installation, film, and other genres, best known for their highly provocative nature. McCarthy's works often express strong criticism towards consumerism in American culture, symbolized by Disneyland, B-Movies, Soap Operas and Comics. His performance art and psychosexual events aim to test the emotional limits of both artist and viewer. His work has been shown in the 1993 Venice Biennale and in exhibitions at Centre Georges Pompidou (Paris), The Guggenheim Museum Soho (New York), the Museum of Contemporary Art (Chicago), and Musee d'Art Contemporain (Lausanne, Switzerland), among many others.
Director:Paul McCarthy
Cast:Mary (Red) – Rachel Alig, Eve – Jennifer Daley
Production:Alex Stevens, Naotaka Hiro, Jody Joyner
Special Thanks:Karen McCarthy, Damon McCarthy, Dylan Huig, and Luisa Aguilar
FAURSCHOU FOUNDATION
Faurschou Foundation is a privately owned art institution with a collection of contemporary art, and with exhibition venues at Copenhagen North Harbour as well as Beijing's attractive art neighbourhood 798. Faurschou Foundation introduces the visitors to some of the world's most acclaimed artists. Faurschou Foundation's collection is constantly developed and expanded.
Over a very short period since its establishment in 2011, Faurschou Foundation has profiled itself as a significant art institution with solo exhibitions of, among other artists, Cai Guo-Qiang, Louise Bourgeois, Shirin Neshat, Gabriel Orozco, Danh Vo, Bill Viola, Ai Weiwei, Yoko Ono and Peter Doig.