Ni Zhiqi
Pearl Lam Galleries
[Press Release]
Shanghai—Pearl Lam Galleries is pleased to present adebut solo exhibition for Ni Zhiqi in Shanghai, Vacuum. Dry Land. Into the Room,whichbrings together his mixed media paintings produced in recent years as well as selections from the past two decades. Ni is a collagist in the way he executes and explores mark-making, and the exhibition can be considered as an evocative mapping of fragmented spatial territories, disclosed through an active engagement with the show as a whole.
Patterns, scribbles, dynamics, perception, and play are spaces and movements in themselves; they are generators of multiple experiences and key elements of a creative path that strive towards constant connectivity, trying to find a way to explore ideas of chance and circumstances.Process, or rather the evidence of process, is the primary focus of Ni's artworks. The Shanghai-based artist realizes them freehand without the assistance of either preparatory blueprints or technological aids. In short, they long for the nature that eventually willsuggest its very richness—both structural and textural.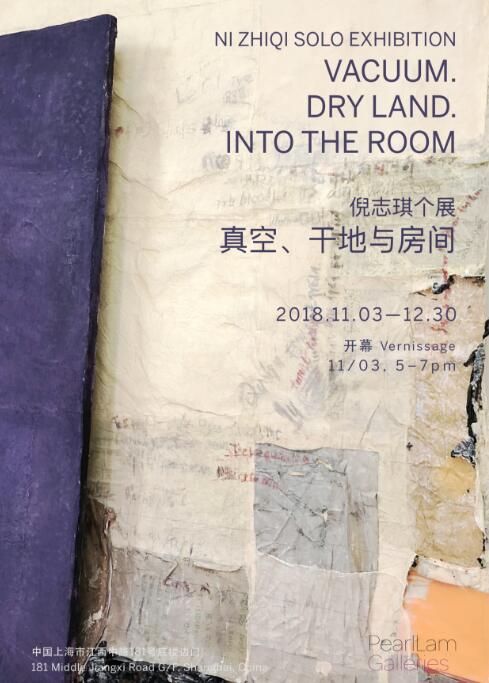 Ni's works are largely inspired by his travels and take their cue from a montage of associative imageries found in interiorized windows and floorings, such as mosaic tiles. The influence is evident in the artist's sharpened use of geometrical variations that dominate his compositions. He captures the non-referential manifestation of perception by combining painting and collage, implementing the stylistic forms of contours and muted hues inthe layered treatment of the exhibiting works. Ni utilizes a diverse range of found materials that form personal assemblages of time, including handmade paper he collected from Guizhou, vintage book pages he sourced from his travels, yarn from fashion design classeshe teaches, anonymous old envelopes and discarded packages, etc.
Furthermore, the artist's deliberate and calculated use of these sourced items alongside his attention to the particular sensuality of their materiality are what shapes his works. He strips away the objects' innate nature, dismantles and reassembles them, squeezing them into a dense perceptual vacuum. Through this process, not only are different layers of perception extracted, but the gap in between the shifting layers is compressed to such an extent that the emptiness of the vacuum becomes as solid as dry land, inviting viewers "into the room"—a perceptual realm that is both an illusion and reality, a presence indicating an absence, a series of traces in place of a missing referent. This is further exemplified in Combat,where words and sentences are randomly written in such a way as to make them difficult to immediately perceive. And even when the texts are revealed, their meanings remain obscure since they work on an associative intuitional plane rather than follow any rational logic.
While this exhibition professes to highlight the artist's interest in encountering and re-encountering the idiosyncratic ready-made through its insertion alongside other prop-aided articulations such as fabric swathesto form spatial arrangements, Ni's work, as it emerges in this exhibition, creates a sort of textured system, one whose formalist aspirations remain as a site of action, a space in which to play, drawing and defeating limits in productive tension with its sensual tactility, in relation to the determining mechanism of the artist's oeuvr