GOLNAZ FATHI
A Long Line Without a Word
Pearl Lam Galleries, Shanghai
[Press Release]
Shanghai—Pearl Lam Galleries is pleased to presentA Long Line Without a Word, a solo exhibition byIranian artist Golnaz Fathi in Shanghai, China, on show from 26 May to 22 July, 2018. Gathering over 17works, most of them new and recent, the stark and striking exhibition highlights Fathi's delicate yetassertive works created in two styles: ink pen on canvas and acrylic brush on canvas—with the lattermaking its series debut in Asia. The polarity of the techniques complements one another in theirrespective details, while reflecting Fathi's artistic practices as both a contemporary artist and a trainedcalligrapher.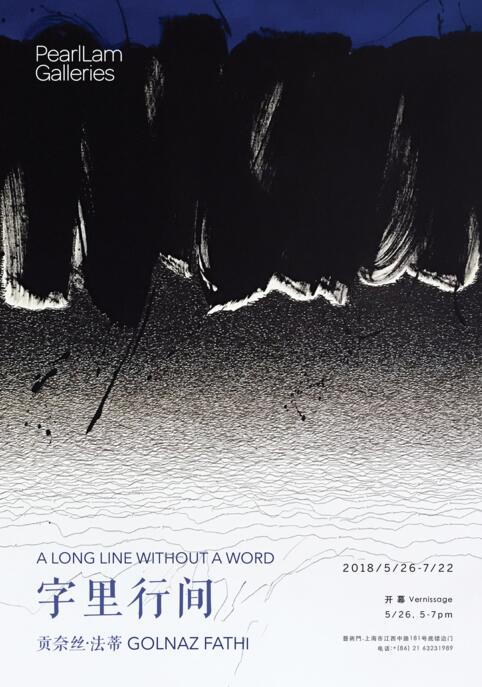 Rooted in traditional Persian calligraphy—a sacred form of art in the Islamic world—Fathi's worksbreak free from the disciplines of Arabic scripts. Under Fathi's abstract spin, letters are reduced tolines; each word becomes illegible and diverges from its original meaning. Following the twists andturns of each line drawn under her intuitive gestures, viewers experience a rhythm that is universal yetuniquely subject to one's own imagination. When examined up close, the seemingly minimalcomposition on canvas is composed of thousands of lines, the result of a painstaking process,delivering emotional responses that even language sometimes fails to communicate.Inspired by the technique known asShiah Mashgh or "black practice", a warm-up exercise where asheet is repeatedly filled with black letters, Fathi considers this expression as the most free and artisticpart of writing, for one connects body and mind in these spontaneous movements.
Instead ofconsciousness, her pen is triggered from her meditation and eventually leads the direction of the lines.By taking delight in the laborious repetition of manual gestures and technical complexity, Fathi hasstripped forms and languages of the anonymity of function, forcing them to speak on their own terms.
Likewise emanated from an inner force, Fathi's acrylic paintings combine both momentum andacumen. The artist finds empty spaces to be full of information and constructs her works to be specificto a space that is drenched in its own aura of imageries. She explores the tension between filling andemptying the canvas as a metaphor for the cycles of human life. Despite its minimalistic appearance,each wide brushstroke demands a high level of concentration and dexterity that only someone whopractices calligraphy daily can achieve. Fathi creates another pen painting series with a similarcomposition of just a few horizontal or vertical strokes on the entire canvas while numerous expressivelines look as if they were created by a brush, resembling the marks of brush hairs. The two mediumsreflect the paradox of improvisation and precision, while both are done on a clean background. If linesare the melody, then the vacant canvas is "the sound of silence".In the triptychKnotted Roots, the meandering lines differ from most of her works, as they do not crossover one another but instead wind around neighbouring lines. Each thread is a unique narrative that isclosely related with other "roots" nearby. Likewise, just like rhizomes hidden under the soil, the greylines blend into the cream background, giving the canvas a mysterious sentiment. Fascinated by how calligraphic traces can have a different effect on non-traditional mediums, Fathi projects a version ofthis work in the exhibition space. In contrast to the almost all-white canvases, the colourful lines danceon the dark wall as if they represent the rebirthing of nature. Fathi simply invites audiences to untie theknots and unearth the meaning behind the work, which has no end or destination other thanshowcasing the beauty of simplicity on her own terms.