ART LABOR – REN ZHITIAN solo exhibition Saturday!
[Press Release]
ART LABOR Gallery is very pleased to present the most recent art works by Beijing based painter/sculptor/performance artist Ren Zhitian. This is his 5th solo exhibition with the gallery, and his shows are always elegant and highly original. Working with materials ranging from marble to rice paper, he sculpts and paints, leading with an intuitive sense, with this exhibition featuring works originating from a more subconscious range, automatic painting focusing on form with structured 2 ½ D loops, experimenting with the usual flatness of ink painting, on canvas and paper, and revealing the depth of the thought process itself. His work attempts to understand the cognition of the human mind through expression of memory as in water or ink drops on paper. These abstract forms with which he expresses his cognitive processes are themselves images but are put forward more directly, unlike much of today's contemporary art, being usually filled with symbols and metaphor of cultural and or conceptual meaning.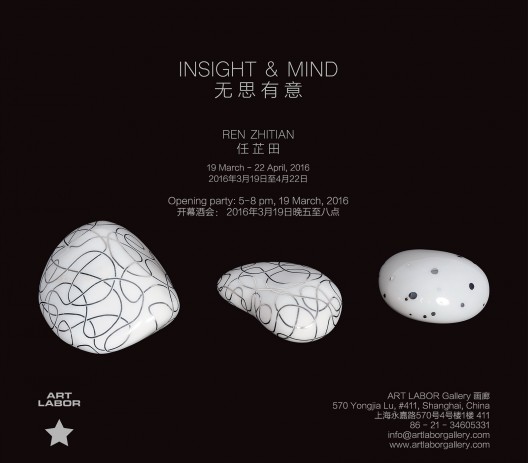 Ren's work has been shown and collected around the world, in Shanghai and Hong Kong, Berlin and Beijing, Italy (included an important offsite exhibition in the 55th Venice Biennale), and as far away as Uruguay. Some of the very active and prolific artist's recent solo exhibitions including "Items & Intuition", ART LABOR Gallery, Shanghai (2013); "Empty & Elegance", ART LABOR Gallery, Shanghai (2011); "Everywhere is Here", ART LABOR Gallery, Shanghai (2009). Some of Ren's recent group exhibitions include "The Materialist Postscript", Galerie Philine Cremer International Contemporary Art in collaboration with Intelligentsia Gallery, China (2016); ""The Silence of Sirens", 1st The Door Art, 798 Space, Beijing (2015); "Nowhere Village", Zhong Gallery, Berlin, Germany (2015); "MICROSCOPE – The Inner Mindscape of Contemporary Chinese Artists", Leo Gallery, Shanghai & Hong Kong (2015); "Soft Abstraction as Constellation", UCCA Store, Art Basel, Hong Kong (2015); "Today, Praise the Tea", Today Art Museum, Beijing (2015); "Uneasy Trip in Asia 2014-stage 2″, Star Gallery, Beijing (2014), among many more. He presently lives and works in Beijing.