Chen Xi "∞" and Peng Yihsuan "Impermanent Marks"
[Press Release]
A+ Contemporary is pleased to announce the opening of two solo exhibitions on 21st May, 2016 – ∞ and Impermanent Marks with artists Chen Xi and Peng Yihsuan. The exhibition is on view through 4th July, 2016.
If the reality in which artists exist within were an invocation of their cognitive state, then along the trail of logic that inspires concepts, the most intriguing would have to be the dialectic discourse proposed by different artists with reality as its point of departure. Artists, guided by their native environment, are each travelling along on parallel paths which in its preliminary can be deduced into two layers: internal and external. The discussion here does not regard the internal and external relationship of a work and its concept, but rather the two contemplative routes that the artist endeavors while creating. Self-awareness is employed to layer and pile as the actual external reality draws in. Despite that this broad assumption cannot be the sole consideration when speaking of creative thinking method; yet, indeed, it has been a quintessential aspect in the approach taken by young artists in recent years. This time two solo exhibitions at the same venue have been deliberately arranged; the idea behind this exhibition is not segregated by culture or geographic locations, but rather the internal and external thinking paths that Chen Xi and Peng Yihsuan trek, demonstrating the ways in which young artists apply "thinking" to generate new creative approaches. (Text/ Yuyun Chiang)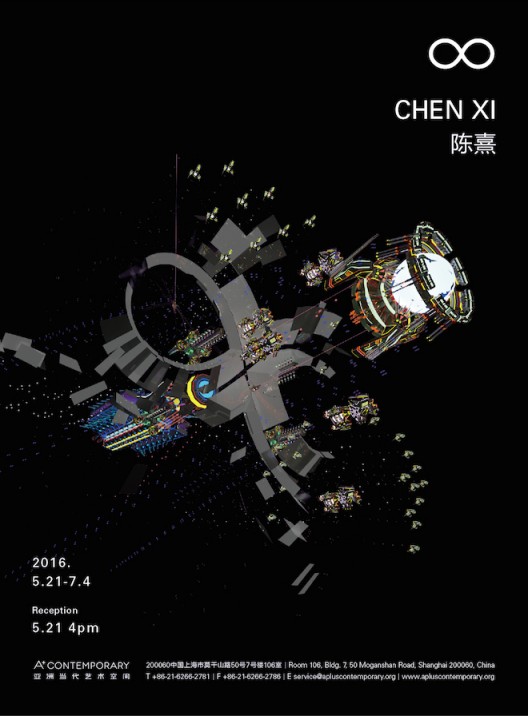 Chen Xi (b.1995) uses drawing and animation to tentatively deconstruct, dissect and reassemble societal values. Animation is a limitless narrative approach, allowing freedom from academic and philosophical systems that have become obsolete; it is an escape from the firmly entrenched system, an indulgence in a paradise interwoven with reality and illusions. Founded upon the concept of the infinitely large "∞", this exhibition adopts the reciprocal relations of works into installation's arrangement format, echoing Chen's unique practice in the midst of creation. It requires tens of hours for the calculator to compute an animation from the initial modeling, the idle hours in between are often appropriated to the production of other works. This peculiar tendency to create multiple works simultaneously has spawned an intricately complex web of time, allowing the exchange between works to mimic the "∞" symbol, like the two rings that influence and react to one another, inciting an infinitely large illusory state.
The works selected for the exhibition extract and edit inundated mainstream elements, and seal it with a narrative that perfectly packages and illustrates the human society while the virtual world of numbers reflect contractions and paradoxes of reality. If the audience is satisfied by these fabricated and tampered concepts that seem ostensibly logical, then perhaps the reality is as askew and distorted? These "mock ethics," derived from vulgar humor, exposes this mad civilization with ridicules, depicting the origin and history of the fleeting human life. In the end, as oneself is critically observed, a dissonance in viewers' awareness ensues.
Artist: Chen Xi
Chen Xi was born in 1984 in Wuhan, China. He graduated from Jiangnan University in 2008, and later graduated with Master's Degree from East China Normal University in 2012. He currently works and lives in Beijing. His solo exhibitions include: ∞ (A+ Contemporary, Shanghai, 2016), Preserved Wilderness (307, Beijing, 2015), Perception of home (Home Inn, Beijing, 2014), New Works by Chen Xi (Museum of East China Normal University, Shanghai, 2009). He's selected group exhibitions include: Community of Celibates (Shanghai Gallery of Art, Shanghai, 2016), Evolution of Model (A+ Contemporary, Shanghai, 2015), Absurd Utopias-Cine City (Brighton Film Festival, Brighton, United Kingdom, 2015), Ode to Joy (Star Gallery, Beijing, 2015), Ministry of Truth II: The Factitious and its Realm (Boers-Li Gallery, Beijing, 2014), Design Shanghai (PSA, Shanghai, 2013), Nonexistent Reality (Chambers Fine Art, Beijing, 2013), Time Of The Dragon (Rauma Art Museum, Finland, 2012), The New Directions: Young Chinese Contemporary Artists (Moscow Museum of Modern Art, Moscow, 2012), Art exchange with Arkansas State University (Museum of Arkansas State University, Jonesboro, 2011), Pattern-Vortex-Encounter (Space station, Beijing, 2011).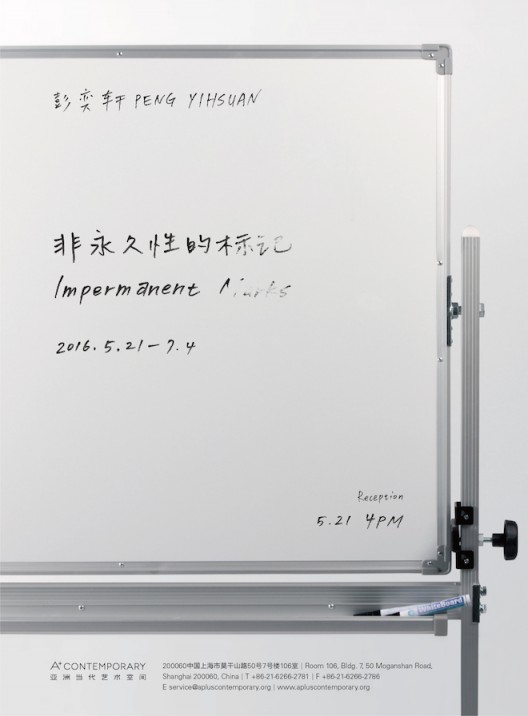 In his solo exhibition Impermanent Marks, Peng Yihsuan (b. 1990) samples images of the catastrophes through the years since he was born, outlining their visage with the ephemeral characteristic of whiteboard markers. As the woven images remain in a transient state of ambivalence, these fragments have converged to form a personal history of images, and embedded to become collective experience of every individual.
The whiteboard was popularized in the 90s, its foundation can resume back to emptiness when needed, and possesses the unique quality to bear any images and texts; just as the virtual canvas of a calculator, and they are the digital language unique to this generation. Whiteboards have been adopted as a transitory tool to deliver mountains of temporary information, it bears an uncanny resemblance to the decentralizing governance of contemporary images. As the production of media images becomes readily accessible, anyone can cite and arrange images as they please. Experiences are often established in a fragmentary or abrupt manner, and the intent of these images become ephemeral as messages continue to layer and transform. In the narrative structure of news, repeating scenes of catastrophic events particularly assaults public awareness, agitating society's collective consciousness. The artist positions himself within the whiteboard and watches these images that did not emerge from his own experiences, recounting past scenes of calamity and proceed to shift, seeking an entry point to cast personal experiences. While the vulnerability of an island country aches sorely through the incessant images, the fleeting quality of the medium eases an ever present anxiety. The disembodied images are eventually projected onto a whiteboard as the act of recording replaces a painterly arrangement, now behind the isolated images remain only an intricate web of lines. Through a commentative performance process, Peng Yihsuan has transformed convoluted memories into an arrangement intimate to the public experiences.
Artist: Peng Yihsuan
Peng Yihsuan was born in 1990 in Chungli, Taiwan. He graduated from Taipei National University of the Arts in 2011. Currently studies at the Graduate Institute of Plastic Arts, Tainan National University of the Arts. He currently works and lives in Tainan. His solo exhibitions include: Impermanent Marks (A+ Contemporary, Shanghai , 2016), CANVAS (Xiang Er Art Space, Chungli , 2015), Youxian de xu xu (HOWL Space, Tainan, 2014) , The Image of Hope (Tainan National University of the Arts, Tainan, 2013), The Thousand of Pedestal (Taipei National University of the Arts Nan-Bei Gallery, Taipei, 2011) His group exhibitions include: Taipei Arts Awards (Taipei Fine Arts Museum, Taipei, 2015), Nice life? (Kunsthochschule Kassel, Kassel, Germany, 2015), Kaohsiung Awards (Kaohsiung Museum of Fine Arts, Kaohsiung, 2015),Centrifuge (Polymer , Taipei, 2014), Transcoding: The Geography of Digital Images (Taiwan Digital Art and Information Center, Taipei, 2014), Make place for… (INART Space, Tainan, 2013) He was shortlisted for Kaohsiung Awards, Taipei Arts Awards and the 3rd Huayu Youth Award in 2015.