Fragments of Empires
[Press Release]
Featuring:
Kader Attia, Lutz Becker, Theo Eshetu, Amir Fattal, Gülsün Karamustafa,
Fiona Pardington, and Sophia Pompéry


Curated by David Elliott
and Rachel Rits-Volloch
EXHIBITION OPENING

Friday 7 November 2014 19:00

@ MOMENTUM Berlin
Kunstquartier Bethanien
Mariannenplatz 2, Kreuzberg, 10997 Berlin
---
THE OPENING WEEKEND PROGRAM
8-9 November 2014
@ .Collegium Hungaricum
Dorotheenstraße 12, 10117 Berlin
Saturday 8 Nov 2014:
Symposium
@ Panoramahall .CHB 17:00 – 19:00
David Elliott, Theo Eshetu, Mark Gisbourne, Gülsün Karamustafa, Fiona Pardington, Bojana Pejic, Sophia Pompéry

Sound Installation
@ Outside .CHB 12:00 – 19:00
Lutz Becker After the Wall (1999/2014)

MOMENTUM_InsideOut Screening
@ Media Facade .CHB 19:00 – 24 :00
Sophie Pompéry Atölye/Atelier & Theo Eshetu ROMA

Sunday 9 Nov 2014:
Sound Installation
@ Outside .CHB 12:00 – 19:00
Lutz Becker

MOMENTUM_InsideOut Screening
@ Media Facade .CHB 19:00 – 24 :00
Sophie Pompéry Atölye/Atelier & Theo Eshetu ROMA


Fragments of Empires is an exhibition of contemporary art that addresses issues of memory, identity and the impact of migration through three different time-based media: sound, film and photography. Throughout the exhibition 'fragments of empires' are revealed through the notion of 'object memories' as artists examine how objects, and associations related to them, have been transferred and re-imprinted through historical processes of colonisation and migration, moving in this way from one culture to another. Although originally circumscribed by imperial ambition, the work made by the artists in the exhibition shows different ways in which these fragments have been woven into new lives or realities to establish other meanings and identities in the present.
Berlin in the 21st Century sits on the intersection of many immigrant cultures and nations, as people from all over the world flock to the city. In recent years, Berlin has come to be especially known for attracting the world's leading artists. Equally, Berlin is famous for the wealth of cultural artifacts housed in its museums. This convergence, in this capital city, of creative and historical culture with the world's migrant cultures is often remarked upon, but it has not yet been closely considered in terms of the convergence of the different colonial legacies of the many populations that inhabit Berlin. Fragments of Empires is thus a timely reflection on the hybridization of cultural practices, and the fact that not only in Berlin, but everywhere in the world, we can all find roots somewhere else.
Reflecting upon the lasting legacies as diverse as the British, Byzantine, French, Ottoman, Roman Empires within the context of Berlin's particular struggle with the painful histories of the German and Austro-Hungarian Empires, this exhibition extends the remits of history through artistic innovation. Fragments of Empires brings together artists who have dissected the historical legacies of their particular cultures to rebuild them into contemporary statements about how cultures, by absorbing one another, defy established borders and concepts of nationhood that have been drawn and re-drawn by political force. The opening of the exhibition in Berlin in early November will coincide with the 25th anniversary of the fall of the Berlin Wall.
The work by the artists in the exhibition – Kader Attia, Lutz Becker, Theo Eshetu, Amir Fattal, Gülsün Karamustafa, Fiona Pardington, and Sophia Pompéry – encapsulates a wide range of different approaches to experiences of empire, migration, cultural transformation and appropriation. All strongly reflect the viral, diasporic symbolisms of contemporary culture across the world and the different contexts within which they are perceived. In Fragments of Empires, MOMENTUM is bringing these seven artists together for the first time.
This exhibition accordingly invokes time-based art practices to explore the legacies of cultural histories that have constantly changed through the passing of time. As Berlin's only platform focusing exclusively on time-based art, MOMENTUM focuses on historical time through the lens of technologies that break down moments into images, as well as through the personal experiences of artists whose varied cultural backgrounds also re-frame different historical moments.

ARTISTS and WORKS: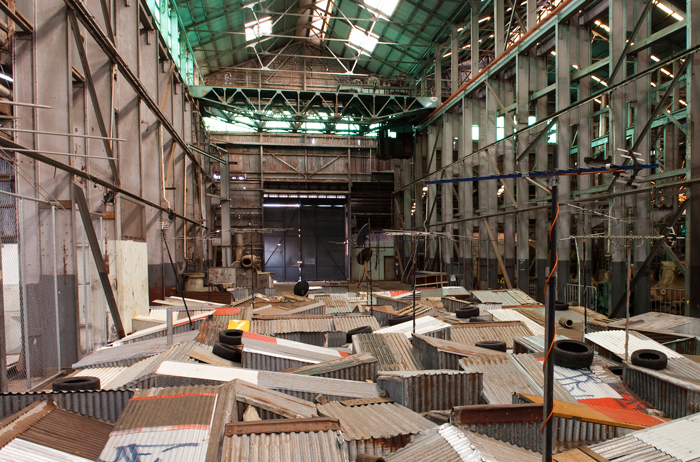 Kader Attia, Modern Architecture Genealogy, 2014
Kader Attia was born in 1970 in Dugny (Seine Saint-Denis) and grew up in Paris and Algeria. He now lives and works in Berlin. Born into an Algerian family in France, Kader Attia spent his childhood between the two countries. Going back and forth between the Christian Occident and the Islamic Maghreb have had a profound impact on his work, which tackles the relations between the Western Thought and 'extra-Occidental' cultures, particularly through Architecture, the Human body, History, Nature, Culture and Religions.
 Using his multiple cultural identities as a starting point, he examines the increasingly difficult relationship between Europe and its immigrants, particularly those from North Africa.
For Fragments of Empires, MOMENTUM exhibits a series of collages created especially for this exhibition. This new work will investigate cultural practices of mutual appropriation and representation between Africa and Europe. A feature of colonial legacies is the mingling and exchange of cultural influences (one thinks of the fashion for Indian and African fabrics in 18th Century Britain). Going as far back as ancient Greek sculpture, we find that little remains of the originals – in fact, the formally pure marble bodies we regard as 'classical Greek sculpture' have been pieced together from fragments of the many empires and civilizations which destroyed and then mended them. That the western ideal of beauty turns out to be a Frankenstein-like collage is the starting point for Attia's new work.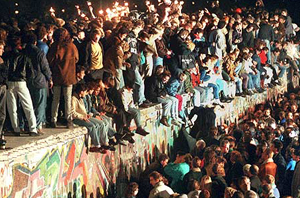 Lutz Becker, After The Wall, 2000
Lutz Becker was born in 1941 in Berlin, Germany and now lives and works in London, UK. Lutz Becker is an artist, filmmaker, curator and film-historian. He studied at the Slade School of Fine Art, London, where he graduated under Thorold Dickinson and became a distinguished director of political and art documentaries. A practicing painter, he is also a curator of exhibitions. He collaborated with the Hayward Gallery on The Romantic Spirit in German Art (1994), Art and Power (1995), and Tate Modern on Century City (2001).
For Fragments of Empires, Becker re-visits a sound installation commissioned for the exhibition After the Wall held at the Moderna Museet Stockholm in 1999 and subsequently in Berlin in 2000 at the Hamburger Bahnof, also curated by David Elliott. Its five constituent sound montages are based on original recordings made at the fall of the Berlin Wall. MOMENTUM presents the sound sculpture After The Wall in the context of the 25th anniversary of the fall of the Berlin Wall. The fall of the Wall 25 years ago, in November 1989, symbolised the end of the separation of the City of Berlin, as well as that of Germany into an Eastern and a Western state. It marked, for everybody to see, the final collapse of the idealogical empire of Communism.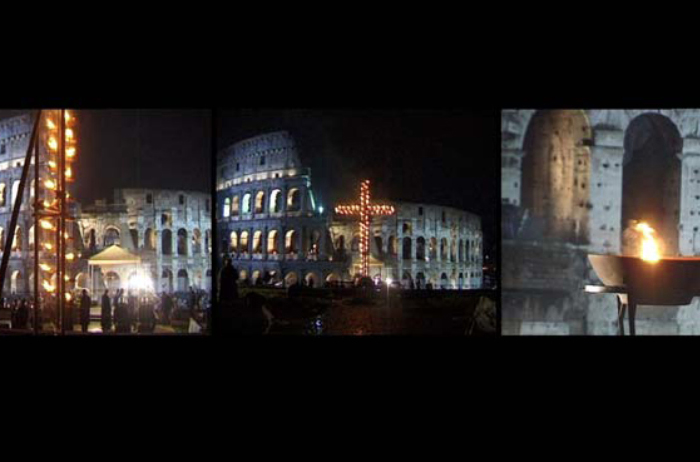 Theo Eshetu, ROMA, 2010
Theo Eshetu was born in London 1958, and grew up in Addis Ababa, Dakar, Belgrade and Rome. He now lives and works in Berlin. Forging a hybrid language to merge practices of video art and documentary filmmaking, Eshetu explores perception, identity, and notions of the sacred through electronic time-based media and optical devices and effects. He draws from anthropology, art history, scientific research, and religion—Catholic, African, Muslim, Buddhist—to explore clashes and harmonies of human subjectivity between world cultures in the global context. Though essentially conceptual, Eshetu's work is often focused on cultural displacement, and is always grounded in compelling aesthetic components, often achieved through fractal repetition, such as kaleidoscopic mirroring, multi-screen projections, or mosaic-like patterning of images.
Fragments of Empires features Eshetu's video ROMA (2010). As Fellini himself pointed out despite the imperial, papal, fascist nature of Rome in reality it is an African city. This was Theo Eshetu's starting point for ROMA, a vision of the city in which the sacred and profane dialogue with its ephemeral and eternal qualities to reveal a city full of the ghosts of its imperial past. Rome is a place of layers of history and the accumulation of mental states that this implies. At its core Rome is the root of a specific aspect of western civilization and classical Antiquity – not in the Arts, which are in Greece, or in the Sciences, which are in Egypt – but in the aspect of its Power. A monumental power once spanning continents, now residing in the memory of monuments. ROMA portrays this through the eyes of unidentified foreigners that come to visit Rome bringing with then their diversity, art and culture only to find them absorbed into the city's own fabric. We see the city through marvelled eyes and ultimately it's the city itself that creates a loss of identity.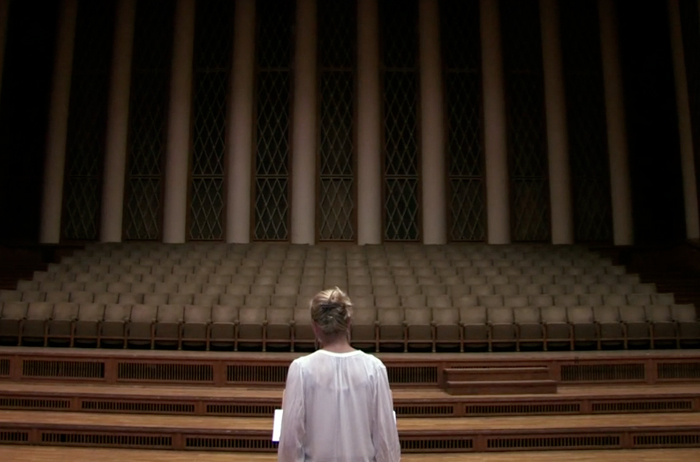 Amir Fattal, From the End to the Beginning, 2014
CV – Website
Amir Fattal was born in Israel in 1978, and is currently based in Berlin. Fattal graduated from Universität der Künste, Berlin, in 2009, and is a conceptual artist whose practice is one of historical reflection grounded in the history of aesthetics and cultural schisms. Fattal's overarching concerns are the cultural connections between Germany and Israel – countries inexorably linked through their history, memory, culture, architecture, and the geographical diaspora which resulted in mass migrations, transposing cultures to new and different nations. The territory of Israel was once part of the Ottoman Empire, and then later administered by the British, yet the very creation of Israel is the legacy of the failed attempt to start the new Third Reich.
Fragments of Empires, features Fattal's new work, From the End to the Beginning (2014). This video work is based on a live performance of Richard Wagner's Vorspiel und Liebestod sequence played in reverse order. The video version of this performance was filmed in the big hall of the Berlin Funkhaus, built in the late 1950s as East Berlin's new radio station, after musicians could no longer travel freely between the two sections of the city. Following the process of abstraction in music, theatre and light installation, this work is also a reflection on cultural taboos and historical memory. Wagner's works remain banned from public performance in Israel and have become a symbol for the catastrophic ramifications that anti-Semitism can cause. Rewriting Richard Wagner's 'Liebestod' line by line, fragmenting it to copy the last note as the first note, much as the Hebrew alphabet is read, the performance creates a new conceptual work challenging contemporary perceptions of historical and cultural readings to illustrate how culture is always an assemblage of the fragments of others.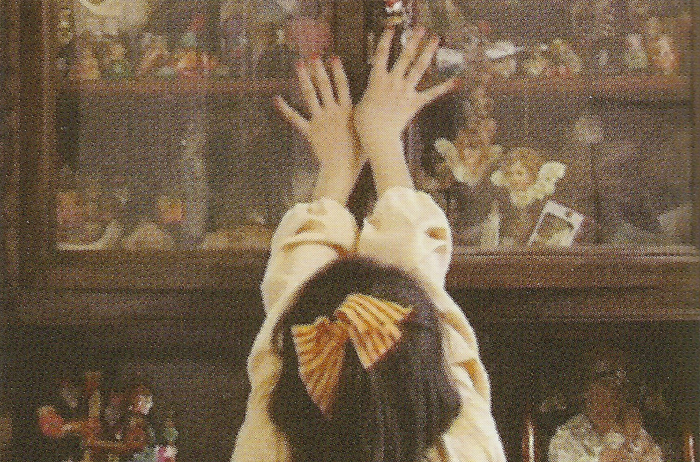 Gülsün Karamustafa, Personal Time Quartet, 2000, Memory of a Square, 2005, Unawarded Performances, 2005
Gülsün Karamustafa was born in 1946 in Ankara, Turkey. She lives and works in Istanbul, where she is recognized as one of the most important and pioneering Turkish contemporary artists. Her work addresses questions of migration, displacement and military dictatorship (during the 1970s she was imprisoned by the Turkish military). She was refused a passport for sixteen years until the mid-80s and, unlike other Turkish artists, could not emigrate or travel. This enforced isolation led her to an analysis of her own situation and context: the city of Istanbul, interior migration and nomadism within Turkey, and the ideological and psychological ramifications of identity. Like a sociologist or anthropologist, Gülsün Karamustafa explores the historical and social connections of oriental cultures in her works, often using materials that express the hybrid character of different cultures and religions. Ostensibly reverting to historical lore, Karamustafa's artistic comments oscillate actually between sensual meta-narratives and ironic-critical stories about the present situation, addressing themes of identity and migration, cultural difference and acculturation within the contexts of orientalism and post-colonialism. Since the end of the late 1990s, she has often used already existing materials and images of oriental or occidental origin that she fragments, dismantles and reassembles in order to contrast 'private' with 'public' by referring to every-day life, culture, art history, and the media.
For Fragments of Empires, Karamustafa shows three video works. Personal Time Quartet (2000), a 4-channel video installation first shown in the Historisches Museum in Hanover, focuses on inherent similarities within supposedly disparate cultures. Memory of a Square (2005), a 2-channel video, juxtaposes scenes of family life not linked to any place or time with 50 years of documentary footage of Istanbul's famous Taksim Square. This highly charged site has played a crucial role in political and cultural change throughout the history of the Turkish Republic and does so again in the present. Unawarded Performances (2005) is a film about the little known Gagauz people, an Orthodox Christian community of Turkic descent in southern Moldovia, who still speak Balkan Turkish, despite having lived under the dominion of six warring nations and empires. The stories of six women tell an eloquent tale of the legacy of migration and of a culture trapped between empires.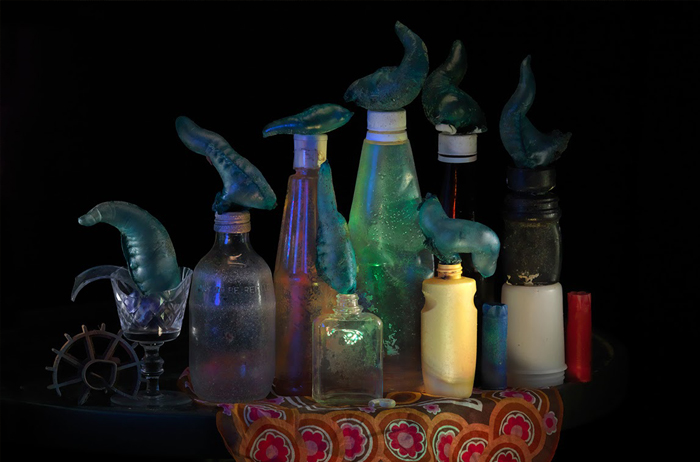 Fiona Pardington, Selected Works, 2011-2014
CV – Website
Fiona Pardington was born in 1961 in Devonport, New Zealand, of āi Tahu, Kati Mamoe and Scottish descent. She lives and works in New Zealand. She is recognized as the leading woman artist working with photography in New Zealand. Her work examines the history of photography and representations of the body, taking in investigations of subject-photographer relations, medicine, memory, collecting practices and still life. Fiona has been working in a still-life format within museums, recording taonga (Māori ancestral treasures) and other historic objects such as hei tiki (greenstone pendants) and the now extinct huia bird. In these works, she brings to a contemporary audience an awareness of traditional and forgotten objects. Re-examining the history of portraiture in more recent work, she addresses the New Zealander traditional idea of the photograph as a stand-in for an actual person – a way of looking at portraits that western minds associate with traditions of Maori animism that imbue photographs of loved ones who have passed away with their actual presence and characteristics. Applying this tradition to a still-life format, Pardington portrays ancestral Maori carvings alongside objects redolent of the colonial history of an island nation at the outer edges of empire.
For Fragments of Empires, Fiona Pardington undertakes a 2-month Residency at MOMENTUM, wherein she applies her practice of seeking out the vestiges of personal histories in the object memories of disparate cultures alongside the relics of natural histories she finds all around her. Fragments of Empires features new photographic and installation work made in Berlin for this exhibition, along with a series of earlier work focusing on historical artefacts and tableaux of still lives. Fiona Pardongton's work is featured in the MOMENTUM Collection. To learn more, CLICK HERE.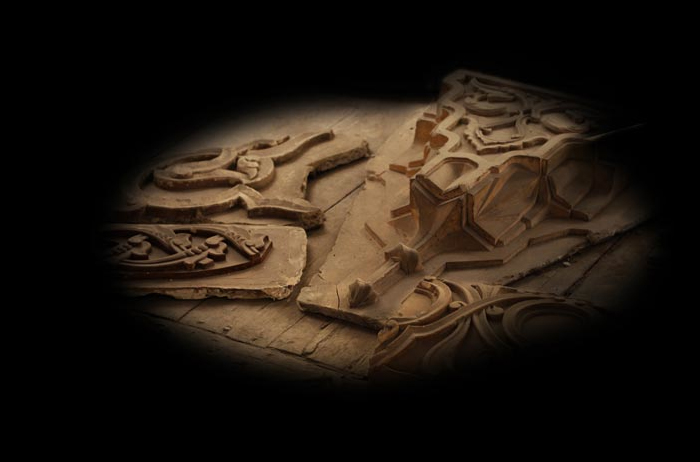 Sophia Pompéry, Atölye / Atelier, 2013
Sophia Pompéry is a Hungarian artist (born 1984 in Berlin) whose family roots extend both through the Ottoman and the Austro-Hungarian Empires from brothers separated by the politcal re-drawing of national borders. Pompéry studied from 2002 to 2009 at the Kunsthochschule Berlin Weissensee. In 2009 and 2010, she participated in the Institute for spatial experiments by Olafur Eliasson at the Universität der Künste, Berlin. In 2011 she was awarded with the Toni and Albrecht Kumm Prize for the promotion of fine arts and in 2012, became a fellow of the DAAD art program with a six-month stay in Istanbul. She lives and works in Berlin and Istanbul.
For Fragments of Empires, Pompéry re-edits her 2013 site-specific installation, Atölye / Atelier. The film was shot in a traditional Armenian-Turkish workshop for stucco work in Istanbul. Handed down over 5 generations of craftsmen, the expertise in this atelier provided the décor for some of the best known buildings in Istanbul, such as the Dolmabahce Palace. This atelier today is an historical memory of Istanbul, the representative capital of the Ottoman Empire. A multitude of ornamental fragments of representational buildings in a diversity of historical and cultural styles mingle here in an eclectic way. One has the impression of standing in an archive of architectures and histories, entangling western Orientalism and the Ottoman version of European Rococo.
ABOUT THE CURATORS
DAVID ELLIOTT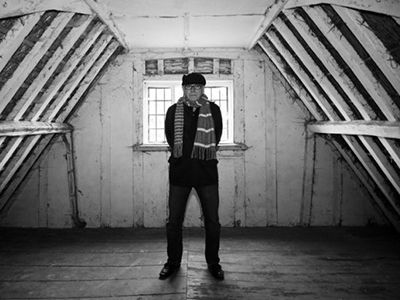 David Elliott is an English born curator and writer. From 1976 to 1996 he was Director of the Museum of Modern Art in Oxford, England, Director of Moderna Museet [The National Museum of Modern and Contemporary Art] in Stockholm, Sweden (1996-2001), founding Director of the Mori Art Museum in Tokyo (2001-2006), the first Director of the Istanbul Museum of Modern Art [Istanbul Modern] (2007), Artistic Director of the 17th Biennale of Sydney (2008 – 2010) and Artistic Director of the 1st Kiev International Biennale of Contemporary Art (2011-12), Artistic Director of the 4th International Biennale of Work by Young Artists in Moscow (2014-2014), Rudolf Arnheim Guest Professor in Art History at the Humboldt University, Berlin (2008) and Visiting Professor in Museum Studies at the Chinese University in Hong Kong (2008/11/13). From 1998 until 2004 he was President of CIMAM (the International Committee of ICOM for Museums of Modern Art). He is Hon President of the Board of Triangle Art Network/Gasworks in London.
RACHEL RITS-VOLLOCH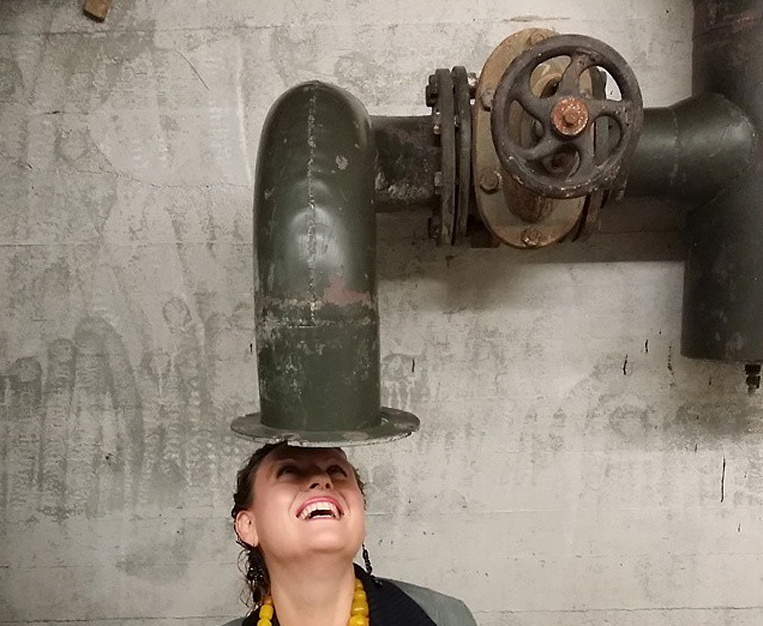 Dr. Rachel Rits-Volloch is a graduate of Harvard University with a degree in Literature and holds an M.Phil and PhD from the University of Cambridge in Film Studies. She wrote her dissertation on visceral spectatorship in contemporary cinema, focusing on the biological basis of embodiment. Having lectured in film studies and visual culture, her focus moved to contemporary art after she undertook a residency at A.R.T Tokyo. Rachel Rits-Volloch founded MOMENTUM in 2010 in Sydney and it rapidly evolved into a global platform for time-based art, with headquarters in Berlin. Through MOMENTUM's program of Exhibitions, Kunst Salons, Video Art in Public Space Initiatives, Residencies and a Collection of time-based art, we are dedicated to providing a platform for exceptional artists working with time-based practices. Rachel Rits-Volloch is currently based in Berlin, having previously lived and worked in the US, UK, Amsterdam, Tokyo, Istanbul, and Sydney.
Supported by:

WITH THANKS FOR GENEROUS SUPPORT IN REALIZING THIS EXHIBITION