Georg Baselitz
[Press Release]
Exhibition dates: 30 October to 5 December
Press preview: Thursday 29 October at 3pm, Talk led by White Cube Director Andrea Schlieker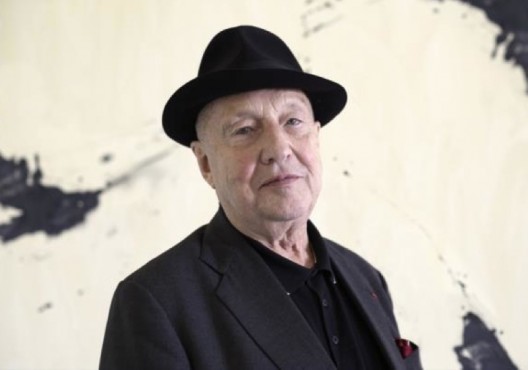 White Cube is pleased to present Georg Baselitz's first solo show in Hong Kong of new works.
Painter, sculptor, printmaker and draughtsman, Georg Baselitz is one of Germany's most celebrated living artists, with a distinguished career spanning over fifty years.
Born Hans-Georg Kern in 1938, he grew up in Saxony, an area that later became East Germany. Whilst studying painting at the
Academy of Art in East Berlin (1956) he was sent down after one year for political immaturity. He then applied at the Academy in West Berlin and moved there in 1958, completing his studies in 1962.
Baselitz's first solo exhibition in 1963 at Galerie Werner & Katz, Berlin, caused a public scandal and several paintings were confiscated by the German authorities claiming that they were publicly indecent. Among them Die grosse Nacht im Eimer ('The Big Night Down the Drain'), which depicted a masturbating dwarf-like figure.
Throughout his career, he has always taken a rather antithetical stance towards certain established artistic conventions, but at the same time he is also deeply referential towards a range of artists he admires – from well-known figures like De Kooning, Munch, Kirchner, Freud and Auerbach to African tribal art, folk and outsider art – and many of his works have been developed in close dialogue with these influences.
In 2005 Baselitz introduced the 'Remix' in his work, in which he has returned to key phases of his own art history and made new versions of his work. They are painted intuitively, with quick and spontaneous flashes of bright, transparent colour. References to the Nazi leader Hitler, which in the earlier works had been more ambiguous, are more directly emphasised. These works have allowed Baselitz to revisit and excavate the past, pushing his own painterly vocabulary to create works that are fresh and liberated.
His most astonishing and magisterial recent work is his monumental 'Avignon' series for this year's Venice Biennale. At nearly 5m in height these paintings are the largest he has made and show the artist naked and vulnerable.
Full bio at http://whitecube.com/artists/georg_baselitz
8 new colourful 'half' figure paintings, each 3m in height, which will hang on the ground floor of the gallery
The series are half torsos which will displayed rhythmically alternating between upper and lower bodies
They refer to paintings by Egon Schiele (position) and Auerbach(head), and one half of the canvas is always left unpainted so they are reminiscent of playing cards, puzzles or the mix- and-match of corps excise games
Upstairs in the gallery, 8 new black paintings of whirling legs and high heel shoes with golden frames continue the sense of movement and playfulness
The motif of the leg/foot has been a central iconographic device for Baselitz since the 'Pandemonic Feet' series of 1963, always linking to Baselitz's insistence of feet as 'earth wires' or grounding devices, emphasising the connection to one's origins
These paintings are an extension to the series shown at Glyndebourne
Whereas in the Glyndebourne series the feet were whirling on light grounds, here they dance barely visible in blurred shades of grey on black backgrounds
The theme – and the darkness – is continued in a large bronze sculpture, Winterschläfer, which will also be located on the top floor of the gallery
'Winterschlaf' (Hibernation) is Baselitz' new large black bronze sculpture where four legs
have come to rest, bound together by large hoops, and presented on a table like some
strange ritualistic offering
'Winterschlaf' is the first of a series of black bronzes he is currently working on which all
focus on legs, either lying or standing, their movement restricted by constraining hoops. Perhaps these works too, can be seen as symbolic self-portraits
A series of 12 new colour etching based on the sculpture each depiction printed in different hues of orange, green, turquoise and yellow
Interview opportunities: The artist will not be in Hong Kong but we can arrange email interviews in advance. The artist only speaks German but translation can be provided.
Andrea Schlieker, Director at White Cube will be in Hong Kong for the opening and available for interviews; she has worked with the artist for a number of years.