Haegue Yang
[Press Release]
Haegue Yang (b. 1971, Seoul) is known for sculptures that orchestrate a wide range of banal objects into complex, anthropomorphic compositions, suspending the functionality of everyday tools and accentuating their objecthood and spirituality. In perhaps her most famous body of work, Venetian blinds are arranged with a Sol Lewitt-like precision in which the dialectics of inside and outside constructed by windows are dissolved by the opacity of the choreographed blinds. These blinds form an architecture whose totality cannot be captured by a single gaze, reminding one the half open structure of a stage.
Haegue Yang's first solo exhibition in China will showcase the artist's new Venetian blind sculpture in the Nave, creating a new spatial dynamic in the form of a passage. These are accompanied by The Intermediates, a new sculptural series created from handwoven synthetic straw; Trustworthies, collages crafted with safety envelopes; and Spice Moons, a group of silkscreen works on paper made with Singaporean spices. In the Lobby, viewers are greeted by Virtuous Edibles – Affection and Benevolence, two towers constructed from Chocopie packages with the characters of 情 [affection] and 仁 [benevolence] delineating the product markets of Korea and China, respectively.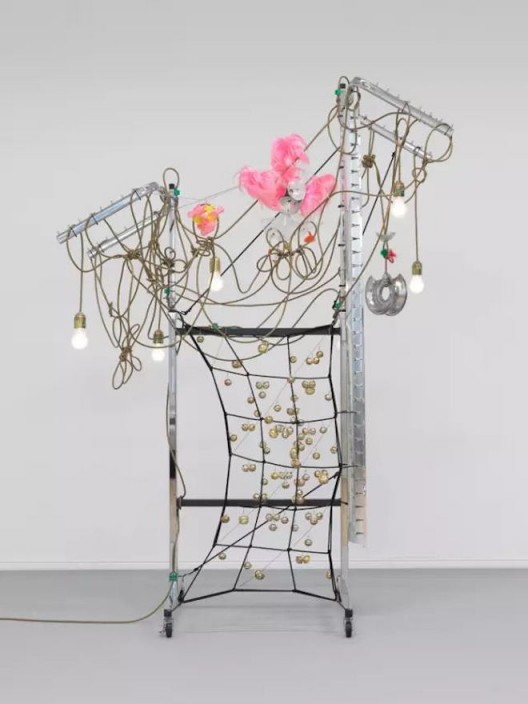 The final installment of the Secret Timezones Trilogy, "Haegue Yang: Comes Shower or Shine, It is Equally Blissful" reveals temporal layers hiding in the rhythms of industrially produced objects: the geometric progressions of her Sol Lewitt-inspired Venetian blind sculptures present a transient image, differing from moment to moment; her totem figures, channeling a primitivism that explores a temporal rupture in a pre-linguistic state, appear mid-ritual; and the towers constrcucted from Orion Chocopies present a material accumulation of "man hours" circulated and shareable. Secret Timezones Trilogy is curated by Venus Lau, "Haegue Yang: Comes Shower or Shine, It is Equally Blissful" with the assistance of Felicia Chen.