HAN JINPENG
Disturbed Emotion
Leo Gallery Hong Kong
[Press Release]
Leo Gallery Hong Kong is pleased to present Chinese artist Han Jinpeng's solo exhibition "Disturbed Emotion", with an array of his most representative works.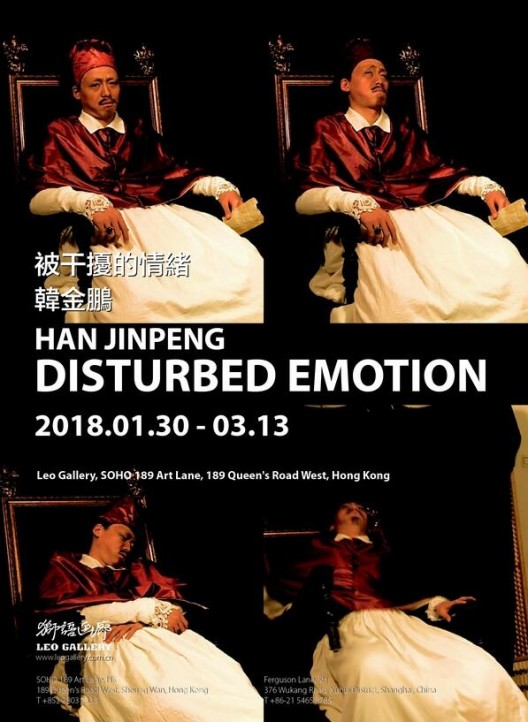 At first, we catch a glimpse of the most famous paintings captured in classic frames, yet a closer look brings us to the video in which Han re-created the scenarios with himself as the renowned figures. The artist attempts to "imitate" the texture of the originals through reappearing and remaking the paintings in parallel with mediocre accidents that happen in the reality.
Pope Innocent X dozing on his throne after two sleepless nights, the milkmaid being embarrassingly disheveled due to the wind, and Bacchus feeling unbearably sick because of his allergy to alcohol…… These trivial events induce disturbances and lapses in the process of delivering emotion, giving the stories an awkwardness yet their characters a more vigorous sense of "reality".
Influenced by his formal academic training background, Han expresses a strong enthusiasm towards the classic. Meanwhile, the urge for mobility goes deep in his bone and that's why he always wants to embed it in his own intuition as well as style. Video art is therefore undoubtedly a form of media for both the static and dynamic, providing Han with a larger space to build up his imagination. With the passion for the classic paintings, and the insights gained in his daily life, he conveys a kind of disturbed emotion through every nuance of his facial expressions.
Without exaggerating ups and downs or life and death in the work, Han nevertheless raises a worth-thinking question: do we modern people all look forward to the very last remaining relic of boredom? The interval of time in the videos, from several minutes to almost an hour, is filled by the littlest and the most ordinary acts-although Han's videos do not aim at bringing about magnificent enlightenment, they carelessly portray how the unassuming shapes the creativity and potential found in this young and wonderful performing artist.