Joshua Nathanson: High Flo
Yuz Museum
[Press Release]
Yuz Museum is pleased to announce Joshua Nathanson's first solo exhibition in China, "High Flow," from February 3rd to April 4th, 2018 at Yuz Project Space of Art. Drawn from the artist's residency in Shanghai last year, a new body of works including five large-scaled paintings, a hand-painted mural, a video animation, and a towering 3D-designed sculpture will be exhibited in the gallery, representing a continuation and a twist in the artist's practice – a "scope creep" of his concerns within painting to new surfaces, dimensions, and geographies.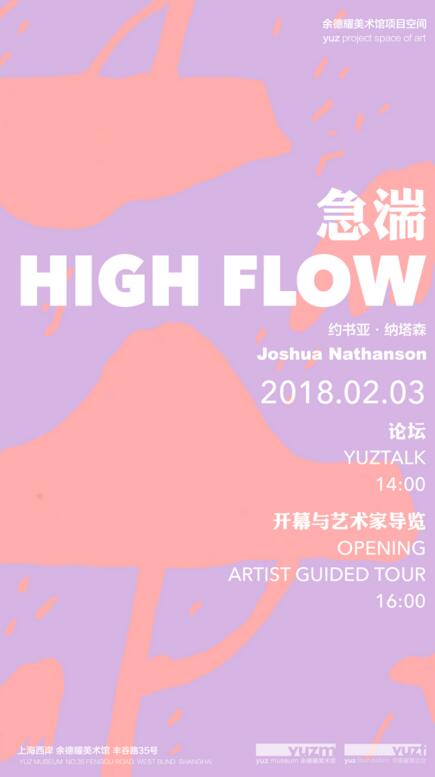 Just like the Impressionists' plein air paintings of the bourgeoisie, Los Angeles-based artist Joshua Nathanson begins his work by sketching the city's landscapes such as the shopping malls and public parks on site. The artist then creates digital studies on his computer in order to experiment with color, turning them into acrylic paintings on canvas through air-brushing and traditional brushwork. Combining traditional painting approaches with the newest technology, Nathanson is quickly recognizable for his vivid color, layered composition, and a distinctively loose, sometimes childlike drawing style.
For this exhibition, the artist continues his interests in two types of utopian spaces, depicting the "international style" of shopping malls inspired by the glossy malls of Huaihai Road and the public parks such as Gucun Park and beyond. The park represents a return to nature, pointing toward the history of human beings; while the mall suggests the perfection of consumerism within late capitalism. "But perhaps the real future will take place in The Cloud?" suggests the artist.
Capturing the fragments of the city, Nathanson's artworks convey the feeling that all things are floating and suffused with a dreamlike quality. The air circulates freely around the works, carrying waves of déjà vu, like water cascading down from the apex of the city.
The exhibition will open on February 3rd with an artist's talk and a guided tour, and will run through April 4th, 2018