JUDY MILLAR
My Body Pressed
Sullivan+Strumpf, Sydney
[Press Release]
In her first solo exhibition in Australia since the acclaimed, Reverse Cinema, (Sullivan+Strumpf 2015) Judy Millar will present a series of new large-scale paintings and works on paper which explore her deep connection to the landscape of the West Coast of New Zealand where the artist lives and works. Occupying the entire ground floor space of Sullivan+Strumpf, the exhibition coincides with Millar's inclusion in Unpainting a large international overview of abstraction at the Art Gallery of New South Wales in Sydney, and precedes a major survey exhibition of her work next year at Kunstmuseum St. Gallen, Zurich.
The golden sunsets, black sands and wild expanse of the Pacific Ocean off New Zealand's Western Coastline, imbue these works with a palpable sense of place; a place which Millar images through painted gesture and an ongoing consideration of the relationship between surface, space and time. As with her celebrated immersive environments, these spatial paintings invite the viewer to consider the artist's experience of space and time merging.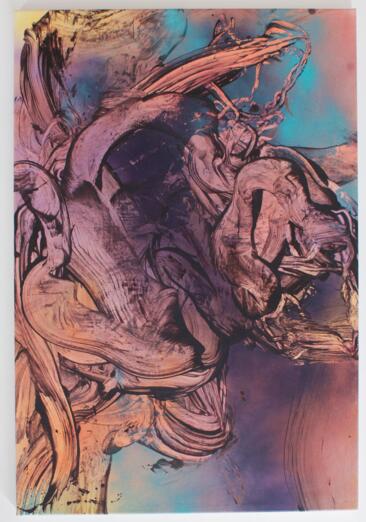 "The Land is in everything I do…The sunsets, the evening light on the water, the colours. I think they just go into your brain and you take them up somehow – there's a kind of glowing-ness."
– Judy Millar quoted in, Alison Veness, "Up is Heaven, Down is Ocean", 10 Magazine, February 2018.
The paintings in My Body Pressed continue this line of thought, invoking a sense of the body's interaction with nature in their blood-red, jade green, and bruising purple tones, which also recall the bleed of coloured inks in comic books. In this way Millar draws attention to the often ambiguous and subjective relationship between the real world and the mediated world of images, and the ways in which that uneasy alliance can influence our experience of painting.
Judy Millar is one of New Zealand's most internationally recognised artists. She represented New Zealand at the 53rd Venice Biennale in 2009 and exhibited again at the 54th Biennale in 2011. In 2017 Auckland Art Gallery commissioned the large-scale sculptural installation, Rock Drop. Selected solo shows include The Model World, Te Uru Contemporary Gallery (2015), Proof of Heaven, Gow Langsford Gallery (2015), Do Be Do, Hamish Morrison Galerie, Berlin, Germany (2013), Be Do Be Do Be Do, Institute of Modern Art, Brisbane (2013); and The Regenbogen Loop, Museum Gegenstandsfreier Kunst, Ottendorf, Germany (2012). Recent group exhibitions include schwarz//weiss, Hamish Morrison Galerie, Berlin, Germany (2013), Artists for Tichy – Tichy for Artists, Gask, Gallery of Central Bohemia, Czech Republic (2013), The Armory Show, Hamish Morrison Galerie, New York, USA (2013). Millar has also been the recipient of a number of residences in Italy, New Zealand, and the United States.