Lao Tongli
"Under the Horizon"
Richard Koh Fine Art
Kuala Lumpur
[Press Release]
Richard Koh Fine Art (RKFA) is pleased to present Under the Horizon by Lao Tongli at Richard Koh Fine Art, 229 Jalan Maarof, Bukit Bandaraya, Bangsar, 59100 Kuala Lumpur, Malaysia from 10 – 24 December 2016. Under the Horizon is Lao Tongli's first solo exhibition with the gallery and in Malaysia. The opening reception will be held on the 10th of December (Saturday), from 5 – 8 pm.
Under the Horizon features 7 ink and mineral colour on silk pieces, painted in 2015 and
2016. The paintings depict delicate silhouettes and forms of lean swaying trees in an all- over composition that are skillfully rendered in vibrant colours and in the style of traditional Chinese ink painting. The artist sees the similarities between the formations of trees with the growth of blood vessels, connecting the organic processes in our bodies to the living natural world outside. He states that the relationship between them and their symbolic meaning elucidates on the presence of life as well as his hope and aspirations towards the endless cycle of existence. He views the fusion of the intricate tendrils of the vegetation and blood vessels as creating a 'field of life', an optimistic view of how life constantly strug-gles, grows and develops while also referring to the current world view and the imbalanced relationship between the natural world and humanity.
Lao Tongli (b. 1982, Guandon Province, China) studied at the Chinese Painting Department of Guangzhou Academy of Fine Arts graduating in 2006. He then worked in Paris, France and Heidelberg, Germany from 2006 – 2008. Recent exhibitions include solo exhibition, The Spirit of Lines, Foshan Art Museum, Foshan, China (2011) and group exhibitions, John Moores Painting Prize Exhibition (China), Minsheng Art Museum, Shanghai, China (2016) and Infinitely Close to the Front: A Contemporary Art Exhibition of Death, Guandong Museum of Art, Guangzhou, China (2011). He is currently living and working in Guangzhou, China.
Richard Koh Fine Art has been in operation since 2005 and is regarded as a pioneer for introducing Asian contemporary art to Malaysia and the region. Promoting an adventurous roster of emerging and established artists, the gallery regularly mounts exhibitions locally and abroad with a commitment to emerging practices and challenging media.
For further information about the exhibition, please do not hesitate to contact the gallery at
[email protected]or +6 03 2095 3300.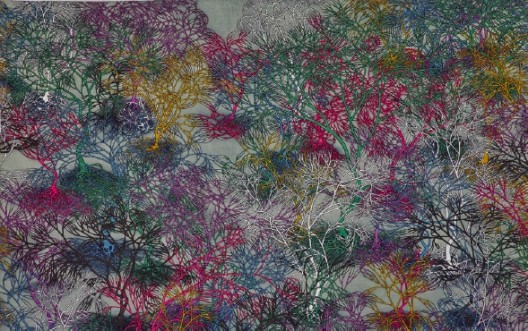 Lao Tongli
The Desire of Libido • Above the Horizon No. 05
2015
Ink and mineral color on silk
89 x 140 cm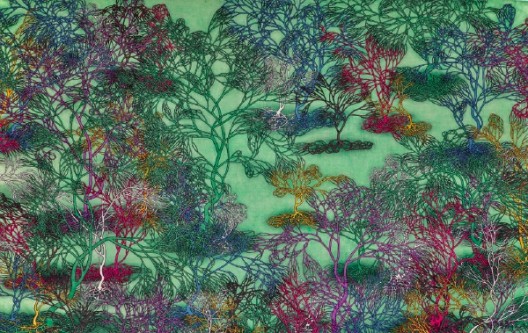 Lao Tongli
Desire of Libido • Above the Hoizon No. 03
2015
Ink and mineral color on silk
89 x 140 cm