Liang Shaoji Solo Exhibition: Sha Sha Sha – ShanghART-F1
[Press Release]
Liang Shaoji, dubbed as a "Recluse" residing in a remote mountain, purely devotes to art by his idiosyncratic creations imbued with ecological aesthetics. He has adopted silkworms as his artistic medium for twenty-eight years. ShanghART is delighted to present his solo exhibition "Sha Sha Sha" on the first floor of the West Bund new space on March 18. The three "Sha" share the exact same pronunciation but can be comprehended differently in Chinese context: <纱> (sha), the pronunciation of the texture of silk; <砂> (sha), sand which is the critical component of the pivotal work in the space; <沙> (sha), the sound generated by silkworms while feasting on mulberry leaves. The exhibition domestically debuts Liang's latest creations and large-scale installations from March 19 to May 6.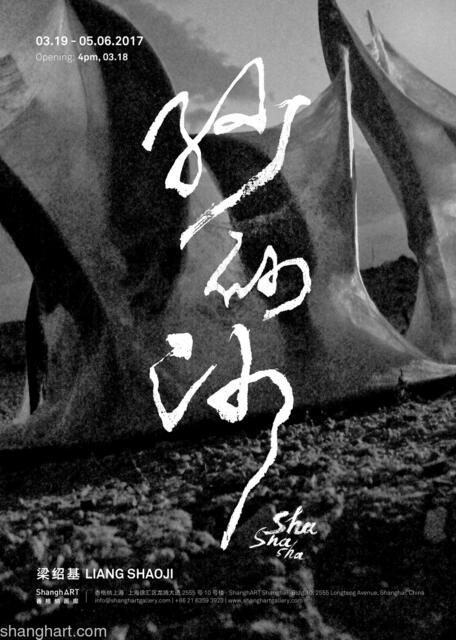 Individual work in the exhibition is conceived under artist's in-depth observation and interpretation towards historical events occurred in varied stages to reveal its internal alienation, the extrinsic conflicts, the present frustration and the vitality of life. The multi-structural large-scale installation Moon Garden which was initially exhibited in Qatar Museums in 2016 dominates in the middle. The "S" shape acrylic sheets reflect Liang's meditation of Mesopotamia- one of the cradles of civilization by the Western world. Liang contemplates poetically through silk, sand, silk-covered daggers and mirrors that Moon Garden converged inspiring from the power struggles and shifting alliances in the Middle East as well as the current turbulence. A silk-layered rusty sunk boat, The Aegean Sea, articulates artist's concern regarding if the divine sea still shines the glory of humanity to resolve the crisis of refugees. In Silence, a pile of burned plastic barrels scattered in the corners imply the ignorance of humanity, warning through the application of the mundane, low-priced and vulnerable materials.
The exhibition titled "Sha Sha Sha", is meant to provoke and open up multi-dimensional dialogues and thinking modes. Liang invites audience to perceive the flow of time and the momentum of mysterious life from the remains of materials and lives, the shimmering light of silk and the subtle sound, which responses to his artistic perspective of "ecology, life, environment and contemporary ecological aesthetics". Delving into the interdisciplinary subjects, the artist unfolds the intriguing meditation and belief in the time stream.
About Liang Shaoji
Liang Shaoji(b.1945) studied soft sculpture from Maryn Varbanov at China Academy of Art who was one of the world's leading tapestriest. Since 1988, Liang has been indulged in the interdisciplinary creation in terms of art and biology, installation and sculpture, new media and textile. His Nature Series sees the life process of silkworms as the creation medium, the interaction in natural world as his artistic language, time and life as the essential idea. His works are fulfilled with a sense of meditation, philosophy and poetry while illustrating the inherent beauty of silk.
Selected exhibitions: Cloud above Cloud, Museum of China Academy of Art, Hangzhou, 2016;What About the Art? Contemporary Art from China, Al Riwaq, Doha, Qatar, 2016; LIANG Shaoji: Back to Origin, ShanghART Gallery, Shanghai, 2015; Art of Change, Hayward Gallery, London, U.K., 2012; The 5th Biennale d'Art Contemporain de Lyon, Lyon, France, 2000; The 48th International Art Exhibition Venice Biennale, Venice, Italy, 1999; The 6th International Istanbul Biennial, Istanbul, Turkey, 1999; China/Avant-Garde Art Exhibition, National Art Museum of China, Beijing, 1989; Prizes: Chinese Contemporary Art Awards (CCAA) in 2002; Prince Claus Awards in 2009