Moments and More: Documents of Culture Pavilion [wén huà guǎn] Online Art Project – OCAT
[Press Release]
Artists: aaajiao (Xu Wenkai), Katy Roseland of Basement6, Chen Xi, Dai Hua, Fei Di, Gao Yuan, Ge Yulu, Hou Dehua, He Zike+Song Ziwei, Jiang Zhi, Jiang Zhuyun, Ji Jun, Lei Lei, Liang Ban, Li Liao, Li Ming, Liao Wenfeng, Liu Buhua+Zhang Si, Liu Yue, Lu Pingyuan, Ma Yujiang, Miao Ying, Sun Wenhao, Sun Xiaoxing, Wang Haiyang, Wen Ling, Weng Yunpeng, Wu Chao, Wu Juehui, Wu Junyong, Xu Qu, Xiao He, Yang Guangnan, Yang Jian, Yang Zhenzhong, Ye Funa, Ye Linghan, Art World magazine, Yu Ying, Yu Ji, Yue Xianghui, Zeng Anyi, Zhang Liaoyuan, Zhang Yongji
OCAT Shanghai is pleased to present the first exhibition of the year – "Moments and More: Documents of Culture Pavilion [wén huà guǎn] online art project" on April 16th. The exhibition is co-organized by OCAT Shanghai and the online art platform Culture Pavilion [wén huà guǎn], producing expansive offline presentations of the art practices occurring on social media, by which, the exhibition hope to open the discussions on the symbiotic relationships between art practices, app technology, online exhibitions and offline presentations.
Culture pavilion, often refers to the cultural institutions that organize cultural and entertaining activities for the general public. In the early years, it served as the rudimentary venue for art and cultural promoting "mass culture". In the present where rapid development of the internet and art media have taken over our lives, culture pavilion became conservative and a passé system in comparison. Meanwhile, social media portals such as WeChat and its shared "Moment" have become an essential to our everyday experience: its ubiquitous and abundant information disseminate and proliferate quickly, in turn, are also forgotten and annihilated at the same pace.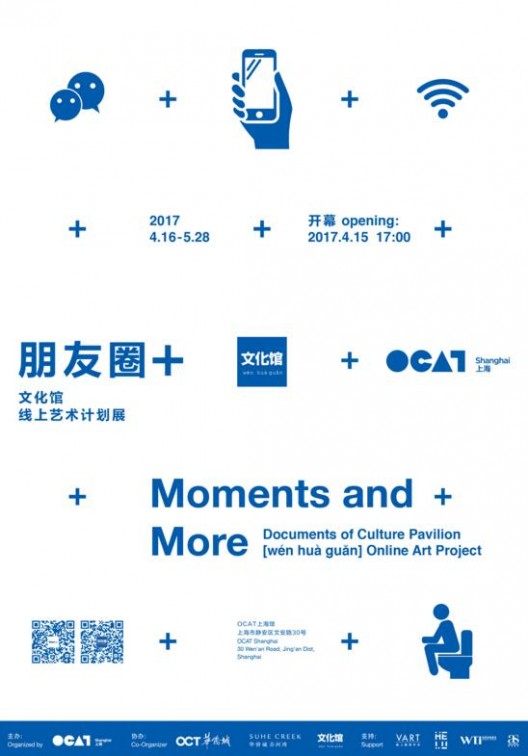 Given such circumstances, curator Bao Dong and artist Chen Youtong launched the online art project Culture Pavilion [wén huà guǎn] at the beginning of 2016 tailored to the WeChat platform. By calling on artists' proposals and commissioning artworks, they considered the mobile phone and WeChat Moment as the site for presenting contemporary art. The platform has published regularly the works of its participants. As an art project that takes place on portable devices, those who participated in the Culture Pavilion [wén huà guǎn] projects were not confined to the contemporary art world, but the platform opened to creative individuals working in poetry, theatre, music and other domains, or anyone whose works demonstrate the creator's imagination and the potential of the medium. Over a period of one year, 46 artists/collective have participated in the Culture Pavilion [wén huà guǎn] project, and 50 artworks were uploaded.
This exhibition will re-present these works that had been published online through on-site projection, video, installation, interactions, simulations of everyday scenario and etc., to allow the works expand and grow based on their original notions. With this exhibition, we do not only wish to simply transplant the online project offline, but to create an environment of experiencing media art that is relevant to the everyday scenario and provides greater potentials.
Curatorial Statement
Launched in early 2016, Culture Pavilion [wén huà guǎn] is an online art project designed for the media platform, WeChat. One participant's work is published through this official account every week. The medium of these works of art span from photography, to video, soundtrack, text-based, or any other possible artistic form. All of which were executed through the various functions within the systemic parameters of WeChat, either by public account, moments, chat groups or other channels consolidated in this App.
Over the last year, Culture Pavilion [wén huà guǎn] facilitated the execution of various artistic practices through mobile portals of the internet (mobile phone), where the works are then disseminated through the shared Moments on WeChat. These works not only represent the artists' criticality in their practices, but also reflect the various characteristics and trends of Internet culture in China seen through mobile devices. Some of the works are critical of the conditions of portable medium and others of its app programming. In spite of having adopted these modes of expression to address their criticalities, most of the works chose entertaining, playful or even consumable means.
Small videos, live broadcasting, touch-screen, GIF animation, emoji, collage, games, chat groups, surveys, sports lottery, New Year Gala memes, giving red envelops, internet celebrity … nearly all of the current internet technologies and cultural phenomena are inspirations to the artists in making their work for Culture Pavilion [wén huà guǎn]. They are not only considered as a part of the artistic production of contemporary Chinese art, but also constitute as an inseparable factor of China's contemporary cultural complexity, that transform our shared Moments.
In this exhibition, the audience will be able to scan the QR code to see the works that have already been making available online. Moreover, one may also participate in those works that are adapted, expanded and translated for this exhibition based on their initial notions. Please join us in transforming this online space into offline experimentations.